BY JUSTIN RAY


June 19, 2001 -- Follow the countdown and launch of the ICO global mobile communications satellite aboard a Lockheed Martin Atlas 2AS rocket. Reload this page for the very latest on the mission.





Flight data file
Vehicle: Atlas 2AS (AC-156)
Payload: ICO F-2
Launch date: June 19, 2001
Launch window: 12:41-2:41 a.m. EDT (0441-0641 GMT)
Launch site: SLC-36B, Cape Canaveral, Fla.
Satellite broadcast: Telstar 5, Trans. 23, C-band



Pre-launch briefing
Launch timeline - Chart with times and descriptions of events to occur during the launch.



Ground track - See the trajectory the rocket will follow during its flight.



Atlas 2AS vehicle data - Overview of the rocket that will launch the classified NRO payload.



ICO - Description of the satellite to be launched on AC-156.



Launch windows - Listing of the available times to launch in coming days.



Restricted zone - Map outlining the Launch Hazard Area where mariners should remain clear for the liftoff.



Atlas index - A directory of our previous Atlas launch coverage.



Flight profile

Track the major launch events for the Atlas 2AS rocket carrying the ICO satellite on Spaceflight Now's interactive flight profile page (requires JavaScript).


Snapshot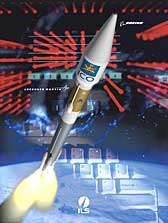 The mission poster for AC-156. Photo: ILS