The TDRS-I satellite
FROM NASA PRESS KIT
Posted: March 6, 2002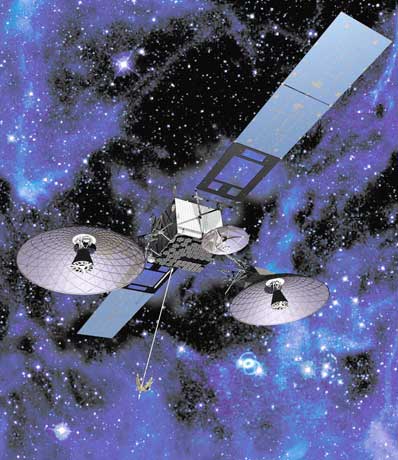 An artist's concept of the TDRS-H, I, J. Photo: Boeing



The Tracking and Data Relay Satellite-I, or TDRS-I, is the second of three satellites built for NASA by Boeing Satellite Systems, Inc. (formally Hughes Space and Communications) of El Segundo, Calif.

The first replenishment satellite, TDRS-H, launched June 30, 2000 from Cape Canaveral Air Force Station, Fla. aboard an Atlas II rocket. NASA acceptance occurred October 17, 2001.

TDRS-I will augment the TDRS' existing S-band and Ku-band frequencies by adding Ka-band capability, adding flexibility and providing higher data rates at a more favorable and less heavily used frequency band that is less susceptible to interference from an increasingly busy radio environment.

Two 15-foot steerable antennas will support the International Space Station with high-resolution digital television, and dump enormous volumes of data at rates up to 300 megabits/second - 5,000 times faster than the average 56K home computer modem.

TDRS-I features a new, Multiple-Access (MA) system*, which can support up to five user spacecraft simultaneously and at higher data rates than the original TDRS fleet.

(*BSS recently modified the Multiple Access (MA) antenna aboard TDRS-I and -J to prevent a performance shortfall, which occurred on TDRS-H. Testing of the modified MA antenna aboard TDRS-I is complete and confirms that it meets specification.)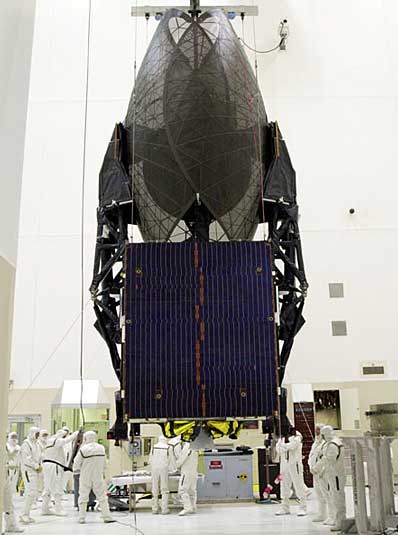 The TDRS-I satellite readied for launch at Kennedy Space Center. Photo: NASA



Spacecraft details
Dimensions: 68 feet (21 meters) long with solar arrays deployed, 43 feet (13 meters) wide with antennas deployed.

Weight: 7,011 at lift-off (3,180 kilograms); 3,918 pounds (1,777 kilograms) estimated beginning of life on-orbit.

Power: Silicon solar cell arrays that generate 2,300 watts; nickel-hydrogen batteries supply payload power during eclipses.

Payload services
The TDRS-H, -I and -J payload consists of two large antennas, which track user satellites orbiting below, providing high data rate communications. These single access antennas are complimented by a MA phased array antenna system. Services provided by the new TDRS trio are as follows:

S-band single access (SSA) -
Tunable over a range of frequencies, including MA frequency;
Can provide high gain support of an MA user satellite with degraded communications, or temporarily provide an increased data rate;
Provides forward and return services to users at a particular location;
Provides two-way communication during user satellite data recorder playbacks, or full-time high-rate service to high-priority users such as the International Space Station and Space Shuttle;
Transmits at speeds up to 6 megabits per second (Mbps) return; 300 kilobits per second (Kbps) forward data rates.
S-band multiple access (MA) -
Provides five MA return channels (user satellite to ground), one MA forward channel (ground to users) per spacecraft;
Features return services that use the same frequency (2287.5 MHz) and code division multiple access to avoid interfering with each other;
Has been upgraded to 3 Mbps return (nearly equivalent to SSA capability) for TDRS H,I,J (versus 100 Kbps for previous TDRS), and up to 300 Kbps forward.
Ku-band single access (KuSA) -
Operates at frequencies between 13.7 to 15.0 GHz, providing higher bandwidth and reduced communications losses for user satellites with data rates to 300 Mbps return, 25 Mbps forward;
Rates support high-resolution digital television for all Space Shuttle video communications;
Also used to swiftly dump large volumes of data from tape or solid-state data recorders aboard NASA scientific spacecraft.
Ka-band single access (KaSA) -
Features a new, high-frequency service that increases data rate capabilities to 300/800* Mbps for future missions requiring higher bandwidth communications such as multi-spectral instruments for Earth science applications (*data rates above 300 Mbps require ground station modifications);
Establishes international compatibility with Japanese and European space relay programs, allowing mutual support in case of emergencies;
High frequency provides high bandwidth, less interference with terrestrial communications, and lower user satellite equipment burden.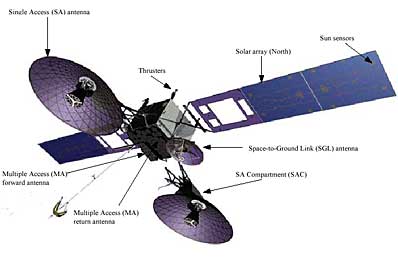 Illustration of TDRS-H, I, J systems. Photo: Boeing



Satellite Navigation - In addition to telemetry and command data communications services, the system will continue to provide user navigational data needed to locate the orbit and position of NASA user satellites.

Mission Lifetime - TDRS-H, -I and -J each have an intended mission lifetime of 11 years, with expendables (fuel) for up to 15 years.

Pre/Post-Acceptance Testing - Boeing Satellite Systems is responsible for pre-acceptance testing, which will be performed from NASA's White Sands Complex in N.M. while the satellite is in a geosynchronous orbit at 150 degrees West longitude. After NASA acceptance, TDRS-I will undergo post-acceptance testing, performed from the White Sands Complex and under the guidance of Goddard's Mission Services Program Office.

Relocation of the Spacecraft - NASA will relocate TDRS-9 to an operational slot, after completion of NASA's post-acceptance testing.

Launch Vehicle - Lockheed Martin Atlas IIA rocket

Launch Site - Launch Complex 36, Cape Canaveral Air Force Station, Fla.

Launch Date and Time - 5:39 p.m. EST at the beginning of a 40-minute launch window, which extends to 6:19 p.m. EST.

Spacecraft Separation - Launch+30 minutes

Acquisition of Signal - Launch+65 minutes, via a ground station in Canberra, Australia.

Cost - Total cost for the TDRS-H, -I and -J spacecraft and White Sands Complex modifications is approximately $485 million; or about $840 million for the entire program (e.g., three satellites, expendable launch vehicles, White Sands Complex renovations and NASA program costs).

Mission Oversight - Goddard's Mission Services Program Office will manage the day-to-day operations of TDRS-9.




Flight data file
Vehicle: Atlas 2A (AC-143)
Payload: TDRS-I
Launch date: March 8, 2002
Launch window: 5:39-6:19 p.m. EST (2239-2319 GMT
Launch site: SLC-36A, Cape Canaveral AFS, Fla.
Satellite broadcast: GE-2, Trans. 9, C-band



Pre-launch briefing
Launch timeline - Chart with times and descriptions of events to occur during the launch.



Ground track - See the trajectory the rocket will follow during its flight.



Launch windows - Available windows for possible future launch dates of TDRS-I.



Atlas 2A vehicle data - Overview of the rocket to be used in this launch.



Atlas index - A directory of our previous Atlas launch coverage.