European mission to space station postponed
BY STEPHEN CLARK
SPACEFLIGHT NOW
Posted: July 19, 2014


The last flight of Europe's heavy-duty Automated Transfer Vehicle heading for the International Space Station will be delayed a few days while engineers resolve a problem with the spaceship's Ariane 5 launcher, officials said Friday.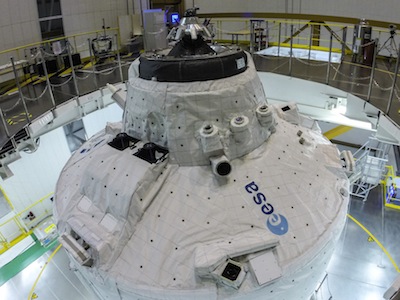 The Automated Transfer Vehicle's Russian-made docking cone is visible in this image of the spacecraft after it was mounted on top of its Ariane 5 launcher. Photo credit: ESA/M. Pedoussaut

Liftoff was scheduled for July 24 from the European-run Guiana Space Center on the northern coast of South America, the tropical spaceport that is home to the Ariane 5, Soyuz and Vega rockets operated by the French launch services firm Arianespace.
Arianespace announced the postponement Friday, but officials have not settled on a new launch date.
"In order to proceed with complementary verifications on the Ariane 5 ES launch system, Arianespace has decided to delay the VA219 launch for a few days," Arianespace said in a statement released Friday.
The launch is known as VA219 in Arianespace's mission naming system.
Sources familiar with the problem said technicians encountered trouble filling the Ariane 5's second stage attitude control system with hydrazine fuel. Thrusters on the upper stage of the launcher control the pitch and roll of the rocket after separation of the Ariane 5's twin solid rocket boosters.
The thrusters will also re-orient the upper stage before deployment of the ATV spacecraft.
The second stage engine will fire twice during the launch to put the Automated Transfer Vehicle into an orbit on the way to the space station.
The fifth Automated Transfer Vehicle, nicknamed "Georges Lemaitre" after the Belgian physicist who first proposed the Big Bang theory, is the last in a line of European Space Agency cargo spacecraft built to service the space station.
The ATV 5 mission will take up approximately 14,500 pounds of supplies, spare parts, fuel, water, oxygen and air to replenish the space station's reserves.
It will dock to the back end of the space station's Russian Zvezda service module a couple of weeks after launch and stay attached for up to six months.
The ATV mission has a docking window with the space station extending until Aug. 31.
Follow Stephen Clark on Twitter: @StephenClark1.