Ariane 5 rocket set for opening launch of 2014
BY STEPHEN CLARK
SPACEFLIGHT NOW
Posted: February 5, 2014


Arianespace will kick off the year with a launch for Hong Kong-based Asia Broadcast Satellite and the French and Italian governments, sending a pair of large communications payloads into orbit aboard a heavy-duty Ariane 5 rocket.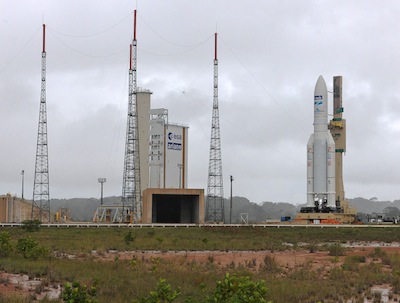 The Ariane 5 rocket reaches the ELA-3 launch pad Wednesday. Credit: ESA/CNES/Arianespace - Optique Video du CSG - L. Mira



The Ariane 5 launcher left its final assembly building at the Guiana Space Center late Wednesday morning, arriving at the ELA-3 launch pad about an hour later amid scattered rain showers. Rocket technicians were supposed to connect the rocket and its weathered mobile launch platform to ground propellant and electricity supplies Wednesday afternoon.

Two communications satellites sit atop the 166-foot-tall rocket: ABS 2 for Asia Broadcast Satellite and Athena-Fidus for the French and Italian governments. They are enclosed inside the launcher's Swiss-built 5.4-meter, or 17.7-foot, diameter ogive-shaped nose shroud.

The dual payloads ride on a tandem satellite carrier built to haul two powerful communications satellites in one go. The Ariane 5's lift capacity makes it the only commercial launcher in the world capable of dual-payload launches.

ABS 2 is positioned in the upper slot in the fairing. Built by Space Systems/Loral of Palo Alto, Calif., the spacecraft weighs 13,955 pounds fully fueled at launch.

It will propel itself into a circular 22,300-mile-high orbit over the equator at 75 degrees east longitude, deploy solar panels and reflector dish-shaped antennas, and begin a 15-year operational mission beaming telecom services, direct-to-home television, multimedia programming and data link services across a wide swath of the Eastern Hemisphere.

Athena-Fidus is encapsulated inside a Sylda payload adapter for launch. The 6,790-pound spacecraft, manufactured by Thales Alenia Space, is a joint project between France and Italy to expand broadband communications services for defense and security authorities beyond the jam-resistant satellites already used by the nations' militaries.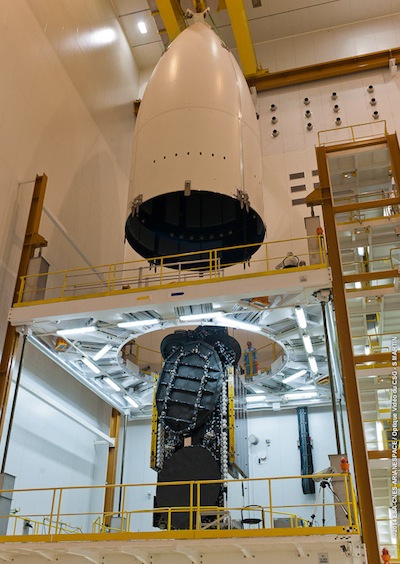 The ABS 2 satellite is enclosed inside the Ariane 5 payload fairing. Credit: ESA/CNES/Arianespace - Optique Video du CSG - S. Martin



Thursday's launch will mark the 72nd flight of an Ariane 5 rocket, and the 217th launch for the Ariane family since 1979. For Arianespace, it will be the 250th mission when including launches of Soyuz and Vega rockets managed by the French-headquartered launch services firm.

The countdown was due to begin at 0900 GMT (4 a.m. EST) Thursday, with clocks programmed for liftoff at 2030 GMT (3:30 p.m. EST), or 5:30 p.m. local time at the launch site in French Guiana.

The launch window extends for 2 hours and 5 minutes.

A check of electrical systems was scheduled to occur around 1300 GMT (8 a.m. EST).

Workers will also put finishing touches on the launch pad, including the closure of doors, removal of safety barriers and configuring fluid lines for fueling.

The launch team will begin the process to fuel the rocket with super-cold liquid hydrogen and liquid oxygen propellants at 1540 GMT (10:40 a.m. EST). First, ground reservoirs will be pressurized, then the fuel lines will be chilled down to condition the plumbing for the flow of super-cold liquid hydrogen and liquid oxygen, which are stored at approximately minus 423 degrees Fahrenheit and minus 298 degrees Fahrenheit, respectively.

It will take approximately two hours to fill the Ariane 5 core stage tanks.

A similar procedure for the Ariane 5's cryogenic upper stage will commence at 1640 GMT (11:40 a.m. EST).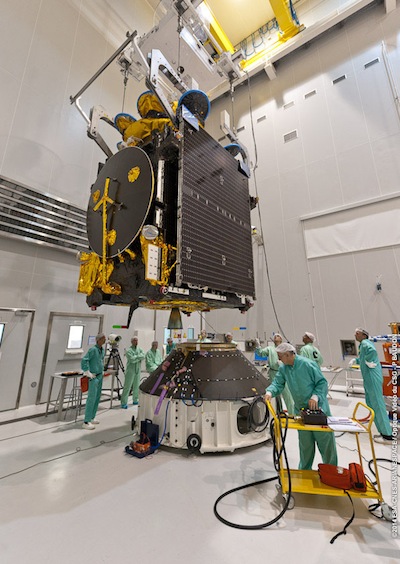 Technicians lift the Athena-Fidus spacecraft inside a clean room in French Guiana. Credit: ESA/CNES/Arianespace - Optique Video du CSG - P. Baudon



Chilldown conditioning of the Vulcain 2 first stage engine will occur at 1740 GMT (12:40 p.m. EST), and a communications check between the rocket and ground telemetry, tracking and command systems is scheduled for 1920 GMT (2:20 p.m. EST).

The computer-controlled synchronized countdown sequence will begin seven minutes before launch to pressurize propellant tanks, switch to on-board power and take the rocket's guidance system to flight mode.

The Vulcain 2 engine will ignite as the countdown clock reaches zero, followed by a health check and ignition of the Ariane 5's solid rocket boosters seven seconds later to send the 1.7 million-pound launcher skyward.

Five seconds after blastoff, the rocket will begin pitching east from the ELA-3 launch pad, surpassing the speed of sound less than a minute into the mission. The Ariane 5's twin solid rocket boosters will jettison 2 minutes and 21 seconds after liftoff.

Once above the dense atmosphere, the launcher's payload fairing will fall away at an altitude of about 68 miles. The Ariane 5's first stage will shut down 8 minutes, 49 seconds after liftoff, followed moments later by stage separation and ignition of the hydrogen-fueled cryogenic HM7B upper stage engine.

The rocket's upper stage will fire for more than 16 minutes, accelerating to a velocity of 20,967 mph, or more than 9.3 kilometers per second, to reach an orbit with a planned high point of 22,326 miles, a targeted low point of 152 miles and an inclination of 6 degrees.

The release of ABS 2 is scheduled for 27 minutes, 22 seconds. The rocket's barrel-shaped Sylda 5 dual-payload adapter will be jettisoned a few minutes later.

Athena-Fidus will separate from the lower portion of the payload stack at 32 minutes, 32 seconds.

Follow Stephen Clark on Twitter: @StephenClark1.