Ariane 5 to launch satellites for SES and Hispasat
BY STEPHEN CLARK
SPACEFLIGHT NOW
Posted: March 21, 2014


An Ariane 5 rocket is mounted on a launch pad in French Guiana for liftoff Saturday with two commercial communications satellites to beam television and video programming across Eastern Europe and relay broadcasts of the 2014 World Cup from Brazil.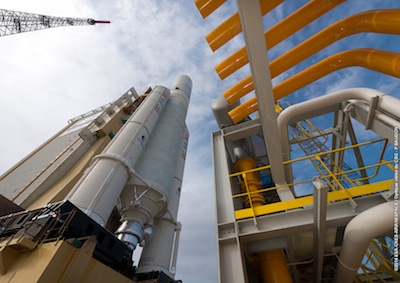 The Ariane 5 rocket reaches the ELA-3 launch pad Wednesday. Credit: ESA/CNES/Arianespace - Optique Video du CSG - P. Baudon



The ASTRA 5B and Amazonas 4A satellites are inside the Ariane 5's Swiss-built bullet-shaped nose shroud.

Owned by SES of Luxembourg, operator of the world's second-largest traditional commercial communications satellite fleet, ASTRA 5B will provide direct-to-home broadcasting services over Eastern Europe and Russia.

Amazonas 4A will cover Latin America for Madrid-based Hispasat. One of the satellite's first jobs will be helping link global viewers with World Cup football matches in Brazil this summer.

The heavy-lift Ariane 5 launcher, tailored for flights with dual payloads, is set for liftoff at 2204 GMT (6:04 p.m. EDT) Saturday from the European-run spaceport in Kourou, French Guiana. The launch window extends for 58 minutes.

The Ariane 5 rocket reached the ELA-3 launch zone at the Guiana Space Center before sunrise Friday, a day later than planned after strong ground winds prevented rollout of the two-stage launcher Thursday.

The winds forced a one-day launch delay to Saturday.

With two solid rocket boosters providing the bulk of thrust at liftoff, the all-white launcher will rocket away from the launch pad and pitch east from French Guiana, clearing the South American coastline and traversing the Atlantic Ocean in about 20 minutes.

The twin solid-fueled motors and the cryogenic core stage will jettison within the first 10 minutes of the flight, leaving the Ariane 5's upper stage HM7B engine to put the ASTRA 5B and Amazonas 4A communications satellites in the correct orbit.

The rocket is aiming for an orbit with a low point of 155 miles, a high point of 22,205 miles and an inclination of 3 degrees.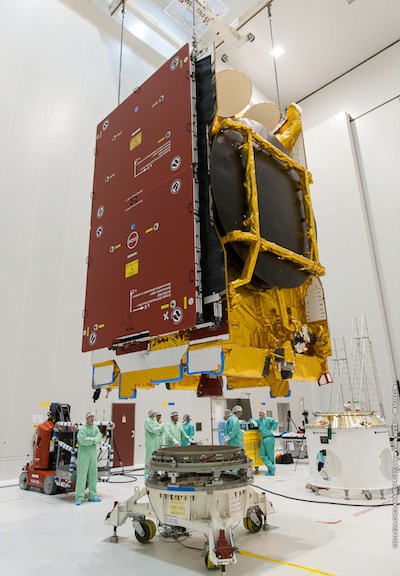 Technicians lift the ASTRA 5B satellite in Kourou for attachment to a launch adapter. Credit: ESA/CNES/Arianespace - Optique Video du CSG - JM Guillon



The upper stage will release ASTRA 5B at T+plus 27 minutes, 3 seconds. A few minutes later, the Ariane 5 will separate the rocket's Sylda dual-payload attach fixture to expose Amazonas 4A, which is scheduled to deploy at T+plus 34 minutes, 37 seconds.

Saturday's launch will mark the 73rd flight of the Ariane 5 rocket since 1996 and the launcher's second flight of 2014.

Built by Airbus Defence and Space, ASTRA 5B will use an on-board engine to raise its orbit to a circular altitude of about 22,300 miles over the equator. ASTRA 5B's planned operating position in geostationary orbit is at 31.5 degrees east longitude, where its speed will match the rate of Earth's rotation, making the satellite appear to hover over a fixed location in the sky as viewed from the ground.

Amazonas 4A will take a similar route to its destination in geostationary orbit at 61 degrees west longitude.

Both satellites are designed to function for at least 15 years.

With a launch mass of 12,619 pounds (5,724 kilograms), ASTRA 5B is outfitted with a powerful payload suite including Ku-band transponders and six Ka-band transponders. It will eventually replace the aging ASTRA 1G satellite at the 31.5 degrees east location.

"Its primary mission is the development of [direct-to-home] in Eastern Europe and in Russia," said Martin Halliwell, chief technical officer of SES. "It's basically there to allow new entrants into the DTH world the opportunity to develop their platforms and start developing their business."

ASTRA 5B will also supply digital feeds to cable providers and digital terrestrial television networks. The satellite's Ka-band and Ku-band payload will also provide broadband services across Eastern Europe and the Caucasus region.

The spacecraft, based on the Airbus Eurostar E3000 satellite bus, is flying with a hosted L-band navigation payload for the European Geostationary Navigation Overlay Service, which augments GPS navigation signals over Europe for specialty users such as the aviation and surveying industries.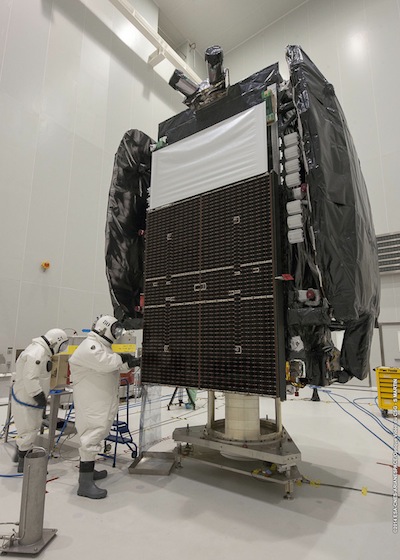 Technicians in protective suits load propellant into the Amazonas 4A spacecraft in Kourou. Credit: ESA/CNES/Arianespace - Optique Video du CSG - S. Martin



Manufactured by Orbital Sciences Corp. and based on the GEOStar 2 platform, Amazonas 4A will expand Hispasat's service to Latin America, beginning with the World Cup in June.

Amazonas 4A weighs about 6,477 pounds (2,938 kilograms) fully fueled for launch.

The spacecraft carries 24 Ku-band transponders to cover South America, supporting customers with broadcast television, corporate mobile and fixed telephone networks, integrated communications solutions and remote training and telemedicine services.

Voice, Internet and data transmission services will also be offered through Amazonas 4A, according to Hispasat.

Follow Stephen Clark on Twitter: @StephenClark1.