Next Ariane 5 launch delayed to January by satellite issue
BY STEPHEN CLARK
SPACEFLIGHT NOW
Posted: November 13, 2013


Continuing a string of payload delays that have plagued Arianespace's launch manifest in recent months, the French commercial launch provider announced Wednesday its final Ariane 5 flight of the year has been stalled to conduct additional checks on one of its satellite passengers.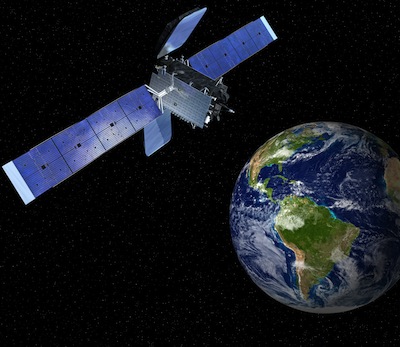 Artist's concept of Amazonas 4A. Credit: Orbital Sciences Corp.

The launch was scheduled from Europe's spaceport in French Guiana on Dec. 6 with the ASTRA 5B and Amazonas 4A communications satellites, but the mission is likely to slip to January, officials said.
Madrid-based Hispasat, the operator of Amazonas 4A, said Wednesday more work is needed to ensure the satellite functions as designed after launch.
"The delay is caused by a number of adjustments that need to be made to boost the satellite's reliability in order to ensure it performs correctly in space, stemming from an anomaly detected during one of the last tests of the Amazonas 4A before being transported to the launch pad," Hispasat said in a statement.
The owner of the launch's other payload, SES of Luxembourg, said Arianespace informed them the launch would be put off until January.
"Although tests show that any risk is remote, Hispasat prefers to resolve any problems affecting a satellite's performance, however small, before launch given that it considers the robustness and reliability of its satellites to be of paramount importance," Hispasat said.
Amazonas 4A was manufactured by Orbital Sciences Corp.
Ariane 5 rockets typically launch two large communications satellites at a time, a unique capacity Arianespace has exploited to reach the top of the global commercial launch services market. Arianespace's chief competitors, the International Launch Services Proton and SpaceX Falcon 9, are less expensive than the Ariane 5 but usually can only launch one payload at a time.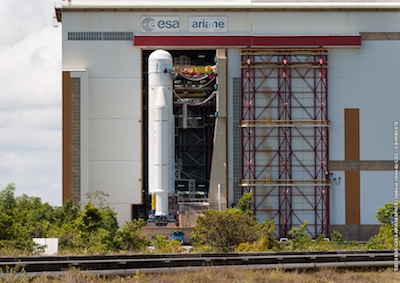 The Ariane 5 rocket assigned to launch ASTRA 5B and Amazonas 4A moved from its launcher integration building to the final assembly building last month. Credit: ESA/CNES/Arianespace - G. Barbaste

But the dual-payload paradigm has its drawbacks. If a problem crops up with one satellite, the mission's co-passenger - in this case, ASTRA 5B - can be grounded to wait for the issue to be resolved.
The delay of the upcoming launch means Arianespace will end the year with four Ariane 5 flights, the last one occurring Aug. 29. Arianespace opened the year with six Ariane 5s on the 2013 manifest, but not all the missions materialized due to delays in payload readiness.
One more launch from the Guiana Space Center is planned before the end of the year. A Russian Soyuz rocket, operated by Arianespace in conjunction with its Russian partners, will blast off Dec. 20 with the European Space Agency's Gaia mission to begin a galactic survey of a billion stars, plotting their locations and movements to help study the structure of the Milky Way.
With the Soyuz launch scheduled for Dec. 20, any delay to the December Ariane 5 flight would have resulted in a slip to January. It takes about two weeks to reconfigure safety, tracking and communications equipment, in French Guiana and at downrange sites, between Ariane 5 and Soyuz missions.
Arianespace's Soyuz manifest has also seen delays due to payloads. If the Gaia mission takes off as scheduled, two Soyuz rockets will have launched this year from French Guiana, half of the year-opening forecast of four flights.
A Soyuz launch scheduled for late September was pushed back to March because its payloads were called back to their manufacturer in Rome to replace suspect timing transponders. The mission was supposed to launch four broadband communications satellites for O3b Networks.
And a pair of European Galileo navigation satellites - the first fully operational members of Europe's counterpart to the U.S. GPS network - will not be ready for their Soyuz launch until mid-2014. At the beginning of the year, officials thought there was a chance the satellites would be ready by late 2013.
The European Commission's first Sentinel Earth observation satellite was also on the short-list of possible payloads to be ready for launch this year, but its Soyuz launch has slipped to around April.
Follow Stephen Clark on Twitter: @StephenClark1.