Heavy-lifting Ariane 5 delivers for three customers
BY STEPHEN CLARK
SPACEFLIGHT NOW
Posted: August 29, 2013


An Ariane 5 rocket fired its clean-burning hydrogen-fueled main engine, passed an automated check of dozens of health parameters, and lit two tube-shaped solid rocket boosters to blast away from its launch pad in the Amazon jungle Thursday with two communications satellites to serve the Middle East, North Africa and India.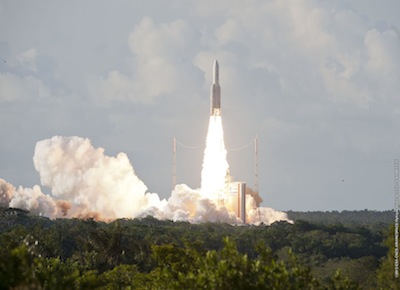 Liftoff from French Guiana occurred at 4:30 p.m. local time. Credit: ESA/CNES/Arianespace - Optique Video du CSG - G Barbaste



Filled with cryogenic propellant, the 1.7-million-pound launcher lifted off at 2030 GMT (4:30 p.m. EDT) from the ELA-3 launch pad at the Guiana Space Center, a sprawling European-run facility on the northern coast of South America near the town of Kourou, French Guiana.

Propelled into the upper atmosphere by 2.6 million pounds of thrust, the Ariane 5 shed its two solid rocket boosters in less than two-and-a-half minutes. The rocket crossed the Atlantic Ocean in 20 minutes, then deployed nearly 10 tons of payload over Africa.

The launcher released its passengers in a geostationary transfer orbit close to the preflight target. The Ariane 5 was aiming for an orbit with a low point of 154 miles, a high point of 22,325 miles and an inclination of 3.5 degrees.

The Ariane 5 first deployed the 13,911-pound Eutelsat 25B satellite, the product of a three-year partnership between Paris-based Eutelsat and Es'hailSat, a startup operator owned by the Qatari government. Known as Es'hail 1 by Qatar, the spacecraft will broadcast television and other services over a swath of the Middle East and North Africa.

According to Eutelsat, the satellite extended its solar panels as planned within four hours of separation from the Ariane 5 launcher.

Several minutes after its first deployment, the Ariane 5 jettisoned a barrel-shaped dual-payload adapter and separated India's 5,842-pound GSAT 7 spacecraft, the country's first military communications satellite.

GSAT 7 unfurled its solar panels about 20 seconds after it was released from the Ariane 5. Officials said GSAT 7 would be declared operational in about two weeks.

Each satellite will use on-board engines to raise their orbits to an altitude of 22,300 miles and position themselves over the equator.

The massive Ariane 5 rocket achieved its 57th straight success since 2003, putting the European-built, French-operated Ariane 5 in exclusive company among the world's most reliable satellite launchers.

"After 57 successes in a row of the heavy-lift Ariane 5, it is once again with great pleasure and pride that Arianespace announces the successful delivery of our customers' satellites," said Stephane Israel, chairman and CEO of Arianespace, the French company responsible for Ariane 5 marketing and launch operations. "Tonight, Eutelsat 2B/Es'hail 1 and GSAT 7 are now traveling in their desired geostationary transfer orbits for lives that I hope will be long and prosperous."

Eutelsat 25B/Es'hail 1, built by Space Systems/Loral in Palo Alto, Calif., is beginning a 15-year mission with Ku-band and Ka-band transponders. Designed to serve commercial customers and offer secure communications to the government of Qatar, the spacecraft will be positioned at 25.5 degrees east longitude for a 15-year mission.

It is Qatar's first national satellite, giving Qatar independent access to television, voice, Internet and corporate communications services, while extending Eutelsat's product offerings in the region.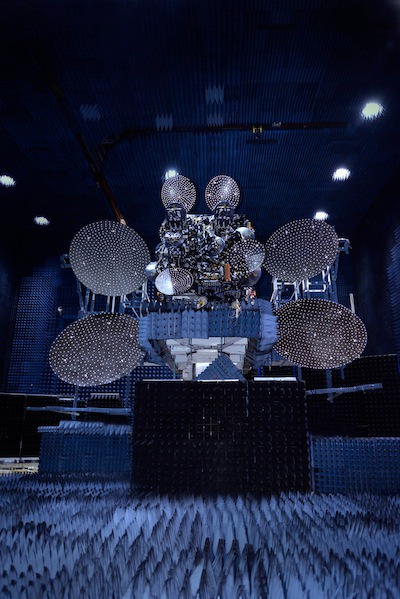 Eutelsat 25B/Es'hail 1 in the compact antenna test range at Space Systems/Loral's facility in California. Credit: Space Systems/Loral



"Es'hail 1 is the first step in our effort to enhance availability and quality communications services in the region," said Hessa Al-Jabar, Qatar's minister of information and communication technology, in post-launch remarks from Kourou. "This means more TV channel choices and cable options. This also means a commitment to meeting the sophisticated needs required for the FIFA World Cup in 2022."

The 2022 World Cup will be hosted by Qatar.

Es'hailSat eventually plans to finance and deploy six or more satellites. The next satellite, Es'hail 2, will be fully controlled in Qatar, Al-Jabar said, and Es'hailSat is seeking another agreement with Eutelsat to deploy a third satellite at 7 degrees west, affording coverage of Europe.

"Tonight's launch is a milestone marking a three-year journey since Eutelsat sealed a strategic alliance with Es'hailSat, our Qatari partner, to pursue a ground-breaking joint satellite program," said Michel de Rosen, CEO of Eutelsat, in a written statement. "We are now entering a new phase with the beginning of shared operations of a sophisticated and flexible communications satellite designed to deliver over 15 years of service to our two companies."

GSAT 7's seven-year mission will relay communications between Indian naval vessels and military commanders using UHF, S-band, C-band and Ku-band transponders. Positioned over the equator at 74 degrees longitude, GSAT 7 will cover the Indian subcontinent and neighboring waters.

The satellite, also known as INSAT 4F, was the 17th Indian satellite launched by Arianespace.

The next Ariane 5 launch is scheduled for Dec. 13 with the ASTRA 5B and Amazonas 4A communications satellites, but the Guiana Space Center will be busy this fall with back-to-back launches of Russian Soyuz rockets - currently set for Sept. 30 and Nov. 20.

The next Soyuz mission will launch four communications satellites for O3b Networks to enhance broadband connectivity in tropical regions around the world. The Nov. 20 Soyuz flight will deploy the European Space Agency's Gaia mission, a $1 billion project to precisely chart the positions and movements of a billion stars across the Milky Way galaxy.