Next ATV serves as tiramisu transporter, fuel freighter
BY STEPHEN CLARK
SPACEFLIGHT NOW
Posted: June 4, 2013


KOUROU, French Guiana -- Europe's fourth Automated Transfer Vehicle, a massive refueling tanker, cargo transporter and garbage truck rolled into one, is on a tropical launch pad in South America awaiting blastoff toward the International Space Station on Wednesday.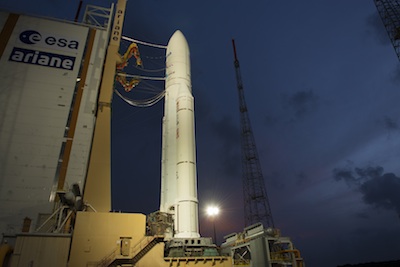 Photo of the Ariane 5 rocket on the launch pad Tuesday. See photos of the rocket's rollout. Credit: ESA/Stephane Corvaja



The 44,610-pound unmanned resupply freighter, with the approximate length and diameter of a London double-decker bus, is poised for launch atop an Ariane 5 ES rocket at 2152:11 GMT (5:52:11 p.m. EDT) from the European-run Guiana Space Center on South America's northeast coastline.

Flying northeast from the jungle spaceport - nestled along the Atlantic coast near Kourou, French Guiana - the 856-ton Ariane 5 launcher will empty the casings of its twin solid rocket boosters in a little more than 2 minutes and drain 385,000 pounds of cryogenic liquid hydrogen and liquid hydrogen from its main stage in about 9 minutes.

A hydrazine-fueled upper stage, powered by an Aestus engine, will fire two times to inject the ATV payload into low Earth orbit.

The Ariane 5 rocket's ascent - scheduled to begin just after sunset in French Guiana - will take nearly 64 minutes to place the ATV in a circular 161-mile-high orbit at an inclination of 51.6 degrees.

A few minutes later, the transfer vehicle will extend its four solar array wings to generate electricity. The ATV's solar panels are arranged in a distinctive X-shape extending 73 feet from tip-to-tip in space.

Filled with propellant, water, oxygen, spare parts, experiments and food - including packages of tiramisu, lasagna and macadamia nuts - the automated cargo carrier will adjust its trajectory over the following 10 days to set up for a GPS- and laser-guided rendezvous and docking with the space station June 15.

The mission is named for physicist Albert Einstein, continuing the theme of naming ATVs after prominent European thinkers and scientific pioneers.

The ATV is the space station's largest resupply vehicle after the retirement of the space shuttle, hauling three times more cargo as Russia's Progress spacecraft and twice as much as SpaceX's commercial Dragon spaceship.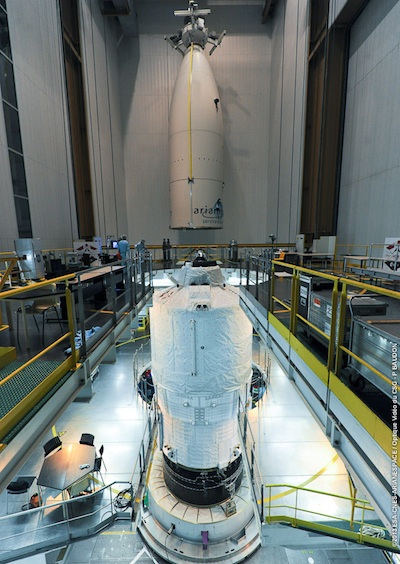 Photo of the ATV before its encapsulation by the Ariane 5's 17.7-foot-diameter payload fairing. Credit: ESA/CNES/Arianespace/Photo Optique video du CSG/P Baudon



"This is the first ATV that is fully used in terms of cargo because we will have propellant for the mission, propellant for reboost of the station, we have full water for the first time, full gas, and we also have completely filled up the pressurized part," said Alberto Novelli, ATV 4 mission manager from the European Space Agency. "So it's the first mission where we are completely using the ATV in what it can carry to the station."

The freighter's pressurized section, manufactured in Italy by Thales Alenia Space, is packed with 209 cargo bags containing more than 1,400 items with a cumulative mass of 5,465 pounds.

Most of the supplies are for NASA, which uses resupply craft owned by Europe and Japan in a barter arrangement. The European Space Agency and Japan Aerospace Exploration Agency pay for their share of the space station's operating costs through cargo services instead of cash.

The cargo includes a toolbox made with a 3D printer and an experiment to investigate the way emulsions - droplets suspended in a liquid - behave in microgravity. Emulsions are used in a range of applications on Earth, particularly foods like salad dressings and mayonnaise, according to scientists.

Built by EADS Astrium, also prime contractor for the ATV and Ariane 5 launch vehicle, the emulsion experiment will be installed by astronauts into the fluid science lab inside the European Columbus module on the space station, beginning up to eight months of experimentation using a microscope and differential scanning calorimeter.

The Albert Einstein mission also carries a fresh microscope for a European Biolab science rack, a cooling servicer, and a 176-pound spare water pump for the Columbus lab module.

NASA furnished a ride for a water recycling device for the space station's life support system, which purifies urine into drinking water in a closed-loop system.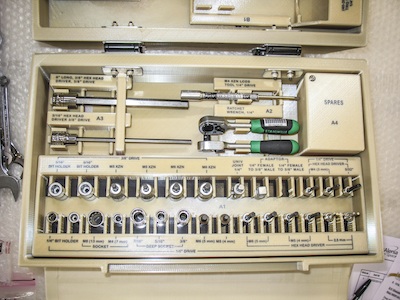 One of the ATV's payloads is a toolbox made by a 3D printer. Credit: ESA/Thales Alenia Space



The ATV's cargo hold also contains bags with a new GPS antenna for Japan's Kibo module, and a fresh stock of gas masks to replace old ones on the space station.

A menagerie of other cargo items - toothbrushes, t-shirts, strawberries, socks, pajamas, peanut butter and parmesan - are aboard the ATV to be enjoyed by the station's six-person crew.

Despite its spacious pressurized section, the unique capability of the ATV is the delivery of huge volumes of water, air and propellant for the space station's astronauts, atmosphere and rocket thrusters.

For the fourth ATV, the craft's liquid and gas load totals 9,050 pounds. The ATV will use about 5,688 pounds of propellant to reboost the space station's orbit and move the 450-ton complex out of the way of space debris during its four-month stay.

About 1,896 pounds of propellant will flow into the fuel tanks on Russia's Zvezda service module to replenish its propellant supply. And 220 pounds of air and pure oxygen will be transferred to the space station to refresh its atmosphere.

For the first time in the ATV program, the cargo craft is carrying a full load of water - 1,245 pounds.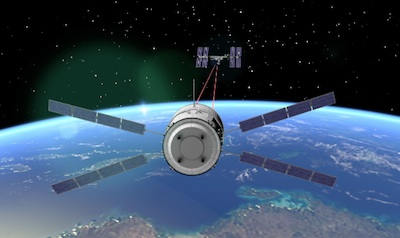 Artist's concept of an Automated Transfer Vehicle on approach to the space station. Credit: ESA



Albert Einstein's cargo load is less massive than the hauls of the second and third ATV. Each mission is tailored to the needs of the space station, and ATV carries more dry cargo and water than any of its predecessors, but less propellant.

ESA's first cargo vehicle, named Jules Verne for the French novelist, launched in March 2008. Two more ATVs reached the station in 2011 and 2012, and the fifth - and final - ATV is scheduled to lift off in June 2014.

Each ATV mission costs 450 million euros, or about $600 million, according to ESA.

ESA and Astrium Space Transportation are continuing the ATV legacy by constructing a service module based on the cargo craft's heritage for NASA's Orion multi-purpose crew vehicle. Europe will build at least one service module for Orion's unmanned test flight near the moon in 2017, but ESA officials are hopeful the agreement will yield further collaboration in the form of more Orion service modules for manned flights into deep space, and ultimately access to the flights for European astronauts and research pursuits.