Ariane achieves success on first launch of busy 2013
BY STEPHEN CLARK
SPACEFLIGHT NOW
Posted: February 7, 2013


Riding together inside the nose cone of an Ariane 5 rocket, Azerbaijan's first satellite and a Spanish-owned spacecraft to beam television and Internet services to Latin America launched into orbit Thursday from Europe's spaceport in French Guiana.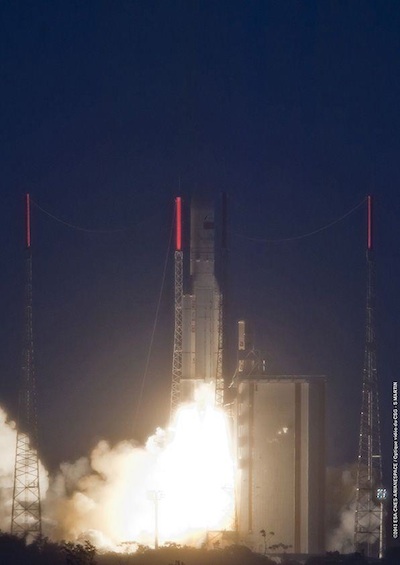 Liftoff of the Ariane 5 rocket occurred at 2136 GMT (4:36 p.m. EST; 6:36 p.m. local time) from French Guiana. Credit: Arianespace/CNES/ESA

The satellites blasted off at 2136 GMT (4:36 p.m. EST) from the Guiana Space Center, a European-run launch base on the northeast coast of South America.
Rocketing through scattered thin clouds, the 166-foot-tall Ariane 5 launcher broke the speed of sound in less than a minute and rose into sunlight over the tropical space base, where the sun was setting.
The rocket shed its two solid-fueled boosters, payload fairing and cryogenic first stage as it raced across the Atlantic Ocean before deploying the Amazonas 3 and Azerspace/Africasat 1a satellites over Africa about a half-hour after liftoff.
Arianespace, the Ariane 5's France-based commercial operator, said the flight went as planned, notching the workhorse rocket's 54th consecutive success.
"Everything has gone according to plan on time," said Jean-Yves Le Gall, chairman and CEO of Arianespace.
The Ariane 5 achieved a geostationary transfer orbit with a low point of 154 miles, a high point of 22,316 miles, and an inclination of 5.99 degrees. All orbital parameters were close to projections, according to Arianespace.
Le Gall said the mission broke a record by injecting the most massive payload ever launched by an Ariane 5 into geostationary transfer orbit. Amazonas 3, Azerspace/Africasat 1a, and associated adapters collectively weighed 10.35 metric tons, or more than 22,800 pounds.
"A further record has been beaten with the 10.35 tonnes injected into geostationary transfer orbit, and this goes to show how relevant our policy is as we constantly strive to increase the capability of our launcher while maintaining its reliability," Le Gall said.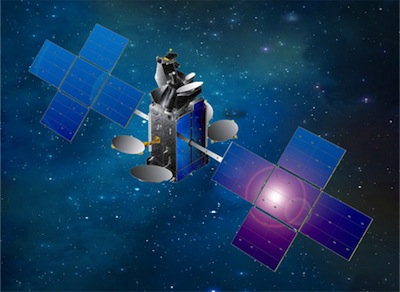 Artist's concept of the Amazonas 3 satellite. Credit: Space Systems/Loral

The launch helped kick off a busy year for Arianespace. It came one day after a commercial Soyuz rocket, managed by Arianespace's subsidiary Starsem, lofted six satellites for Globalstar's mobile communications network from Kazakhstan.
Including Thursday's mission, 11 launches are on the 2013 manifest from the Guiana Space Center. The schedule calls for six Ariane 5s, four Soyuz flights, and one launch of Europe's small-class Vega rocket.
The satellites launched by Arianespace on Thursday will enter service in the next few weeks, officials said. The craft must first use on-board propulsion to raise their orbits.
Amazonas 3 will be stationed at 61 degrees west longitude in geosynchronous orbit, where the satellite will broadcast direct-to-home television programming, support telephone networks, and provide broadband Internet services. The 61 degrees west location enables the craft to reach customers in Latin America, Europe and North Africa, according to Madrid-based Hispasat, operator of Amazonas 3.
Hispasat and Hispamar, its Brazilian subsidiary, will use Amazonas 3 to help bridge the digital divide afflicting millions of Latin Americans struggling to obtain modern communications capabilities.
Amazonas 3 features the first Ka-band payload for broadband service in Latin America, allowing users to enjoy more flexible, interactive multimedia programming.
The spacecraft was manufactured by Space Systems/Loral of Palo Alto, Calif., for a 15-year mission. It carries 33 Ku-band and 19 C-band transponders, plus nine Ka-band spot beams.
Azerbaijan's first satellite will link the Central Asia nation with Europe, Africa and the Middle East.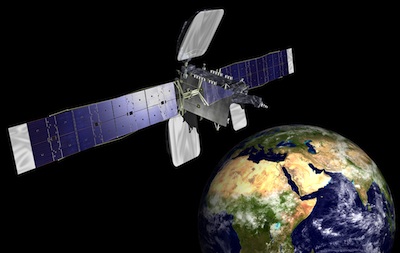 Artist's concept of the Azerspace/Africasat 1a satellite. Credit: Orbital Sciences Corp.

Known as Azerspace within Azerbaijan, the spacecraft was built by Orbital Sciences Corp. in partnership with Measat Satellite Systems of Malaysia, which has rights to the satellite's orbital position at 46 degrees east longitude and plans to use part of the platform's communications capacity.
Measat calls the satellite Africasat 1a, noting the company's focus on African coverage with the new spacecraft.
"Every launch is a special occasion, but today is a very special day for us as we just launched the first satellite for Azerbaijan," said Rashad Nabiyev, chairman and CEO of Azercosmos, the state-owned operator of the Azerspace satellite.
The Azerspace/Africasat 1a mission will aid customers in the Internet, video distribution, direct-to-home television markets. The government of Azerbaijan will be a primary user of the satellite.
"Azerspace is not just an investment for Azercosmos, but it also symbolizes the advance of our nation over the last decade," Nabiyev said in post-launch remarks. "I do believe that for many years, it's going to be a source of pride for many generations in our country."