Ariane 5 rocket prepares for first launch of 2013
BY STEPHEN CLARK
SPACEFLIGHT NOW
Posted: February 6, 2013


An Ariane 5 rocket is set to launch on another dual-payload mission Thursday with a communications satellite to broadcast television and high-speed Internet services to Latin America and the first satellite for Azerbaijan.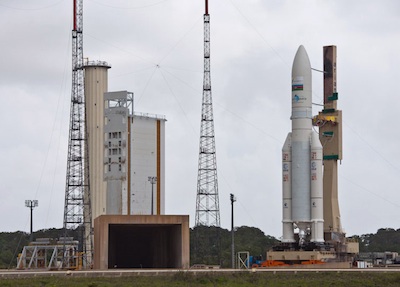 The Ariane 5 rocket arrived at the launch pad Wednesday afternoon. Credit: Arianespace/CNES/ESA

The two-stage launcher, fitted with a pair of powerful solid rocket boosters, rolled from its final assembly building to the ELA-3 launch zone Wednesday at the Guiana Space Center, a European-run spaceport on the northeast coast of South America.
Liftoff from the tropical launch base is set for 2136 GMT (4:36 p.m. EST at the opening of a 44-minute window. The 166-foot-tall Ariane 5 rocket, launching for the 68th time, will ferry two satellites into orbit.
Launch will occur at 6:36 p.m. local time in French Guiana, about 5 minutes before sunset.
The Amazonas 3 and Azerspace satellites will be deployed within 35 minutes after liftoff. The spacecraft have a combined mass of more than 21,000 pounds.
Each payload will use on-board thrusters to raise their orbits to geosynchronous altitude 22,300 miles over the equator. The Ariane 5 will deploy the spacecraft in a transfer orbit with a low point of 154 miles, a high point of 22,236 miles and an inclination of 6 degrees.
It will be the first launch of 2013 for the Ariane 5 rocket. Six Ariane 5 flights are planned from French Guiana this year, plus four launches of Russia's Soyuz rocket and one mission using Europe's new Vega launcher.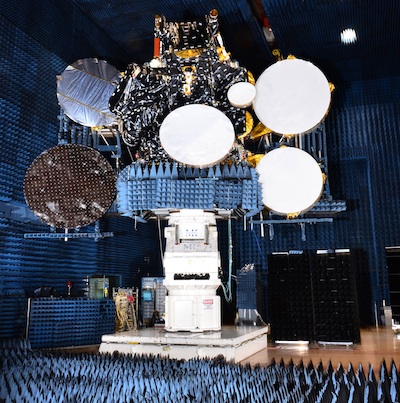 Amazonas 3 undergoes testing before launch. Credit: Space Systems/Loral

Amazonas 3, riding in the upper position on Ariane 5's dual-payload stack, will be positioned in geosynchronous orbit over the equator at 61 degrees west longitude, where its Ku-band, C-band and Ka-band communications payload will provide television, networking and extensive broadband Internet services to help erase the digital divide for populations without Internet access.
The all-purpose 13,182-pound satellite was built by Space Systems/Loral in Palo Alto, Calif., based on the company's SSL 1300 satellite platform. Its operator is Hispasat of Madrid.
Amazonas 3 is the first communications satellite with Ka-band coverage over South America, according to Hispasat. The craft's nine Ka-band beams will facilitate interactive multimedia services to Latin American customers.
The Azerspace payload is the first satellite for Azerbaijan.
Azerspace will provide communications services for the Azerbaijani government and commercial customers from an orbital location at 46 degrees east longitude. Measat Satellite Systems of Malaysia owns the rights to the orbital slot.
Measat will control part of the satellite's communications payload, which consists of 12 Ku-band and 24 C-band transponders. Measat calls its part of the satellite Africasat 1a.
The Malaysian operator plans to use Africasat 1a's C-band capabilities for video distribution, broadband connectivity, and other applications.
Orbital Sciences Corp. built the Azerspace/Africasat 1a satellite based on the company's GEOStar 2 platform. The U.S. Export-Import Bank provided 85 percent of the financing for the $120 million satellite.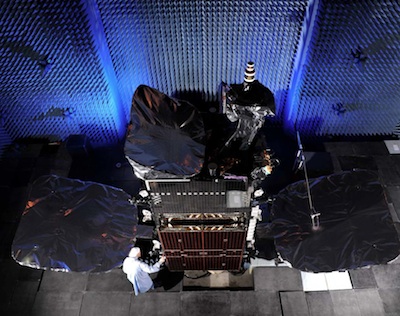 Azerspace/Africasat 1a undergoes testing before launch. Credit: Orbital Sciences

The countdown is scheduled to begin Thursday at 1006 GMT (5:06 a.m. EST). A check of the launcher's electrical systems will occur at 1406 GMT (9:06 a.m. EST).
Workers will also put finishing touches on the launch pad, including the closure of doors, removal of safety barriers and configuring fluid lines for fueling.
The launch team will begin the process to fuel the rocket with super-cold liquid hydrogen and liquid oxygen propellants at 1636 GMT (11:36 a.m. EST). First, ground reservoirs will be pressurized, then the fuel lines will be chilled down to condition the plumbing for the flow of super-cold liquid hydrogen and liquid oxygen, which are stored at minus 423 degrees Fahrenheit and minus 298 degrees Fahrenheit, respectively.
It will take approximately two hours to fill the Ariane 5 core stage tanks.
A similar procedure for the Ariane 5's cryogenic upper stage will commence at 1736 GMT (12:36 p.m. EST).
Chilldown conditioning of the Vulcain 2 first stage engine will occur at 1836 GMT (1:36 p.m. EST), and a communications check between the rocket and ground telemetry, tracking and command systems is scheduled for 2026 GMT (3:26 p.m. EST).
The computer-controlled synchronized countdown sequence will begin seven minutes before launch to pressurize propellant tanks, switch to on-board power and take the rocket's guidance system to flight mode.
The Vulcain 2 engine will ignite as the countdown clock reaches zero, followed by a health check and ignition of the Ariane 5's solid rocket boosters seven seconds later to send the 1.7 million-pound launcher skyward.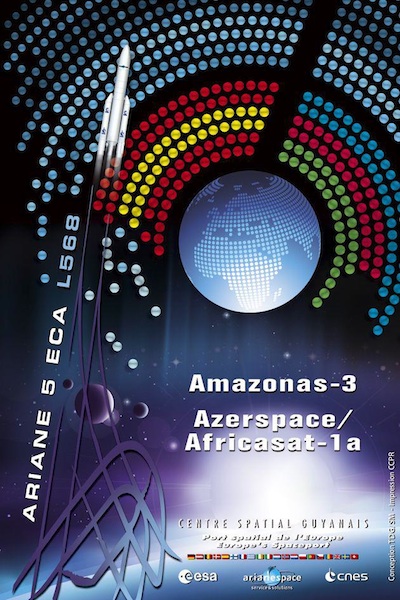 The launch poster for the VA212 mission. Credit: Arianespace/CNES/ESA

Five seconds after blastoff, the rocket will begin pitching east from the ELA-3 launch pad, surpassing the speed of sound less than a minute into the mission. The Ariane 5's twin solid rocket boosters will jettison 2 minutes and 22 seconds after liftoff.
Once above the dense atmosphere, the launcher's payload fairing will fall away at an altitude of about 67 miles. The Ariane 5's first stage will shut down 9 minutes after liftoff, followed moments later by stage separation and ignition of the hydrogen-fueled cryogenic HM7B upper stage engine.
The rocket's upper stage will fire for more than 16 minutes, accelerating to a velocity of 5.8 miles per second to reach an orbit with a planned high point of 22,236 miles and a targeted low point of 154 miles.
The release of Amazonas 3 is scheduled for 27 minutes, 55 seconds. The rocket's barrel-shaped Sylda 5 dual-payload adapter will be jettisoned a few minutes later.
Azerspace/Africasat 1a will separate from the lower portion of the payload stack at 34 minutes, 42 seconds.
For more details, view the complete launch timeline.