Satellites set to launch for UK military, Mexican government
BY STEPHEN CLARK
SPACEFLIGHT NOW
Posted: December 18, 2012


An Ariane 5 rocket is positioned on a launch pad in French Guiana for liftoff Wednesday with communications satellites to serve the British military and the Mexican government.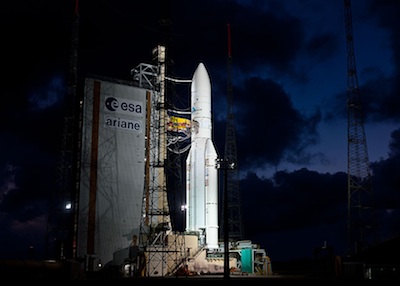 The Ariane 5 rocket on the launch pad. Credit: Arianespace/CNES/ESA

The 166-foot-tall rocket rolled to the Guiana Space Center's ELA 3 launch zone Tuesday, and the booster was connected to ground utilities, including electrical and fueling systems. Workers at the South America launch site planned to fill the Ariane 5's helium pressurant system later Tuesday.
Liftoff of the Ariane 5 rocket is set for 2149 GMT (4:49 p.m. EST; 6:49 p.m. French Guiana time) Wednesday. The launch window extends for 79 minutes.
The expendable launcher will be making its 67th flight. It will fly in the Ariane 5 ECA configuration with a cryogenic upper stage.
Two communications satellites - Skynet 5D and Mexsat Bicentenario - are mounted inside the Ariane 5 rocket's 17.7-foot-diameter payload fairing.
Skynet 5D, built by Astrium Satellites, will join a fleet of spacecraft providing secure communications services to the British Ministry of Defence. It is the fourth satellite in the Skynet 5 program, a nearly $6 billion system operated by Astrium Services on behalf of the UK military.
The program is expected to run through at least 2022 and covers all beyond line-of-sight communications for the UK military and the Cabinet OFfice.
Hardened with anti-jamming capability, the Skynet satellites offer secure, high-speed voice and data communications for British troops and allied forces, including the U.S., Portuguese and Australian armed forces.
The 10,680-pound Skynet 5D satellite, based on Astrium's E3000 platform, will be stationed in geosynchronous orbit at 53 degrees east longitude, reinforcing services over the Middle East. It carries larger fuel tanks, enabling operators to more efficiently reposition the satellite to respond to changing needs, according to Astrium.
Skynet 5D's X-band and UHF communications payload will reach user terminals on the ground, in the air, and at sea.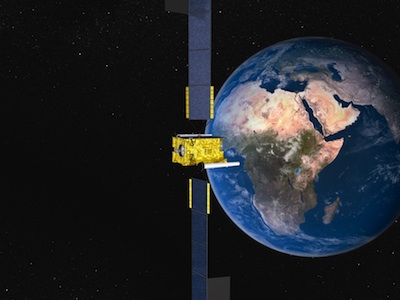 Artist's concept of the Skynet 5D satellite. Credit: EADS Astrium

"The launch of the fourth Skynet 5 secure military satellite is yet another major milestone in this remarkable ground breaking program running for nearly a decade," said Evert Dudok, CEO of Astrium Services. "Astrium has worked consistently to provide the highest levels of service to the UK Ministry of Defence. Astrium has invested significantly in support of the strong partnership with UK MOD, in return for a 2 year extension to the Skynet 5 concession until 2022. This launch will further enhance the services we can offer."
Mexsat Bicentenario, a 6,469-pound satellite built by Orbital Sciences Corp., is the Ariane 5 rocket's other passenger.
The spacecraft was manufactured by Orbital under contract to Boeing Co., which is developing a three-satellite system and ground network for the Mexican government.
Mexsat Bicentenario, also named Mexsat 3, will provide fixed communications services with 12 active C-band and 12 active Ku-band transponders. From its operating post at 114.9 degrees west longitude, the satellite's communications payload will reach users across Mexico and surrounding waters.
Boeing is building two larger satellites tailored for mobile communications services.
Mexsat Bicentenario is based on Orbital's GEOStar 2 satellite bus. It will enter service in 2013, beaming broadband Internet, telephone, telemedicine, education and videoconferencing across Mexico.
The Mexsat system will aid Mexican government officials in disaster response and national security applications, according to the Mexican Ministry of Communications and Transportation.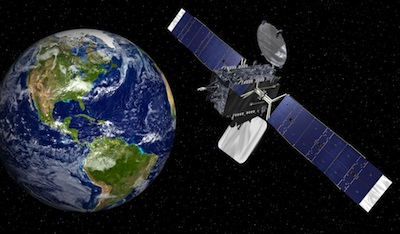 Artist's concept of the Mexsat Bicentenario satellite. Credit: Orbital Sciences Corp.

Final Ariane 5 countdown procedures was scheduled to begin began around 1019 GMT (5:19 a.m. EST). A check of electrical systems was scheduled to occur around 1519 GMT (9:19 a.m. EST).
Workers will also put finishing touches on the launch pad, including the closure of doors, removal of safety barriers and configuring fluid lines for fueling.
The launch team will begin the process to fuel the rocket with super-cold liquid hydrogen and liquid oxygen propellants at 1649 GMT (11:49 a.m. EST). First, ground reservoirs will be pressurized, then the fuel lines will be chilled down to condition the plumbing for the flow of super-cold liquid hydrogen and liquid oxygen, which are stored at minus 423 degrees Fahrenheit and minus 298 degrees Fahrenheit, respectively.
It will take approximately two hours to fill the Ariane 5 core stage tanks.
A similar procedure for the Ariane 5's cryogenic upper stage will commence at 1749 GMT (12:49 p.m. EST).
Chilldown conditioning of the Vulcain 2 first stage engine will occur at 1849 GMT (1:49 p.m. EST), and a communications check between the rocket and ground telemetry, tracking and command systems is scheduled for 2039 GMT (3:39 p.m. EST).
The computer-controlled synchronized countdown sequence will begin seven minutes before launch to pressurize propellant tanks, switch to on-board power and take the rocket's guidance system to flight mode.
The Vulcain 2 engine will ignite as the countdown clock reaches zero, followed by a health check and ignition of the Ariane 5's solid rocket boosters seven seconds later to send the 1.7 million-pound launcher skyward.
Five seconds after blastoff, the rocket will begin pitching east from the ELA-3 launch pad, surpassing the speed of sound less than a minute into the mission. The Ariane 5's twin solid rocket boosters will jettison 2 minutes and 23 seconds after liftoff.
Once above the dense atmosphere, the launcher's payload fairing will fall away at an altitude of about 69 miles. The Ariane 5's first stage will shut down 9 minutes after liftoff, followed moments later by stage separation and ignition of the hydrogen-fueled cryogenic HM7B upper stage engine.
The rocket's upper stage will fire for nearly 16 minutes, accelerating to a velocity of 5.8 miles per second to reach an orbit with a planned high point of 22,355 miles and a targeted low point of 155 miles.
The release of Skynet 5D is scheduled for 27 minutes, 6 seconds. The rocket's barrel-shaped Sylda 5 dual-payload adapter will be jettisoned a few minutes later.
MSG 3 will separate from the lower portion of the payload stack at 36 minutes, 11 seconds.
For more details, view the complete launch timeline.