Wednesday's Ariane 5 rocket launch will benefit Africa
BY STEPHEN CLARK
SPACEFLIGHT NOW
Posted: August 3, 2010


Two African communications satellites will blast off aboard an Ariane 5 rocket Wednesday, giving a boost to burgeoning direct broadcasting markets and helping connect remote villages with urban centers.


| | |
| --- | --- |
| | The Ariane 5 rocket rolled to the launch pad Tuesday. Credit: Arianespace |
The tandem-payload mission is due for liftoff at 2045 GMT (4:45 p.m. EDT) Wednesday, the opening of a lengthy launch window that extends to 2334 GMT (7:34 p.m. EDT).

Bolted atop a mobile table poised on rails, the 166-foot-tall Ariane 5 rocket moved to the launch zone in French Guiana on Tuesday morning. Later Tuesday afternoon, workers were expected to fill the first stage's helium pressurization system and connect fluid, electrical and communications systems between the ELA-3 launch pad and the rocket.

The payloads for Wednesday's launch are an Egyptian television and radio broadcasting satellite and a high-flying platform to provide long-distance communications, television and Internet to rural Africans.

Both satellites were manufactured by Thales Alenia Space of France.

"This launch is an important milestone for the African continent as both satellites will provide Direct TV and radio broadcasting services as well as Internet access and value-added broadband services," said Emmanuel Grave, the Thales executive vice president for telecom activities.

Nilesat 201 will serve Africa and the Middle East with broadband direct-to-home television programming for up to 15 years. The 7,055-pound satellite will launch in the upper position inside the Ariane 5's dual-payload adapter, meaning it will separate from the launcher first.

Other missions for Nilesat 201 include radio broadcasting and broadband Internet services, according to Thales Alenia Space.

Operating for Nilesat of Egypt, the spacecraft will be positioned 22,300 miles above the equator at 7 degrees west longitude. The satellite will join three other spacecraft at that location, including Nilesat 101, Nilesat 102, and Eutelsat's Atlantic Bird 4A platform under a partnership between Egypt and the European satellite operator.

According to Thales, Nilesat 201 will begin commercial operations in September. The satellite's communications cargo includes 24 Ku-band and four Ka-band transponders.


| | |
| --- | --- |
| | File photo from Nilesat 201's processing before launch. Credit: Arianespace |
The Rascom-QAF 1R satellite will blast off shrouded inside the Ariane 5's drum-shaped Sylda adapter. It will be deployed second from the launcher after it jettisons the Sylda unit.

The 6,724-pound spacecraft is heading to geostationary orbit, where it will park itself over the equator at 2.85 degrees east longitude. The craft will replace a nearly identical satellite crippled by a helium leak that rendered its primary orbit-raising engine nearly useless.

After it was dropped off in a preliminary orbit in December 2007 by another Ariane 5 rocket, the first Rascom-QAF satellite was supposed to use a boost propulsion system to raise its altitude to more than 22,000 miles. But the system's helium pressurant leaked out, forcing engineers to rely on the craft's less powerful maneuvering thrusters to gradually reach the planned altitude.

The unplanned burns consumed much of the satellite's fuel, reducing is useful life from 15 years to about two years. RascomStar-QAF, an African satellite company, quickly ordered a replacement spacecraft.

Founded by a consortium of African and European investors, including Thales Alenia Space, RascomStar-QAF aims to expand telephone, Internet and direct-to-home television broadcasting services to both urban and rural Africans at affordable costs.

The African Regional Satellite Communications Organization, or RASCOM, is a leading investor in the company. RASCOM has a membership of 45 African countries.

Other RascomStar-QAF partners include a Libya-based African investment fund.

"The launch event is the assurance to the African continent of our long term commitment to our mission of creating capacities to support connectivity in Africa and access to information and communication to underserved and remote areas in Africa," RASCOM said in a statement.

Rascom-QAF 1R carries 12 Ku-band and eight C-band transponders. Its design lifetime is approximately 15 years, according to Thales.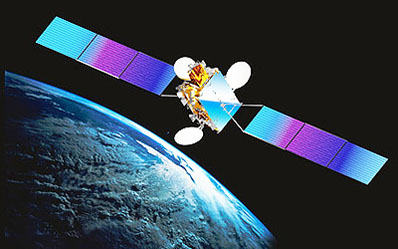 Artist's concept of Rascom-QAF 1R in orbit. Credit: Thales Alenia Space



Africans will use the satellite in electronic learning, telemedicine, television, radio and Internet applications.

"Rascom-QAF 1R will specifically contribute to bridging the digital divide by giving Africa access to advanced communications and information technologies, in particular rural telephony," Grave said in a statement.

Controllers at the Guiana Space Center will begin the Ariane 5's final countdown at 0915 GMT (5:15 a.m. EDT) Wednesday. Four hours later, at 1315 GMT (9:15 a.m. EDT), engineers will check the rocket's electrical systems. The first stage liquid oxygen and liquid hydrogen propellant loading sequence should begin around 1600 GMT (12 p.m. EDT). Fueling of the second stage is expected about an hour later.

A final test of telemetry, tracking and command connections between the launcher and ground systems is scheduled for around 1935 GMT (3:35 p.m. EDT).

Seven minutes before launch, computers will take control of the countdown in a synchronized sequence of events to pressurize propellant tanks, switch to on-board power and take the rocket's guidance system to flight mode.

The Vulcain 2 engine will ignite as the countdown clock reaches zero, followed by a health check and ignition of the Ariane 5's solid rocket boosters seven seconds later to send the 1.7 million-pound launcher skyward.

The Ariane 5's boosters will burn out and separate about 2 minutes, 15 seconds after liftoff. The launcher's satellite-shielding nose cone will be jettisoned three-and-a-half minutes into the flight once the Ariane 5 traverses the dense lower atmosphere.

At the flight's 9-minute point, the Vulcain 2 main engine will shut down, the first stage will be released, and the upper stage's HM7B engine will ignite to fire toward orbit.

The hydrogen-fueled HM7B engine is scheduled to be turned off 24 minutes, 40 seconds into the flight, beginning a choreographed sequence to deploy the mission's two payloads.

Nilesat 201's separation should occur at an elapsed time of 28 minutes, 44 seconds. The Sylda adapter will be released about 90 seconds later, exposing Rascom-QAF 1R for deployment at 32 minutes, 43 seconds.