Ariane 5 rocket successfully orbits French military craft
BY STEPHEN CLARK
SPACEFLIGHT NOW
Posted: December 18, 2009


France successfully launched a new spy satellite on Friday during a midday launch from French Guiana, using Europe's trusted Ariane 5 rocket to send the nearly $1 billion payload to orbit.


| | |
| --- | --- |
| | Credit: Arianespace |
After an uneventful countdown, the Ariane 5's hydrogen-burning Vulcain engine ignited with a flash and two powerful solid rocket boosters lit with a crackling roar at 1626 GMT (11:26 a.m. EST), or 1:26 p.m. local time at the Guiana Space Center on South America's northeast coast.

Turning north and speeding through a clear deep blue sky -- rare conditions at the tropical spaceport -- the 151-foot-tall launcher soared into the upper atmosphere, letting go of its twin boosters and payload shroud in the first three minutes.

The Vulcain engine continued firing for nearly 10 minutes, before shutting down and giving way to the Aestus engine of the Ariane's storable propellant upper stage.

The Aestus burned for more than 16 minutes to inject the Helios 2B satellite into a sun-synchronous orbit about 423 miles high. After an unpowered coast phase, the rocket released the satellite 59 minutes after liftoff over a ground station in Perth, Australia.

Helios 2B was the 33rd military satellite launched by an Ariane rocket.

Jean-Yves Le Gall, chairman and CEO of Arianespace, said military Ariane launches "underscore the strategic nature" of the European rocket family.

"This launch demonstrates the availability and reliability of the Ariane 5," Le Gall said.

The mission was delayed from last week due to a leaky helium sphere on the Ariane 5's first stage. Helium is used to pressurize the liquid oxygen tank during flight.

Another countdown was scrubbed Thursday due to a technical glitch.

The launch marked the seventh Ariane 5 rocket launch of 2009, setting a new record for the workhorse launcher. It was also the 193rd Ariane mission since the European-developed rocket family debuted 30 years ago in December 1979.

The Helios 2B satellite was expected to unfurl its solar array about 30 minutes after separation. Plans call for Helios 2B to take its first picture two days after launch. Controllers in France will also guide the craft into place among the Helios satellite constellation.

"We still start in-flight instrument acceptance testing, which is fairly complicated," said Marc Pircher, director of the Toulouse space center for CNES, the French space agency. "It takes a long time to test an optical instrument."

CNES operates the Helios satellites for the French defense ministry. The agency also serves as the formal contracting organization for Helios spacecraft.

The post-launch commissioning phase is expected to last about three months, according to the French defense ministry.

Helios 2B will do its work from a 435-mile-high orbit taking the spacecraft over almost all of the Earth's surface every day.

The spacecraft joins an orbiting fleet of military platforms with optical and infrared imagers to map battlefields, monitor terrorist threats and enforce disarmament and non-proliferation treaties.

"Images shouted by the satellites provide necessary intelligence data to the French senior authorities and also to the forces deployed on the ground," the French defense ministry's Helios 2B press kit said.

Officials said recent French military action in Kosovo, Lebanon, Afghanistan, Chad and Darfur demonstrated the Helios system's value.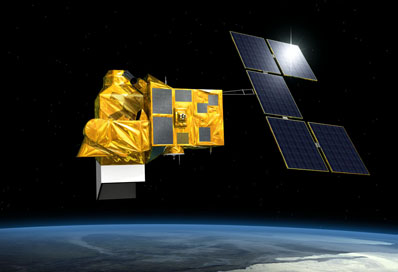 Artist's concept of the Helios 2B satellite. Credit: CNES



The 9,259-pound Helios 2B spacecraft will join two other Helios satellites already in space. Helios 1A was launched in 1995 and Helios 2A arrived in orbit in 2004.

The high-resolution camera will provide an ultra-stable platform for high definition and infrared optical images for day and night coverage. French military officials did not specify the camera's resolution.

The wide-field instrument is based on the camera aboard the civilian Spot 5 remote sensing satellite. It will collect medium-resolution images across a wide footprint for cartography applications, according to the French defense ministry.

EADS Astrium built the spacecraft and medium-resolution instrument.

"With Helios 2B, Europe has provided a world-class tool for optical observation," said Francois Auque, CEO of EADS Astrium. "Astrium is the prime contractor for the space segment, leading a consortium of 25 companies, and prime contractor for the six-nation user ground segment."

Thales Alenia Space produced the high-resolution camera.

"The launch of a satellite such as Helios 2B is very important for France and its partners because we all benefit from this high-performance system and the continuation from Helios 2A, which has been operating since 2005," said Reynald Seznec, president and CEO of Thales Alenia Space. "We often call the Helios satellites the eyes of our defense systems, and in order to accomplish the very high-resolution instruments needed for these satellites, our teams at Thales Alenia Space have developed expertise which is unique in Europe."

France and four European partners fund the pair of Helios 2 satellites. Belgium, Spain, Italy and Greece each have a 2.5 percent stake in the nearly $3 billion program.

Helios data is utilized by all the program's partners, plus Germany. France receives access to Germany's SAR-Lupe and Italy's COSMO-SkyMed radar satellite constellations.

The six nations are attempting to strengthen military space collaboration in a partnership called MUSIS, the Multinational Space-based Imaging System. MUSIS would build a framework for a common military satellite reconnaissance system with optical, infrared and radar capabilities by 2014.

France would lead the optical segment of MUSIS, while Germany and Italy would contribute radar satellite systems. Sweden and Poland are also in talks to join the MUSIS alliance.

Wednesday's launch comes as France is revamping its military space activities and increasing funding for defense space programs.

Helios 2B is managed by the defense ministry's procurment agency, named DGA, which assigned contracting authority for the satellite to the French space agency, CNES.

The DGA space budget will be increased from less than $600 million to almost $900 million by 2014. French military space programs include observation, monitoring, communications and early warning projects.

A new Space Joint Command will also be established in the defense ministry next July. France is already studying a third-generation Helios system.

France also plans to launch the first of two commercial Pleiades observation satellites in late 2010. Pleiades imagery will resolve objects as small as 50 centimeters, or 1.6 feet, for European military and international commercial users.