A new generation for mobile satellite communications
BY JUSTIN RAY
SPACEFLIGHT NOW
Posted: July 1, 2009


The world's largest commercial communications satellite ascended into orbit Wednesday atop the heavy-lifting Ariane 5 rocket, beginning an ambitious new project to provide mobile services across North America.


| | |
| --- | --- |
| | The Ariane 5 blasts off with. Credit: Arianespace |
The European-made booster roared out of the South American jungle launch site at 1:52 p.m. EDT (1752 GMT) after a 99-minute delay initially caused by unfavorable weather and then two holds late in the countdown for unspecified issues.

Once clocks hit zero, the giant rocket fired to life and thundered on its way toward geosynchronous transfer orbit. Launch provider Arianespace reported the Ariane hit the targeted orbit with a high point of 22,334 miles, a low point of 155 miles and inclination of 6 degrees.

Some 26 minutes after liftoff, the massive TerreStar 1 satellite was successfully released into the preliminary perch above the planet.

"Sometimes it is nerve-racking to go through these sorts of launches," Jean-Yves Le Gall, chairman and CEO of Arianespace, said shortly after the successful deployment.

"Nerve-racking? I guess three times is the charm...My heart is still pounding a little bit," added Jeff Epstein, president of TerreStar Networks.

"Obviously, I'm very happy to share this new success with you. It is our 31st success in a row, it's the third in 2009, and I think it shows us perfectly how high performance and reliability can go hand-in-hand," Le Gall said of the workhorse Ariane 5.

TerreStar 1 will be maneuvered into a circular geostationary orbit over the next week, eventually parking itself above the equator at 111 degrees West longitude to cover the United States, Canada, Puerto Rico and the U.S. Virgin Islands.

"All of us have been on a shuttle bus going from an airport to a car rental agency. The satellite is about as big as that shuttle bus. It is 26 feet tall and it's about 10-foot-square when stowed for launch," said Tann Pinney, vice president of satellite services at TerreStar Networks.

Weighing some 15,235 pounds at launch, this powerhouse satellite is designed for a new generation of mobile communications using regular-size handsets and the elimination of the large antenna on existing satellite phones.

"Let's look at the handset we've been able to produce. You don't see the big, bulky antenna, you don't see a big brick. This is the same size as smartphones are today. This will be the first integrated terrestrial-satellite smartphone in the world," said Dennis Matheson, chief technology officer of TerreStar Networks.

"One of the uniquenesses of TerreStar is that when we actually set out to design the satellite and the satellite specifications, we sort of went about it in a different paradigm than has been done in the past. We looked at what the consumers were using today, what they were using in their day-to-day lives, and we said we wanted a satellite that would enable a consumer-level device that would operate with a geosynchronous satellite."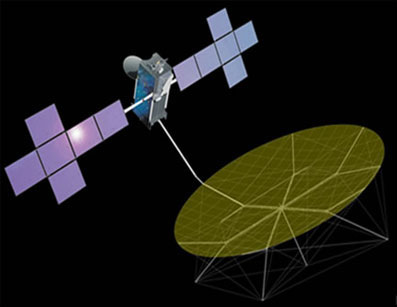 An artist's concept of the TerreStar 1 satellite deployed in orbit. Credit: Space Systems/Loral



TerreStar plans to blend the capabilities of its new satellite with a terrestrial network to provide mobile voice and data communications, messaging services and video for both commercial and government subscribers. Its target audience includes emergency responders, rural communications and on-the-go customers who want "always connected" service no matter where they're located.

"The customer will be able to see a lot better coverage at speeds that you haven't been able to get over satellite before," said Pinney.

"It is going to revolutionize telecommunications over North America," said Le Gall.

The satellite, which was manufactured by Space Systems/Loral, will unfurl a 60-foot-diameter mesh antenna reflector and activate some 500 narrow spotbeams to communicate with the smartphones, plus laptops and portable devices.

"These beams enable ordinary handheld cell phone devices to be used directly to the satellite," said KP Bhat, executive director of the TerreStar 1 program at Space Systems/Loral.

"I don't know if you can guess how many man hours have been spent on this satellite, but actually way over 1 million throughout the time the satellite was being designed, built and tested, and this is just at Space Systems/Loral," said John Celli, president and COO of SS/L.

The first call via TerreStar 1 is expected later this month, followed by full testing and the start of service by year's end.

"This is really just the beginning of the story for TerreStar," said Epstein.

Arianespace has four more Ariane 5 rockets slated for launch this year. Next up will be the mid-August flight to deploy the JCSAT 12 communications satellite for Japan and Optus D3 for Australia.