Engineering double checks put off next Ariane launch
BY STEPHEN CLARK
SPACEFLIGHT NOW
Posted: April 2, 2009


The launch of two European astronomical observatories will slip until May because engineers need extra time to make sure the $1.3 billion Herschel telescope can survive the extreme mechanical pressures of blastoff, officials said Thursday.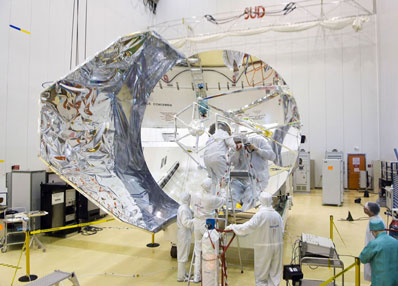 The Herschel spacecraft undergoes launch preps at Ariane base in South America. Credit: Arianespace



The checks will delay launch at least one week from the flight's previous target of April 29 or 30.

"If you do nothing for a week on a tight launch campaign, then you shift everything one week," said Thomas Passvogel, the European Space Agency's project manager for the Herschel and Planck missions.

Officials are studying documentation to ensure the nearly 25-foot-tall, 15-foot-wide spacecraft can weather the shaking and mechanical loading of launch.

Earlier reviews last year verified Herschel's readiness for launch, but engineers wanted one more look at the data before committing to launch, Passvogel said.

"It is very susceptible to mechanical loading because it is so big," Passvogel said. "You can think about it as a big bell. If you excite it, it starts ringing."

Herschel and Planck will be launched aboard an Ariane 5 rocket from the European-controlled spaceport in Kourou, French Guiana.

Passvogel said engineers are studying waivers that have been requested by Arianespace, the launch services provider.

"It's pure paperwork," Passvogel said.

The review is being led by the ESA inspector general and Arianespace, the agency said in a statement Thursday.

A panel of independent experts is also analyzing documents, according to ESA.

An official launch date could be set next week after engineers present their results to management, according to Passvogel.

Officials announced an earlier delay last month that moved the launch from April 16 until at least April 29. That postponement gave engineers time to finish evaluating spacecraft operations procedures and recent software updates in the mission's ground segment.

Herschel will be the largest telescope ever flown in space. The observatory carries an 11.5-foot mirror and three infrared science instruments to peer deep into star-forming regions, galactic centers and planetary systems.

Engineers are taking special care to protect the 7,500-pound spacecraft. The mirror and infrared sensors must be kept pristine throughout ground processing and launch, according to scientists.

"The two spacecraft are here and waiting for the go-ahead to be given," Passvogel said from Kourou.

Technicians will begin fueling the spacecraft with maneuvering propellant once managers give approval for launch.

Both spacecraft will orbit around the L2 point, a location about 1 million miles from the dark side of Earth. The point is prime real estate for astronomy missions because Earth and the sun are always in the same direction.

Sensitive instruments aboard Herschel and Planck would be overwhelmed by bright light from nearby objects, according to scientists.

Planck will measure small temperature variations in the universe to detect the relic radiation from the Big Bang. The results will give scientists more detailed information on the universe's early history.