Ariane 5 rocket trucks four spacecraft into orbit
BY JUSTIN RAY
SPACEFLIGHT NOW
Posted: February 12, 2009


Beginning another busy year of transporting satellites from Earth to space, the commercial Ariane 5 rocket successfully launched two communications spacecraft and a pair of military payloads this evening.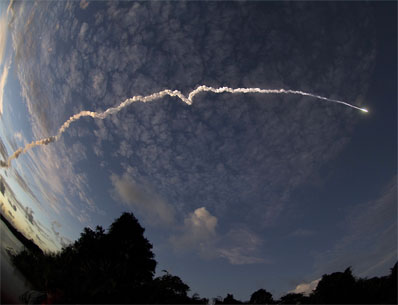 Credit: Arianespace



Thundering out of its South American launch base at 2209 GMT (5:09 p.m. EST), the heavy-lift booster turned east and set sail on a half-hour ascent to its appointed geosynchronous transfer orbit.

Continuing its string of consecutive successes over the past six years, the rocket first deployed Hot Bird 10, a powerful new direct-to-home TV satellite for Europe, then released the NSS 9 telecommunications spacecraft to bridge the Pacific and later ejected two missile-warning micro-sats for the French military.

"I'm absolutely delighted to be able to share with you this new success," said Jean-Yves Le Gall, chairman and CEO of Arianespace. "This success goes to show that Ariane 5 ECA, which is a combination of power and dependability, is capable of 29 successful launches in a row."

Paris-based satellite operator Eutelsat plans to temporarily park Hot Bird 10 in geostationary orbit at 7 degrees West longitude where it will replace the decade-old Atlantic Bird 4 spacecraft for broadcasting TV programs to the Middle East.


| | |
| --- | --- |
| | An artist's concept of Hot Bird 10. Credit: EADS Astrium |
Eventually, Hot Bird 10 will be moved to its intended position at 13 degrees East longitude, joining identical sister-satellites Hot Birds 8 and 9 to beam nearly 1,100 television channels and 600 radio stations to 120 million homes across Europe, North Africa and the Middle East. The advanced spacecraft have increased the number of digital and high-definition TV offerings.

"Hot Bird 10 is being launched well before the start of its commercial mission at 13 degrees East, and that's why we decided that in the meantime it will contribute to our expansion into immerging orbital slots for television distribution," said Raphael Mussalian, the satellite's mission director.

Built by EADS Astrium using the Eurostar E3000 platform, Hot Bird 10 is equipped with 64 Ku-band transponders for relaying transmissions directly to small dishes at users' homes.

Once Hot Bird 10 enters service at 13 degrees East in about 18 months, it will free up the Hot Bird 6 spacecraft for future redeployment elsewhere in Eutelsat's expansive constellation.

The new NSS 9 satellite will operate 22,300 miles above the equatorial Pacific Ocean at 177 degrees West longitude to connect communications between Asia and North America for government, commercial and maritime customers.

"From this location, New Skies 9 will provide connectivity between all of the major Pacific Rim locations, as well as the west coast of the United States," said Robert Bednarek, president and CEO of SES New Skies and SES AMERICOM.


| | |
| --- | --- |
| | Credit: Orbital Sciences |
The all C-band spacecraft will support telecommunications services with beams covering Australia, Indonesia, the Philippines, Japan, China, Korea and the Pacific Islands, plus Hawaii and the U.S. mainland.

"New Skies 9 will be well positioned to serve customers in the government, telecom and media sectors supporting applications as diverse as voice, internet trunking, video distribution, along with a range of other communications services," Bednarek said.

Operator SES New Skies of The Hague, The Netherlands bought the new craft, which is built around a smaller satellite design, from Orbital Sciences to replace its NSS 5 bird that was launched more than 11 years ago.

"New Skies 9 is the first satellite in a series of three to be launched in 2009 as part of a significant fleet expansion program designed to extend our current services and bring additional capacity for the growth of our customers throughout the world," Bednarek added.

Hitching a ride into space with Hot Bird 10 and NSS 9 were the tiny SPIRALE micro-satellites for the French military.

These two trailblazer craft, known as SPIRALE A and SPIRALE B, will test a space-based optical early warning system to detect enemy missile launches. The name comes from the French acronym for "Preparatory System for IR Early Warning."

Flying in a highly elliptical orbit of 22,300 by 375 miles, the cube-shaped micro-sats will take infrared imagery to spot ballistic missiles during their boost phase of flight.

A future operational program could serve security and proliferation monitoring roles.

"With the early warning system, France is taking a major step forward enabling it to assess, as a sovereign state, the nature and reality of ballistic threats and possible attacks," said Patrick Auroy of the French Defense Procurement Agency.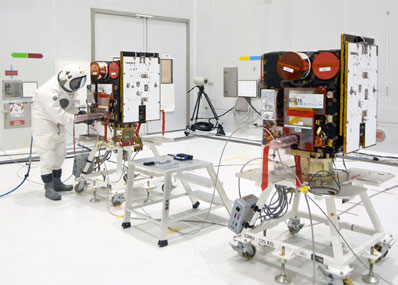 The two SPIRALE satellites are pictured here in pre-launch cleanroom. Credit: Arianespace



Today's launch of the workhorse Ariane 5 was the rocket's first of perhaps six to eight missions in 2009.

Next up will be Arianespace Flight 188 on April 16 to dispatch a pair of scientific spacecraft for the European Space Agency. The Herschel infrared space telescope will probe the formation of stars and galaxies and the Planck observatory will look for the leftover radiation from the Big Bang that started the Universe.

Both satellites were headed to the Ariane launch base this week to begin final pre-flight preparations.