Ariane 5 rocket goes up for the fifth time this year
BY STEPHEN CLARK
SPACEFLIGHT NOW
Posted: August 14, 2008


Europe's workhorse Ariane 5 rocket took off from a South American space base Thursday on its third launch in barely two months, this time with Japanese and U.S. television broadcasting satellites.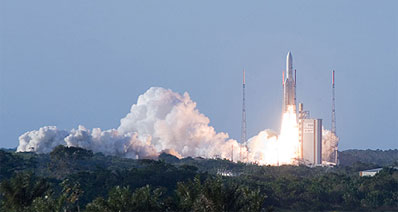 The Ariane 5 rocket launches from the jungles of Kourou with a pair of American and Japanese satellites aboard. Credit: Arianespace



The rare daytime launch occurred at 2044 GMT (4:44 p.m. EDT) from the Guiana Space Center along the northeast coast of South America.

Officials were greeted with "Chamber of Commerce" weather at the launch site, and the rocket darted through a clear blue sky before shedding its two solid rocket booster casings and disappearing from view.

The Ariane 5's cryogenic first and second stages propelled the mission's payloads into an elliptical geosynchronous transfer orbit stretching from a low point of 155 miles to a high point of about 22,277 miles. The orbital inclination was targeted for two degrees, slightly lower than typical Ariane transfer orbits to reduce payload fuel consumption, according to Arianespace.

The rocket unleashed the 10,626-pound Japanese Superbird 7 satellite about 26 minutes after liftoff. After jettisoning a dual payload adapter, the stage released the smaller AMC 21 to complete the Ariane 5's fifth mission of the year.

"I think it is a perfect illustration of the fact that high performance, reliability and increase of pace can go hand-in-hand," said Jean-Yves Le Gall, Arianespace chairman and CEO.

Le Gall said Thursday's flight was the ninth for the Ariane 5 in the past 12 months. Two more launches are planned in October and December to complete the year.

"I feel a great sense of relief now that it's off the ground and we got both satellites separated," said Rick Starkovs, vice president and general manager of space systems and operations for SES Engineering, a unit of AMC 21's operating company.

AMC 21 will enter service next month to begin a mission projected to last up to 15 years. The satellite will introduce Ku-band communications coverage to a new SES AMERICOM operating base at 125 degrees west longitude in geosynchronous orbit.

The spacecraft carries 24 active Ku-band transponders and two reflector antennas to beam television broadcasts across the United States, Canada, Mexico, Central America and the Caribbean. AMC 21 will be the new home of the Public Broadcasting Service, in addition to other networks, according to satellite officials.

The AMC 21 communications payload was built by Thales Alenia Space. Orbital Sciences Corp. provided the satellite's Star 2 bus in a contract with Thales, also the craft's prime contractor.

AMC 21 joins 15 other satellites in SES AMERICOM's fleet covering the Americas.

"We're adding more besides this one," said Dennis Huyler, AMC 21 launch program manager for SES Engineering. "We have two more launches later this year and a few more next year."

Superbird 7 will next boost itself to a circular geosynchronous orbit along the equator at 144 degrees east longitude. The satellite will begin operational service for Space Communications Corp. of Japan after about two months of testing.

The spacecraft will be renamed Superbird C2 at the beginning of its 15-year lifetime.

Superbird 7 will replace Superbird C, an 11-year-old satellite nearing the end of its design life. The new craft includes 28 Ku-band transponders to provide broadband Internet connections and high-definition cable and direct television broadcasts to customers in Japan, East Asia and the Pacific Ocean.

Superbird 7 is the first satellite to be launched by a Japanese operator since the country's three leading satellite communications companies - Sky Perfect Communications, JSAT Corp. and SCC - merged to form Sky Perfect JSAT Corp.

"The success of the Superbird 7 launch is very important for the new integrated company as a basis to accelerate the growth of global satellite communications (in Japan)," said Yukata Nagai, SCC president and CEO.

Based on the DS 2000 platform by Mitsubishi Electric Corp., Superbird 7 is the first Japanese-owned commercial satellite to be manufactured by a Japanese contractor. Earlier satellites for Japanese operators were built by U.S. companies, officials said.

"I hope such made-in-Japan satellites will be more widely accepted in the world satellite market from this success on," Nagai said.