Sophisticated ATV boosts Europe's space programs
BY STEPHEN CLARK
SPACEFLIGHT NOW
Posted: March 5, 2008


This weekend's launch of Europe's Jules Verne cargo ship and last month's addition of the Columbus laboratory module to the international space station are cornerstone achievements in the continent's growth in space, according to senior officials.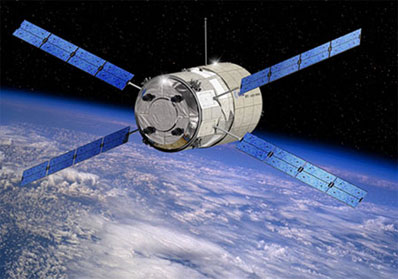 Credit: ESA



Jules Verne is the first of at least five contracted Automated Transfer Vehicle missions to the space station. Blastoff is timed for 0403:04 GMT (11:03:04 p.m. EST) from the European-controlled space base in Kourou, French Guiana.

"Europe historically is the exploring continent, and we want to make sure that we don't just explore the world but we explore the world beyond us," said Alan Thirkettle, ESA international space station program manager.

Long an operator of highly successful science probes, the European Space Agency is becoming a full-time participant in human spaceflight this year.

"There is a big jump between operating unmanned spacecraft in deep space and actually operating a spacecraft in a manned environment," said Bob Chesson, head of ESA's human spaceflight and exploration operations. "It's a big challenge for us and I think we're up to it."

Jules Verne will embark on a dual mission to demonstrate the vehicle's readiness and deliver crucial cargo to the space station.

"I'm a Briton and it's very difficult for Brits to get excited, but we're very excited and very proud and really looking forward to what we think is going to be a really magnificent mission and one that will service the station very well," Thirkettle said.

Along with the newly-launched Columbus lab, the ATV will be one of Europe's primary contributions to the station. ESA and ten of its member states have spent about $7.4 billion on station-related projects since 1995, according to Thirkettle.

Europe is budgeting another $5.9 billion for the station through 2018, mostly covering the four remaining ATV missions and operations costs.

If everything goes as planned during Jules Verne's six-month mission, the next ATV will launch late next year. Three more ATV's will fly in 2011, 2012 and 2013, ESA officials said.

"You don't become a major player unless you can do your own operations, and that will come with ATV," Thirkettle said.

The ATV program has cost $1.9 billion since 1995, including the craft's design, development and construction. The cost number also covers the program's ground segment.

Each ATV mission produces an individual cost of about $532 million, while each spacecraft is worth about $304 million, according to ESA.

France led the program's development, providing nearly 47 percent of the total contributions to the ATV. Germany and Italy supplied 24 percent and 13 percent, respectively, and seven other ESA member states had contributions in the single digits.

Europe's involvement in the international space station project is structured by barter agreements with NASA. ESA secured a shuttle launch for Columbus by building the Node 2 and Node 3 modules, and the ATV's cargo-carrying capability will cover ESA's 8.3-percent share of the station's operating costs.

Columbus, the ATV and ESA science payloads also help ensure a spot for European astronauts on future station crews. Thirkettle said ESA astronauts will spend at least six months on the station every two years beginning in 2009.

Led by the industrial giant European Aeronautic Defence and Space Co., the ATV contractor team included thousands of engineers and technicians in Europe. Russia provided the docking probe and refueling system.

"ATV gives very high-tech work to (European) industry, it pays our fees for the station which enables us to do the world-class science and research that we want to do on the station, and it's a gateway to the future exploration ambitions that we have in Europe," Thirkettle said.

A space transporter

The ship is able to carry more than 16,000 pounds of refueling propellant, water, oxygen, nitrogen and dry cargo. Named after the famed 19th century science fiction writer, Jules Verne will be launching with only about 10,100 pounds of supplies.

"We want to retain some flexibility for the various test maneuvers that will be performed during the approach," said John Ellwood, ATV project manager.

In development for more than 12 years, the ATV can carry three times more payload mass to the station than Russia's workhorse Progress spacecraft, which has averaged nearly four missions per year since 2001.

"We're going to be the largest carrier of cargo to the international space station," Ellwood said.

The cargo capacity will be especially needed after the space shuttle's retirement in 2010. The shuttle currently carries most of the station's hardware to orbit.

"It is a major contribution to the program, probably more significantly post-2010 when the shuttle is no longer available for us to do much of the logistics work it does," said Mike Suffredini, NASA international space station program manager.

With its Russian docking probe extended, the cylindrical craft measures nearly 34 feet long and 15 feet wide, about the size of a London double-decker bus.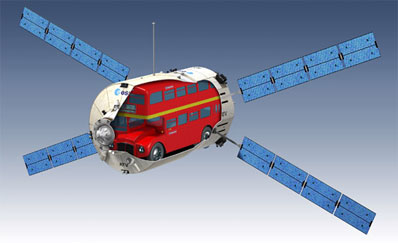 Credit: ESA



"It is the biggest spacecraft we've built in Europe and by far the most complicated," Ellwood said.

Behind the ATV's 518-pound docking system lies the integrated cargo carrier, containing about 1,600 cubic feet of pressurized volume.

Derived from the Italian-built, NASA-owned Multi-Purpose Logistics Modules, the pressurized section has room for up to eight standard cargo racks. The 16.1-foot-long cargo carrier also includes an unpressurized module holding spherical tanks for water, gases and refueling propellant.

Larger racks housing science experiments can only be flown to the station using the shuttle or Japan's H-2 Transfer Vehicle, which will launch for the first time next year. The HTV will also be able to deliver external payloads.

A service module behind the cargo carrier is fitted with four blue power-producing solar arrays. When deployed, the panels form a distinguishing X-shaped pattern spanning more than 73 feet, producing about four kilowatts of power.

Four main engines attached to the aft end of the ATV will perform major rendezvous burns and re-boost the space station's orbit. Two of the engines will be used in free flight, while all four can be used for re-boost maneuvers. The propulsion unit includes 28 smaller thrusters for attitude control duties.

A backup propulsion system can be activated to independently abort an ATV rendezvous if conditions become unsafe. "We really have two spacecraft in the middle of this enormous great bird," Ellwood said.

The service module also contains the ATV's brain, a complex set of computers and avionics that serve as the spacecraft's nerve center.

Shields and an insulating white foil layer covering the outer shell of the ATV protect the spacecraft from debris impacts and extreme temperatures. Optical rendezvous sensors and an assortment of S-band, radio, and GPS antennas are also scattered across the freighter's exterior.

The spacecraft will communicate with a 60-person team of controllers based in Toulouse, France, through NASA's Tracking and Data Relay Satellite System - a fleet of satellites also used by the space shuttle, space station and a host of other missions.

The ATV is "like a combination of a telecoms satellite, navigation vessel and a human spacecraft all rolled into one," Thirkettle said.

More ATV missions could be flown if station operations are formally extended past the next decade. Officials have also considered fielding the ATV on commercial flights or evolving the ship to support other types of missions.

A joint team formed by EADS Astrium and Lockheed Martin Corp. proposed using an ATV variant launched by Atlas and Delta rockets under a 2005 NASA request for proposals to commercially supply the space station after the shuttle's retirement. NASA didn't select the ATV plan for further study, instead choosing to support smaller burgeoning U.S. aerospace companies.

Some officials tout the ATV as a stepping stone to a future crew-carrying spacecraft, but that would require a significant leap from the ship's current design.

"It's not just a matter of taking off the cargo carrier and sticking a capsule on top of it," Thirkettle said.

A long road to launch

More than 12 years in the making, the long-awaited maiden launch of the ATV has been hit by more than three years of delays since the project was inaugurated.

Officials overcame early development difficulties in the first few years of the program, but more recent issues again challenged the ATV team.

Hiccups in the ATV's Russian GPS navigation system forced engineers to write new software to trounce the problems in late 2006. Flight software testing also had to be pushed back due to difficulties with a ground facility designed to check the software.

Jules Verne was shipped from its testing center in the Netherlands to French Guiana last July to begin several months of final assembly and cargo loading. More than 40 people have worked full time on the spacecraft at Kourou since its arrival, according to ESA officials.

Tests at the launch site revealed minor issues with the ATV's docking system and miniscule leaks in the propulsion system last fall. Technicians employed minor fixes to overcome the issues, according to an ESA spokesperson.

Another constant factor in the timing of Jules Verne's mission has been international traffic visiting the space station. The ATV can't dock while the space shuttle is present, and arrivals and departures of Russian Soyuz and Progress spacecraft must also be taken into account, Thirkettle said.

"The fact is it's a very complicated process to try to line these spacecraft up to come to ISS, mostly because seldom do they actually launch exactly when they think they will," Suffredini said.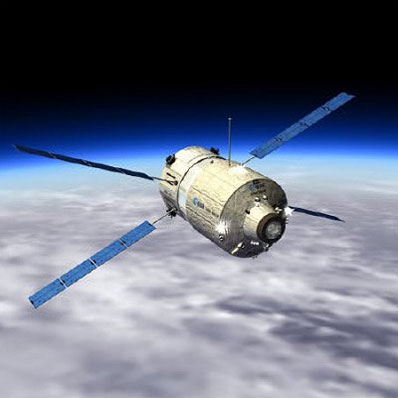 Credit: ESA



Visiting spacecraft were partially to blame for an ATV delay last year, but officials said last month they would launch as soon as possible and wait in a parking orbit for other missions to wrap up.

Workers finished loading dry cargo aboard Jules Verne last fall and closed the pressurized section on Dec. 12. The cargo carrier and service module were mated five days later.

Technicians completed fueling Jules Verne and installed the craft's thermal covers in early February. Jules Verne was transported to the final assembly building on Feb. 14 and attached atop the Ariane 5 rocket a few days later.

Managers met Feb. 6 and decided to formally postpone the launch from Feb. 22 to March 8, giving engineers time to put finishing touches on the spacecraft. Officials said ground controllers also requested additional time to conduct more mission simulations.

ESA did not purchase insurance for Jules Verne's flight, but engineers designed the ATV with several levels of redundancy and put in extra testing to offset the risk. The delay last month was to add a "final level of robustness" to the mission, Thirkettle said.

After some final closeout work, the Ariane 5's voluminous payload fairing was mounted around Jules Verne on Feb. 25. The nose cone protects the ship during the final days before launch and through the rocket's flight in the dense lower atmosphere during the early minutes of the mission.

Managers decided last weekend to postpone the launch one more day, allowing launch site workers to inspect grounding straps on the separation system that will release Jules Verne from the grasp of the Ariane 5's upper stage.

Technicians temporarily removed the payload fairing for the separation system checks. The two fairing halves were attached to the rocket again earlier this week, setting the stage for the launcher's move to the launch pad Friday in advance of picking up the final countdown Saturday afternoon.