Ariane 5 rocket puts another double payload into orbit
BY STEPHEN CLARK
SPACEFLIGHT NOW
Posted: August 14, 2007


An advanced space-based Internet switchboard-in-the-sky and a Japanese direct broadcasting satellite were successfully hauled into space Tuesday aboard an Ariane 5 rocket, making its third flight of the year.

The 166-foot-tall Ariane 5 ECA rocket, fitted with two solid rocket boosters and a cryogenic upper stage, came to life at 2344 GMT (7:44 p.m. EDT) and sped away from its oceanfront launch pad. The rocket flew east away from the launch site at Kourou, French Guiana.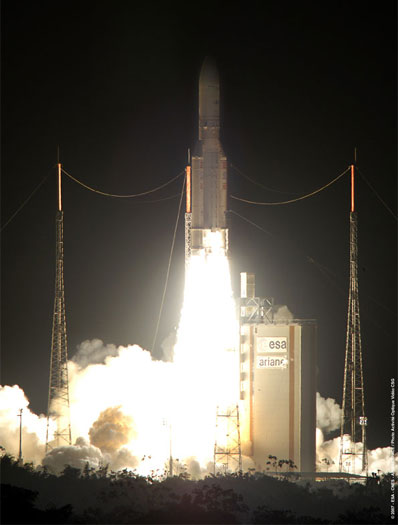 Credit: ESA/CNES/Arianespace



The heavy-lifting European rocket disappeared into low-hanging clouds seconds after liftoff, but tracking cameras recaptured picturesque images of the launcher as it ascended into sunlight a few minutes later.

The twin solid-fueled boosters, payload fairing and first stage were all jettisoned on time. The cryogenic upper stage completed the task of placing the satellite payloads into orbit.

Recovery ships were stationed east of Kourou to retrieve the solid rocket boosters after they parachuted into the Atlantic Ocean. Arianespace officials said the vessels will tow the spent motor casings back to Kourou for disassembly and analysis, but there are no plans to reuse the boosters.

Telemetry from the rocket confirmed the deployment of the Spaceway 3 and BSAT-3a payloads about a half-hour after liftoff. The Ariane 5 reached an egg-shaped transfer orbit stretching from a high point about 22,300 miles to a low point of 155 miles, with an inclination of about two degrees.

Arianespace officials declared the launch a success shortly after spacecraft separation, marking the Ariane 5 rocket's 19th consecutive successful launch.

"With this perfect launch of Ariane 5, you have once again seen a further demonstration of the excellence of European technology," said Jean-Yves Le Gall, Arianespace chairman and chief executive officer.

Spaceway 3 was first to separate from the rocket's upper stage. The 13,400-pound satellite will propel itself into a circular 22,300-mile-high orbit above the equator at 95 degrees west longitude.

The craft will be operated by Maryland-based Hughes Network Systems for more than 12 years, beaming Internet and multimedia services to businesses, government users and private consumers across North America. The spacecraft was built by Boeing Satellite Systems and is based on the Boeing 702 design.

"It's a defining moment for our company because for the first time, we will own a satellite on our own," said Pradman Kaul, chairman and chief executive officer of Hughes Network Systems. "We now can offer an end-to-end service where every piece of that service is provided by Hughes. I don't think there is any other company in the world today that can make that statement."

Spaceway 3 was originally tagged to fly into orbit aboard a Sea Launch Zenit 3SL rocket, but the ocean-based booster exploded on its floating launch platform in a catastrophic Jan. 31 failure. The accident caused Hughes to move Spaceway 3 to Arianespace, which has a strategic alliance with Sea Launch for such circumstances.

"When we signed this contract last February, I committed to launch your spacecraft before mid-August," Le Gall said. "I think we did it with a little more than two hours in advance."

The high-tech satellite includes advanced antenna technologies that allow the Ka-band communications system to shape spot beams to meet real-time demands for broadband services.

A digital signal processor aboard Spaceway 3 will be able to switch and route broadband traffic, removing the need for a ground station, according to Hughes.

"We are very, very excited that we have the opportunity to move the world of broadband data access to the next level," Kaul said.

Boeing engineers will oversee the orbit-raising and commissioning phases of Spaceway 3's mission, and control of the spacecraft will be handed over to Hughes by the end of the year. Commercial service for Spaceway 3 should begin by next January.

Six-and-a-half minutes after deploying Spaceway 3, the Ariane 5 upper stage released BSAT-3a, a 4,365-pound satellite for the Broadcasting Satellite System Corp. of Japan.

"We hope that the safe and stable mission of BSAT-3a will continue until the end of [its] life," said Kenji Nagai, president and chief executive officer of BSAT Corp.

BSAT-3a is beginning a 13-year mission to beam direct-to-home digital television programming to customers across Japan. Built by Lockheed Martin, the satellite carries 12 Ku-band transponders, eight of which can operate at one time.

"BSAT-3a will provide direct broadcast links for the entire Japanese archipelago from its geostationary orbit and we are pleased that BSAT has entrusted Lockheed Martin with this important mission," said Marshall Byrd, vice president and general manager of Lockheed Martin Commercial Space Systems.

The craft joins a fleet of four other broadcasting satellites owned by BSAT Corp. The satellites provide a combination of analog and digital services.

BSAT-3a will be primarily used by NHK, Japan's largest broadcasting company and a nearly 50 percent shareholder in BSAT Corp. The satellite will broadcast programs to more than 20 million subscribers.

Arianespace's next launch is scheduled for late September, when an Ariane 5 GS rocket will orbit the Intelsat 11 and Optus D2 communications satellites.

Three more Ariane 5 missions are slated to round out the year, including next month's launch.