British and Indian satellites fly to space on Ariane 5
BY STEPHEN CLARK
SPACEFLIGHT NOW
Posted: March 11, 2007


A brilliant flash of light and a roar of thunderous sound signaled the start of Arianespace's first space launch of the year Sunday evening, and the rocket's two communications payloads were delivered to orbit just a half-hour later.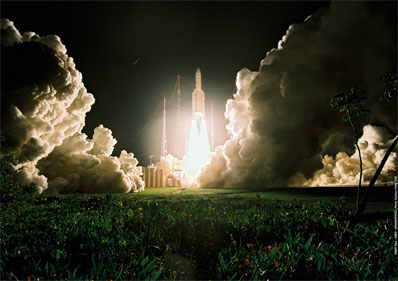 Credit: ESA-CNES-Arianespace/Photo Optique Video CSG



The Ariane 5 rocket lifted off from the Guiana Space Center on South America's northeast coast at 2203 GMT (6:03 p.m. EDT). Arianespace officials declared success after both communications satellites bolted atop the booster were deployed into orbit 30 minutes after blastoff.

The launch was delayed from Saturday due to concerns with the water deluge system at Ariane 5's ELA-3 launch pad. The water system floods the launch table with thousands of gallons of water at liftoff to protect against the violent acoustic vibrations and fire associated with the launch.

Fitted with an upgraded Vulcain 2 first stage main engine and a cryogenic upper stage, the Ariane 5 ECA launcher carried the Skynet 5A military communications satellite for the British Ministry of Defense and the INSAT 4B direct broadcasting spacecraft for the Indian Space Research Organization.

"Ariane has once again proved that they can do the job on the dot," said Madhavan Nair, ISRO chairman, adding that the Ariane 5's achieved orbit represented "textbook precision."

Skynet 5A is beginning a 15-year mission for Paradigm Secure Communications, which is owned by EADS Astrium, a leading European space contractor. The British Ministry of Defense contracted Paradigm to provide satellite communications services to its users through about 2020. The agreement is estimated to be worth up to $7 billion, according to EADS Astrium.

Paradigm also holds contracts with the Netherlands Ministry of Defense and the Canadian military, in addition to a memorandum of understanding for secure satellite communications with NATO.

The satellite is the first of the Skynet 5 series, which features additional communications payload capacity and is four times more powerful than earlier British military communications satellites.

The 10,361-pound satellite, also built by EADS Astrium, will be positioned in geostationary orbit approximately 22,300 miles above the Equator at 1 degree West longitude. In this orbit, Skynet 5A will match Earth's rotation and appear fixed above the Gulf of Guinea off Africa's west coast.

Skynet 5A carries both ultra-high-frequency and super-high-frequency communications instruments and a secure payload control system. The spacecraft also includes anti-jamming capability and multiple spot beams.

Ariane 5 rockets will launch at least two more Skynet 5 satellites later this year and in 2008. Other Skynet 5 spacecraft could be built and launched in the next few years.

INSAT 4B was housed inside the Sylda dual payload adapter for the ride to space Sunday, and the nearly 6,675-pound satellite is also bound for a 22,300-mile-high geostationary orbit. The craft will be parked along the Equator at 93.5 degrees East longitude above the Indian Ocean.

The satellite's 12 Ku-band transponders will reach homes and businesses throughout India, while 12 C-band transponders are designed to serve users in a swath stretching from the Middle East to Southeast Asia.

INSAT 4B is tailored for direct-to-home television broadcasting services, and the satellite is expected to operate for at least 12 years.

The craft is the second INSAT 4 satellite to successfully reach orbit. INSAT 4A was launched by an Ariane 5 rocket in 2005, while INSAT 4C was destroyed last July when its Indian launch vehicle exploded shortly after liftoff. A replacement for the lost satellite is under construction and could launch this summer, adding more capacity to India's direct satellite broadcasting market.

Five more launches are needed to complete the INSAT 4 series, which will comprise seven satellites when fully deployed. Up to 138 Ku-band and C-band transponders will be put into orbit on INSAT 4 satellites, according to the Indian Space Research Organization.

Saturday's launch of the Ariane 5 marked the 17th consecutive success for the European workhorse rocket, and the 175th flight of the Ariane launcher family since its 1979 debut.

The next mission for the Ariane 5 is scheduled for early May, when two more communications satellites will be orbited. Europe's ASTRA 1L broadcasting satellite and the American Galaxy 17 communications spacecraft are currently manifested for that mission. Arianespace officials expect a total of six Ariane 5 launches this year.

Arianespace recently reached an agreement with its suppliers to ramp up Ariane 5 production to achieve up to eight flights per year, beginning in 2009.

"Tonight's launch shows we are on the right track," said Arianespace CEO Jean-Yves Le Gall.