Ariane 5 rocket launches double cargo with success
BY JUSTIN RAY
SPACEFLIGHT NOW
Posted: June 11, 2003


A pair of Australian and Japanese telecommunications satellites shared the ride into Earth orbit Wednesday night, blasting off from the jungles of South America aboard Europe's Ariane 5G rocket.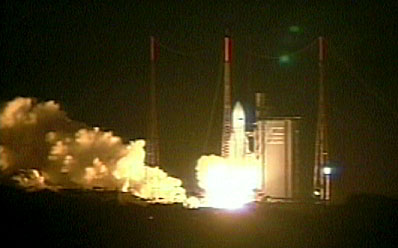 The Ariane 5 rocket lifts off Wednesday. Photo: Arianespace TV



Bad weather at the Guiana Space Center delayed countdown activities earlier in the day, forcing the launch team to push back the liftoff time by an hour.

But at 2238:15 GMT (6:38:15 p.m. EDT, countdown clocks reached zero and the rocket's liquid-fueled Vulcain 1 engine began to ignite. Seven seconds later, the twin solid rocket boosters strapped to the Ariane 5's main stage flashed to life, turning night to day as the massive launcher headed skyward.

It took 35 minutes for the Ariane 5G to complete the mission, deploying the Australian Optus and Defence C1 communications satellite and Japanese BSAT 2c direct broadcasting spacecraft into geosynchronous transfer orbit.

The orbit reached has an apogee of 35,798 km, slightly off the target of 35,826 km but well within the acceptable margin. The perigee was precisely on target at 590 km and the orbital inclination was 7.00 degrees for the planned 6.99 degrees.


| | |
| --- | --- |
| | The twin solid rocket boosters put on a light show as the Ariane 5 climbs into the night sky. Photo: Arianespace TV |
"This launch is a representation of Arianespace's involvement and dedication to the Asian market," Jean-Yves Le Gall, the chief executive officer of Arianespace, said following the flight. "We are very proud to serve two important customers from this part of the world."

The Optus C1 satellite is headed for geostationary orbit about 36,000 km above the equator where it will be parked at 156 degrees East longitude over Melanesia. The craft was built by a team comprised of Mitsubishi Electric Corporation, Space Systems/Loral and Raytheon Systems Company.

It is designed to relay commercial telecommunications services over Australia, New Zealand, East Asia and Hawaii, and serve the Australian Department of Defence with dedicated links in UHF, Ka-band and X-band, providing secure low-rate communications to mobile platforms, high-rata broadcast communications for deployed forces and medium- to high-data-rate voice and data for land and maritime applications, respectively.

"The C1 project has been a significant technological feat," said Chris Anderson, Optus chief executive. "It is the world's largest hybrid commercial and military communications satellite ever built."
| | |
| --- | --- |
| | The Optus spacecraft undergoes pre-launch preparations at the Guiana Space Center. Photo: ESA/CNES/Arianespace |
"It is a unique combination of defence and commercial capability in a way that provides both Optus and our partner, the Australian defence forces, the economies of scale and cost-effectiveness," said Gordon Pike, satellite manager from Optus.

"With four separate payload sub-systems and 16 antennas, C1 is a very large and technically complex communications satellite. It will have a mass of about five tonnes at launch and with antennas and solar panels deployed, it will span 25 meters across and eight meters in height," said Martin Weir, the director of satellite communications for the Department of Defence.

"The commercial payload of Optus C1 is virtually all sold out, which is good thing for us. The defence payload will be used in many unique ways as it provides capability that Sydney hasn't had access to previously," Pike said.

Speaking to the commercial aspect of the satellite, Anderson added, "This hot bird will provide our customers with direct-to-home television and Internet, as well as high-bandwidth data throughout Asia and Australia."
| | |
| --- | --- |
| | The BSAT 2c satellite is readied for its launch. Photo: ESA/CNES/Arianespace |
The BSAT 2c spacecraft was built by Orbital Sciences Corporation for the Broadcasting Satellite System Corporation of Japan to replace BSAT 2b, which was lost in an Ariane 5 launch failure in July 2001. The rocket was unable to reach the proper altitude, leaving BSAT 2b stranded in a worthless orbit.

Once BSAT 2c had successfully deployed from the rocket Wednesday night, satellite officials were relieved to have their new spacecraft in orbit.

"This launch success was the follow on attempt after the mishap two years ago here in Kourou. In this sense, I am getting very emotional at this time," Takehiro Izumi, president and CEO of B-SAT, told a crowd gathered in the launch control center.

BSAT 2c will be operated in geostationary orbit from 110 degrees longitude to provide digital direct-to-home television broadcast transmissions across Japan. Based on Orbital's Star 1 satellite design, the craft weighed 1,275 kg at liftoff and carries four Ku-band transponders. It is expected to operate for 10 years.

The next Ariane 5G is scheduled to launch in August with the Indian Space Research Organization's Insat 3E and Eutelsat's e-Bird communications satellites and European Space Agency's SMART 1 technology demonstration craft destined to orbit the Moon.