Ariane 5 program resumes flights with a success
BY STEPHEN CLARK
SPACEFLIGHT NOW
Posted: April 9, 2003

| | |
| --- | --- |
| | The Vulcain 1 main engine ignites moments before liftoff. Photo: Arianespace TV |
Europe's battered Ariane 5 rocket program scored a much needed success Wednesday night, lofting a pair of communications satellites while making strides to repair the heavy-lifting booster's reputation.

The 15th Ariane 5 rocket flew away from its ELA-3 launch pad in Kourou, French Guiana, along South America's northeast coast, at 2252 GMT (6:52 p.m. EDT). As the launcher disappeared into cloudy skies, it rolled eastward and flew the correct trajectory into a geostationary transfer orbit.

Launch came about three minutes later than initially expected due to an apparent planned hold in the countdown prior to entering the synchronized launch sequence seven minutes before liftoff. Arianespace says the brief pause was needed to adjust fuel loads in the first stage for the Vulcain 1 main engine.


| | |
| --- | --- |
| | The twin solid rocket boosters are lit as the Ariane 5 climbs off the ELA-3 pad. Photo: Arianespace TV |
The Insat 3A and Galaxy 12 communications satellites were deployed into a highly elliptical geostationary transfer orbit about a half-hour later with an apogee of 36,055 kilometers, a perigee of 859 kilometers, and an inclination of 1.99 degrees. Officials say these marks were on target with pre-launch expectations.

The bigger of the two and riding in the upper position atop the Sylda 5 dual payload adapter was the 6,500-pound Insat 3A, a truly multi-purpose satellite to be positioned by the Indian Space Research Organization at 93.5 degrees East longitude along the equator, or 22,300 miles above the Bengal Gulf.

"It's my proud privilege to be here to congratulate Arianespace for this wonder achievement -- a very eventful flight of the Ariane 5, spectacular, and most importantly, technologically precise, for which you are very well known," ISRO chairman Dr. Krishnaswamy Kasturirangan told Arianespace CEO Jean-Yves Le Gall shortly after the flight was declared a success.

From its vantage point, the spacecraft's communications payload will reach users across the Indian subcontinent to provide television broadcasting, radio broadcasting, and other telecommunications services. The craft features a total of 18 C-band transponders, half of which are connected to spot beams to cover specific regions. Six Ku-band transponders are also included aboard Insat 3A.
| | |
| --- | --- |
| | An artist's concept of Insat 3A. Credit: ISRO |
Like other members of the Insat fleet, Insat 3A also carries a comprehensive suite of meteorology sensors in visual, infrared, and water vapor imagery. Another instrument will collect data takes from remote observation stations in India and relay that critical information to manned forecasting stations.

The final piece of Insat 3A's varied array of planned services is a search and rescue receiver -- India's contribution to an international satellite-based search and rescue system.

Insat 3A was the 10th Indian craft to ride an Ariane rocket into space in 22 years of cooperation dating back to 1981 when India's first satellite -- Apple -- was hauled into orbit. Arianespace reported recently that two Insat 4-series payloads signed contracts to launch in the next year.

The other satellite launched Wednesday was Galaxy 12 for American operator PanAmSat. Over the next few weeks, it will boosted into a circular orbit to match Earth's rotation 22,300 miles above South America, where it will beam communications across the United States.

Once PanAmSat takes control from builder Orbital Sciences, Galaxy 12 will use its 24 C-band transponders to serve as a backup in the PanAmSat fleet for the company's domestic cable and broadcast video programs in the United States. Other missions could materialize as its 15-year life matures.

Other jobs for the new addition to PanAmSat's 22-satellite fleet could include HDTV broadcasting and other emerging communications mediums such as multimedia programming and direct-to-home television.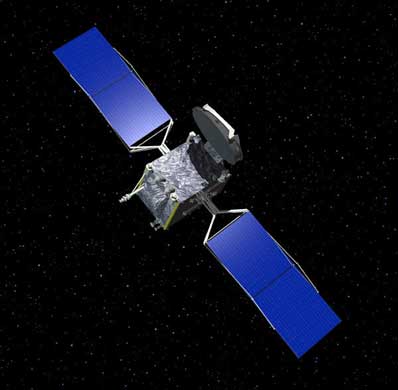 An artist's concept of Galaxy 12. Credit: Orbital Sciences



"Galaxy 12's successful launch marks the completion of PanAmSat's strategy to strengthen our U.S. video coverage with reliable backup as we introduce smaller, more versatile and robust C-band satellites that provide excellent in-orbit protection, as well as support the delivery of emerging technologies and video services, such as HDTV and expanded Homeland Security applications," said Joe Wright, president and chief executive officer of PanAmSat.

"Our original Galaxy cable neighborhood was a milestone in the satellite business and today, we are making another technological leap with the launch of Galaxy 12, which is timely given present needs for greater bandwidth by our private and government customers."

Galaxy 12 was the first to launch of three ordered from Orbital Sciences and is based on their Star 2 geostationary bus platform. The spacecraft weighed 3,880 pounds at liftoff. It also was the 18th PanAmSat satellite to fly on an Ariane booster.

The next Orbital-built Galaxy bird could fly later this year, Orbital Sciences CEO David Thompson said.
| | |
| --- | --- |
| | A cloud deck over the jungle launch site swallows the Ariane 5 seconds after liftoff. Photo: Arianespace TV |
Wednesday's launch marked the first flight for an Ariane 5 since last December, when an upgraded version of the booster failed minutes after liftoff. The flight was delayed along with other Ariane 5's after an investigation team requested a broad review of the Vulcain 1 and 2 main engines and the Ariane program as a whole, both technically and in the management arena.

The failure was traced to a cooling system leak in the Vulcain 2 engine nozzle, which led to a loss of integrity in the powerplant before the launcher went out of control and was destroyed over the Atlantic Ocean.

"The (Ariane) 514 launch this evening marks the resumption of the Ariane 5 launchers after the failure of (Ariane) 517 last December," said Patrick Bonguet, Arianespace senior vice president of programs. "The weeks that have elapsed since have allowed us to in fact study a number of things, starting with the (review) of the technical aspects of the Vulcain 1 engine with thermal modeling of the mechanical point of view which has allowed us to get some more margin for the operation of this engine."

The extensive review process forced ESA to postpone the long-awaited launch of their Rosetta comet probe, which had to launch in January in order to reach its target -- comet Wirtanen. Engineers and scientists began reviewing other options and recently settled on most likely launching Rosetta aboard an Ariane 5 in early 2004 to a new target -- comet Churyumov-Gerasimenko. Other possibilities also exist for a launch in January 2004 to Wirtanen or in 2005 to Churyumov-Gerasimenko.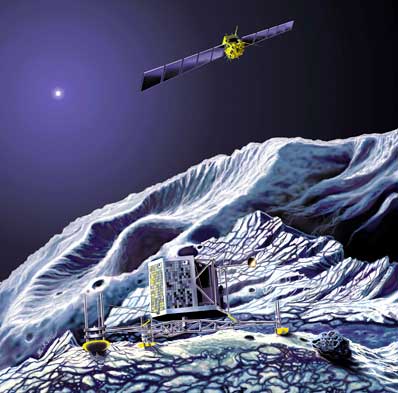 An artist's concept of the Rosetta orbiter and its lander on the surface of a comet. Credit: Astrium/Erik Viktor



"Besides, the independent committees and reviews have been set up that have studied thoroughly all of the methods and processes that we were applying, and all of these activities have allowed us to start the procedure to fly our commercial launchers again with two launches of the Ariane 5G to take place in the coming weeks, and which will be followed in the last part of the year by launchers of the Ariane 5G+ launch vehicle which will bring in other developments compared with this generic version."

Many in the space industry were closely eyeing Wednesday's launch after the botched flight in December and three other total or partial mission failures since the Ariane 5 began operations in 1996. Arianespace retired its venerable Ariane 4 launcher in February after racking up an impressive record with 74 consecutive successful missions.

But in the traditional post-launch remarks by officials, James Frownfelter, PanAmSat chief operating officer, said Arianespace had restored its reputation.

"For Arianespace, this marks the successful return-to-flight of the Ariane 5 program, re-establishing Arianespace's reputation for technical excellence, which consistently delivers the most reliable launch opportunity in the industry," Frownfelter said.

Arianespace plans to resume flights of the upgraded Ariane 5 ECA that failed in December some time in early 2004, most likely on a test flight with a dummy spacecraft.

The next Ariane 5G is scheduled to launch in early June with another pair of commercial satellites -- the Australian Optus C1 and Japanese BSAT-2c spacecraft.