Rosetta's voyage to comet poised to launch tonight
BY JUSTIN RAY
SPACEFLIGHT NOW
Posted: March 1, 2004


Delayed several days to replace a patch of foam insulation on the Ariane 5 rocket, launch of the Rosetta comet probe has been rescheduled for early Tuesday.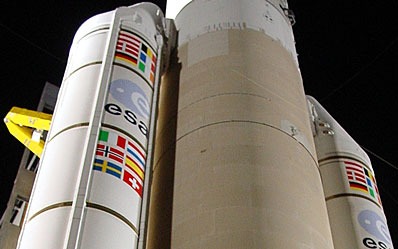 The missing piece of insulation is the tiny dark area on the main tank. It is located at the height of the two country flags that are below the letters 'ESA' on the solid rocket booster on the left. Credit: ESA/CNES/Arianespace



Liftoff from the Guiana Space Center in South America will occur at either 0717:44 GMT or 0737:44 GMT (2:17:44 or 2:37:44 a.m. EST) -- the two instantaneous launch times available Tuesday.

The first launch attempt last Thursday was scrubbed by unacceptable high-altitude wind conditions. Another try on Friday was called off after technicians discovered a piece of insulation had fallen off the Ariane 5's main stage. The material is needed to keep the super-cold fuels inside the stage at the proper temperature and prevent ice from forming on the rocket.

The workers found the insulation on the launch pad and traced it back to the rocket's side.

"The small piece (approximately 10 X 15 cm. in size) apparently separated as a result of temperature changes that occurred with the fueling and de-fueling of Ariane 5's cryogenic stage," Arianespace said in a statement. "The stage carries 155 metric tons of the cold cryogenic propellant (liquid oxygen/liquid hydrogen), and it was emptied after the first launch attempt was postponed on February 26 due to weather conditions."

"The situation is well identified and the repair is simple," Arianespace Chief Executive Officer Jean-Yves Le Gall said.

Plans called for the rocket to be returned to its assembly hangar so a new block of insulation could be attached over the weekend.

"Once the new piece is in place, the adhesive requires approximately 36 hours for its drying/curing process," Arianespace said.

The available window in which to launch Rosetta to comet Churyumov-Gerasimenko extends through March 17. The craft will travel through space for a decade before entering orbit around the comet and dispatching a tiny lander to its icy surface.

"I want to thank Arianespace for the decision to not take any risks with our mission," European Space Agency Director General Jean-Jacques Dordain said. "A few extra days on Earth for our 'baby' will have no consequence for this 10 year mission."