Replacement for infamous satellite rockets into space
BY SPACEFLIGHT NOW
Posted: June 5, 2002


A communications satellite rescued in space 10 years ago by astronauts aboard space shuttle Endeavour now has a replacement on its way with the successful launch of Intelsat 905 aboard an Ariane rocket.


| | |
| --- | --- |
| | The Ariane 4 rocket blasts off with Intelsat 905 from the ELA-2 launch pad. Photos: Arianespace |
Intelsat 905's Ariane 44L launcher, fitted with four liquid-fueled boosters, bolted of its coastal launch pad in Kourou, French Guiana, at 0644 GMT (2:44 a.m. EDT) today. The 21-minute mission of Flight 152 ended successfully with the separation of the communications satellite payload from the rocket's third stage.

The venerable launcher, to be retired after just three more flights, is currently riding a wave of 71 consecutive successful missions dating back to 1995. In fact, Ariane 4 has suffered only three failures in 111 flights over the past 14 years.

Flight 152's Intelsat 905 payload was placed into an elliptical transfer orbit with a high point of 35,964 km, a low point of 200.1 km and an inclination of 6.98 degrees.

The satellite will use on-board propulsion systems over the next few weeks to guide itself into a circular orbit 22,300 miles high, where it will appear to hover above a point in the Atlantic Ocean, or along the equator at 24.5 degrees West. From there, the spacecraft's communications instruments can offer services to the Americas, Europe, Africa, and the Middle East.

"The successful launch of the Intelsat 905 to 335.5 deg E (24.5 degrees West) marks not only the one year anniversary of the beginning of our current launch campaign, but also an historic anniversary for Intelsat," said Intelsat CEO Conny Kullman. "The 335.5 deg E (24.5 degrees West) orbital slot, our first location, also served as the location of our first satellite, Early Bird."

"We expect that the Intelsat 905 will follow in the footsteps of its predecessors by providing reliable and powerful communications solutions to our customers for years to come."

Intelsat 905 will offer 13 percent more capacity than the craft it is replacing in the Atlantic Ocean region. With dedicated transponders in both C-band and Ku-band, customers will be provided with vast improvements over earlier Intelsat models.

Nearly one hundred carriers and Internet Service Providers will receive services from Intelsat 905. Officials say the position of the spacecraft and the regions it can reach with its powerful instruments may allow new Internet and broadcasting markets to form.

Video broadcasters will also benefit from the new capacity available through Intelsat 905. A global C-band beam will be dedicated to occasional users of Intelsat broadcasting services.

"These advanced features will be used by carriers, broadcasters, Internet Service Providers, and operators of business networks to provide a number of new applications and improved services to their customers," said Terry Edwards, director of world services program management for Intelsat.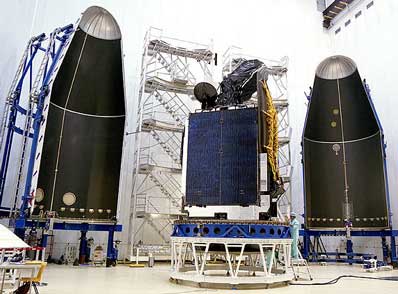 The Intelsat 905 spacecraft readied for launch in Kourou. Photo: Arianespace



Weighing 10,390 pounds at liftoff, the Space Systems/Loral-built Intelsat 905 spacecraft has an expected lifetime of 13 years once operations begin in the coming months. Its electricity-producing solar panels will span almost 100 feet tip-to-tip.

Commercial operations are slated to begin on July 18 after an exhaustive series of tests and checkouts of Intelsat 905's suite of communications payloads.

Intelsat 905 is the fifth in the Intelsat 9 series of communications satellites. Four have now been launched by Ariane 4 rockets, while Intelsat 903 was hauled into orbit by a Proton rocket. Two more remain to be launched, both of which will fly on Ariane launchers later this year and early next year.

"The Intelsat 9 series has two basic roles, the first of which is to replace the five Intelsat 6 spacecraft, which were first launched about 12-and-a-half years ago. The second role of the Intelsat 9 spacecraft is to provide enhanced and improved services to Intelsat customers," Edwards said.


| | |
| --- | --- |
| | Spacewalking astronauts retrieve the wayward Intelsat 603 spacecraft in May 1992. Photo: NASA |
Intelsat 905 is destined to place the Intelsat 603 spacecraft that was salvaged during shuttle Endeavour's dramatic maiden flight 10 years ago last month. The older craft will be repositioned in geostationary orbit to a parking slot at 178 degrees East for the rest of its useful life.

Intelsat 603 was left in a useless low orbit after its failed launch aboard a Titan 3 rocket from Cape Canaveral. The satellite's kick motor that was to propel the craft into geostationary orbit did not separate from the Titan's second stage, leaving the craft stranded. Ground controllers commanded the spacecraft to jettison the kick motor and attached second stage to open the door for a possible rescue mission.

NASA's space shuttle Endeavour was then given the job to rendezvous with the satellite and attach a new kick motor, allowing it to continue its trek to geostationary orbit. After countless failed attempts to capture the spinning craft with a specially designed bar, a daring third spacewalk was staged. Three astronauts manually grabbed the satellite from space so it could be mated to the new kick motor in the shuttle's payload bay. Connections were made and the spacecraft was soon re-deployed to begin its mission anew.

Arianespace's next launch will use an Ariane 5 rocket, which will launch a pair of communications satellites for French and Japanese firms later this month.