European Ariane rocket launches on its 150th flight
BY JUSTIN RAY
SPACEFLIGHT NOW
Posted: April 16, 2002

| | |
| --- | --- |
| | The Ariane 4 rocket blasts off with NSS-7 from the ELA-2 launch pad. Photos: Arianespace |
The 150th voyage of an Ariane rocket blasted off from the jungles of South America Tuesday evening and soared above the Central Atlantic Ocean to deliver a powerful telecommunications satellite into Earth orbit.

The Ariane 44L rocket lifted off at 2302 GMT (7:02 p.m. EDT) from the Guiana Space Center in Kourou, nine minutes late because of an undisclosed "measurements" system problem at the launch site.

Twenty-one minutes later, the Lockheed Martin-built NSS-7 satellite was deployed from the rocket's third stage to complete the 69th consecutive successful flight by an Ariane 4.

To be operated by New Skies Satellites of The Hague, The Netherlands, NSS-7 will orbit 36,000 km above the planet to provide a range of television, Internet and data relay services to the Americas, Europe and Africa.

The Ariane rocket placed the satellite into a highly elliptical geosynchronous transfer orbit with a low point of 199.2 km for a pre-launch target of 199.7 km, a high point of 35,908 km for a target of 35,955 km and planned inclination of 7.00 degrees.

The spacecraft, the first Dutch commercial communications satellite, will maneuver itself into a circular geostationary orbit to be parked at 21.5 degrees West longitude over the equator.

NSS-7 is the first spacecraft launched by News Skies, which was formed in 1998 as a spin-off from Intelsat. The company currently has a fleet of five satellites that were acquired at its creation. In addition to NSS-7, two more advanced satellites are under construction as part of News Skies' expansion plan that aims to double its in-orbit capacity by the end of 2003.

"I am very proud to see that, when the time came to expand and launch its own spacecraft, New Skies trusted Arianespace with this essential activity," Arianespace Chief Operating Officer Jean-Yves Le Gall said after the launch. "Tonight's success shows that you made the right choice, and I can assure you that we at Arianespace will do our best to deserve your confidence."

"This is an important event in New Skies corporate life," said Chief Executive Officer Dan Goldberg. "For a launch this important we were not going to trust this with anybody except for Arianespace."

NSS-7 will replace the aging NSS-K spacecraft, which was launched in 1992. The NSS-803 satellite, also located at 21.5 degrees West, will be moved to a parking spot above the Pacific Ocean at 183 degrees East to replace the aging NSS-513 spacecraft.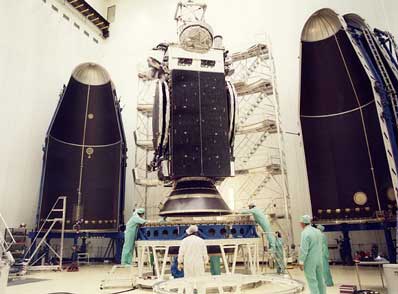 The NSS-7 spacecraft readied for launch in Kourou. Photo: Arianespace



"The launch of NSS-7 will allow us to add more advanced and higher-power capacity to two established orbital locations, positioning us as a leading provider of space-based communications services in the Atlantic and Pacific Ocean regions for years to come," Goldberg said. "With our expansion plans, we are building one of the youngest, most reliable and highly competitive global satellite fleets in the industry."

"NSS-7's Ku-band beams in Central and South America, as well as Western and Southern Africa, will offer more efficient transmission capabilities to broadcasters and VSAT service providers, and will add much-needed incremental Ku-band capacity to New Skies' inventory in the Atlantic Ocean region," Goldberg said. "In addition, NSS-803 at 183 degrees East will form a vital link in our worldwide network, relaying bi-directional traffic between the U.S. and the Pacific Rim."

Current customers on NSS-K and NSS-803 are expected to be switched to NSS-7 by August. The satellite will be operated from the New Skies satellite operations center in The Hague.

NSS-7 is a hybrid C-band/Ku-band satellite with 36 C-band and 36 Ku-band transponders in 11 high-powered coverage beams and a design lifetime of approximately 12 years.

Tuesday's launch was the 150th of a European-built Ariane rocket, the 111th using the Ariane 4 version. The first Ariane mission was flown on December 24, 1979 using an Ariane 1.

"From April 1992 to April 2002, we carried out exactly 100 launches. This average of 10 launches a year is undeniable proof of our flexibility, and of our position as leader of the launch services market," Le Gall said.

Arianespace has already launched five rockets this year -- four Ariane 4s and one Ariane 5. It plans three more Ariane 4s and four Ariane 5s before year's end for a total of 12 missions.

The next launch is targeted for the evening of May 3 when an Ariane 4 lifts off carrying the French Spot-5 remote sensing satellite.