Ariane overcomes computer abort, lofts Indian satellite
BY JUSTIN RAY
SPACEFLIGHT NOW
Posted: January 23, 2002

| | |
| --- | --- |
| | The Ariane 42L rocket blasts off with Insat 3C from the ELA-2 launch pad. Photo: Arianespace |
A satellite designed to enhance communications across India and replace two aging craft was successfully launched into Earth orbit Wednesday by a European Ariane 4 rocket following a bumpy countdown that featured an abort just seconds before ignition.

Clocks were ticking down to an on-time blastoff at 2253 GMT (5:53 p.m. EST) when a ground computer glitch caused an automatic cutoff of the countdown at T-minus 11 seconds.

After nearly an hour of troubleshooting, the launch team declared the problem resolved and restarted the countdown from the T-minus 6 minute point.

The second try went off without a hitch, leading to liftoff of the first Arianespace launch of 2002 at 2347 GMT (6:47 p.m. EST) from the Guiana Space Center in Kourou, French Guiana on South America's northeast coastline.

About 21 minutes later the Insat 3C spacecraft, developed and built by the Indian Space Research Organization, was successfully deployed from the rocket's third stage, having arrived in a highly elliptical geosynchronous transfer orbit with a low point of 570 km, a high point of 35,920 km and inclination of 4 degrees.

"Tonight's launch marks another success for India, and I am pleased that Arianespace was able to serve one of our most faithful customers," Arianespace Chairman and CEO Jean-Marie Luton told guests in Kourou. "I want to pay tribute to the Indian Space Research Organization team that was responsible for this new-generation telecommunications satellite."

Over the coming days the satellite will fire its onboard 440 Newton liquid-fueled kick engine to circularize its altitude to reach geostationary orbit 36,000 km high. At such an altitude, the craft will match the Earth's rotation to appear fixed above one spot of the globe.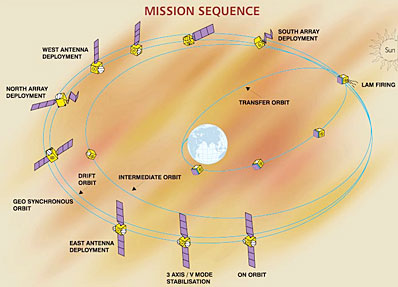 An illustration of Insat 3C's journey to geostationary orbit, including the deployment of its solar arrays. Photo: ISRO



Ground controllers will park the satellite at 74 degrees East longitude over the equator, allowing Insat 3C to cover the Indian subcontinent.

The craft is part of the Indian National Satellite, or Insat, program that includes a fleet of orbiting satellites for communications, broadcasting and meteorological services.

"Insat is a very important satellite system for our country. It has become synonymous with the needs for a developing country like India," said ISRO chairman K. Kasturirangan.

Insat 3C's communications payload of 30 C-band transponders, two S-band transponders and a single transponder for mobile communications services will continue the services of the aging Insat 2C and Insat 2DT, which are nearing their end of their service lives, ISRO said.

Insat 3C is the second satellite of the Insat 3 series of spacecraft to be launched. Insat 3B was lofted by an Ariane 5 rocket in March 2000. Three more satellites -- Insat 3A, Insat 3D and Insat 3E -- are slated to be launched in the coming years.

Wednesday's launch marked the eighth time an Indian satellite has been carried by an Ariane rocket. The first Indian satellite, called Apple, was launched by an Ariane booster in June 1981.

For Arianespace this was the first of a possible dozen Ariane launches in 2002. Plans call for up to seven Ariane 4 and five Ariane 5 flights this year.

The next launch is scheduled for February 20 when an Ariane 4 will carry the Intelsat 904 communications satellite into orbit.

Preparations are also underway for the crucial return-to-flight of Ariane 5 on the evening of February 28 carrying the $2.2 billion European Space Agency environmental satellite called Envisat. It will be the first Ariane 5 launch since a failure last summer.
| | |
| --- | --- |
| | An Aestus engine sits in a test stand for one of many firings during the Ariane 5 failure investigation. Photo: Arianespace |
Investigators recently determined water left in the fuel lines of the rocket's upper stage engine, probably from pre-flight hydraulic testing, caused the powerplant's poor performance during that botched mission on July 12.

The lack of full thrust and a premature engine shutdown meant a lower than planned orbit was achieved for the Ariane 5's two satellite payloads, one of which was declared a total loss.

Improved cleaning processes and a smoother engine ignition sequence have been developed to prevent similar failures in the future.

"The exhaustive analyses and tests that have been carried out confirm that the design of Ariane 5 is fundamentally sound," Luton said. "A new ignition sequence for the upper stage's Aestus engine has been defined, as have new acceptance testing procedures for Aestus."

Arianespace says the Aestus upper stage engine to be used on the Envisat launch has successfully passed its acceptance tests in Lampoldhausen, Germany. The upper stage is expected to be shipped to French Guiana early next month.