Ariane 4 launches satellite to cover both sides of Atlantic
BY JUSTIN RAY
SPACEFLIGHT NOW
Posted: September 25, 2001


A telecommunications bridge that will span the Atlantic Ocean to link five continents from the Americas to the Persian Gulf was successfully launched into space Tuesday.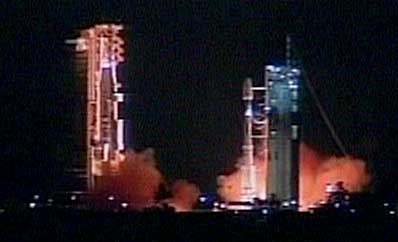 Ariane 4 rocket's main engines ignite seconds before liftoff. Photo: Arianespace TV



The Atlantic Bird 2 satellite was delivered into Earth orbit by an Arianespace Ariane 4 rocket that flew a 20-minute flight following blastoff from the jungles of French Guiana on South America's northeast coast.

Marking the 15th and final time the workhorse Ariane 4 launcher will ever fly in the "44P" configuration with four strap-on solid rocket motors, the vehicle lifted off at 2321 GMT (7:21 p.m. EDT).

The launch was delayed 49 minutes to reset onboard and ground systems after Range Safety discovered mysterious signals had been transmitted to the rocket, Arianespace spokespeople said. Liftoff occurred with just eight minutes left in the day's launch window.


| | |
| --- | --- |
| | This series of images show the launch of Atlantic Bird 2. Photo: Arianespace TV |
The three-stage rocket deployed Eutelsat's Atlantic Bird 2 into an egg-shaped geosynchronous transfer orbit with a low point of 299.6 km, high point of 35,900 km and inclination of 7.00 degrees. The orbit achieved was a virtual bulls-eye on the pre-flight target.

The successful launch was the 64th straight for Ariane 4 dating back to 1995. Overall, Ariane 4 has flown 103 successful missions in 106 tries. There are just 10 more Ariane 4 rockets left before the venerable launcher is retired in favor of the next-generation Ariane 5.

"I want to congratulate Arianespace for the job they have done for us," Giuliano Berretta, Eutelsat's chief executive officer, said in a post-launch message. "We have done 15 successful launches (together) and this is one of the most important in our history."

Atlantic Bird 2 will fire an onboard kick motor four times over the next week to circularize its orbit at geostationary altitude 36,000 km above the equator. The craft's final destination is a parking slot at 8 degrees West longitude where it will commence commercial service during the last week of October.

"All satellites are very important. They represent very high intellectual effort, they cost a lot of money, they involve risks, but this satellite is very important for Eutelsat," said Volker Steiner, Eutelsat's commercial director.

"This Atlantic Bird will play a role in connecting businesses and consumers on the planet sweeping from Toronto and Rio (de Janeiro) on one side to Kazakhstan and Pakistan on the eastern side, and it will also satisfy communications needs in Europe and Africa."

Built by Alcatel Space in Cannes, France, the satellite, with its 26 Ku-band transponders, will serve Eutelsat's "Atlantic Gate" for video broadcasting, radio transmissions, data relay, Internet applications and business networking between North and South America, Europe, Africa and Asia.

Eutelsat is also looking to businesses as Atlantic Bird 2 customers. The satellite will be capable of LAN interconnection, Intranet, e-mail exchange, desktop videoconferencing, emergency backup communication, tele-training and education and network management.

The second of the two satellites in this Eutelsat series -- the Atlantic Bird 1 spacecraft -- is awaiting launch early next year for positioning at 12.5 degrees West.
| | |
| --- | --- |
| | The Atlantic Bird 2 satellite during final processing at the launch site. Photo: Arianespace TV |
Following the launch, officials announced that Atlantic Bird 2 would be dedicated to the memory of Guglielmo Marconi who made the first transatlantic wireless transmissions 100 years ago.

The president of the G. Marconi Foundation, Professor Gabriele Falciasecca, issued this response to Eutelsat's dedication:

"On 12 December 1901, Guglielmo Marconi succeeded in broadcasting the first radio signal, the letter "S", from a station at Poldhu in Cornwall to St. John's on the island of Newfoundland, Canada. He overcame all kinds of technical and environmental problems to achieve this major feat, demonstrating that a global telecommunications system was possible and that the old and new continents would no longer be divided. The Atlantic Bird 2 satellite, which has just been launched, is the realization of a new dream, one hundred years on. I am particularly grateful to Eutelsat and its CEO and Chairman of the Board, Giuliano Berretta, for choosing to dedicate this satellite to Guglielmo Marconi, in remembrance of the great contribution this inventor gave to the development of telecommunications and, indeed, to humanity as a whole."

For Arianespace, the next launch is slated for November 27 when the American DirecTV-4S direct-to-home TV satellite will be hauled into space by an Ariane 44LP rocket. This is a five-week delay from the previously announced date of October 18.

The Ariane 5 remains grounded but officials say progress has been made in correcting the flaw in the vehicle's upper stage that caused the July 12 failure. Over 60 engine tests have been conducted in Germany as technicians try to improve and smooth the ignition sequence for the Aestus engine. The ground test stand is also being modified to more closely simulate the conditions the engine experiences during flight.

Arianespace said Tuesday that it foresees the Ariane return-to-flight launch now occurring in January, which is two months later than originally envisioned.

"Our primary concern is to resume again Ariane 5 launches we owe to our customers," Arianespace Chairman and CEO Jean-Marie Luton said. "There will be no compromise on safety and reliability."

Atlantic Bird 2 was to have flown on the next Ariane 5, however, it was switched to the Ariane 4 after July's mishap to keep the satellite's launch date on schedule.

The Arianespace backlog now stands at 41 satellites to be launched, plus nine cargo resupply missions for the International Space Station.