Ariane 5 falls short
BY JUSTIN RAY
SPACEFLIGHT NOW
Posted: July 12, 2001 at 2305 GMT

| | |
| --- | --- |
| | Ariane 510 rocket lifts off on its ill-fated flight. Photo: Arianespace TV |
Europe's Ariane 5 commercial rocket suffered a major setback Thursday when it failed to deliver a pricey experimental communications technology satellite and a TV broadcasting spacecraft into the correct orbit, possibly resulting in a $1 billion loss.

Liftoff of the tenth Ariane 5 occurred right on schedule at 2158 GMT (5:58 p.m. EDT) from the jungle launch site in Kourou, French Guiana, beginning a 34-minute flight that was supposed to propel its dual-satellite cargo into an elliptical transfer orbit around Earth. The intended orbit featured a high point of 35,853 km, low point of 858 km and inclination of 2.0 degrees to either side of the equator.

But a "defect" in the rocket's upper stage relegated the cargo to an orbit with a high point of only 17,528 km, a low point of 592 km and inclination of 2.9 degrees to the equator.

Arianespace has launched an investigation into the mishap to determine what caused the problem.

"After a flight that went very well with the first stage...we had a defect on the last stage, which means we did not obtain the desired orbits for the satellites," Jean Marie Luton, chairman and CEO of Arianespace, said through a translator.
| | |
| --- | --- |
| | A disappointed Luton speaks to VIPs in Kourou after the problem was announced. Photo: Arianespace TV |
"We are doing all we can, of course, to recover the satellites and to see what kind of operations are possible to recover the satellites and to rectify this.

"I wish to express my deep regret to our two customers for this operation and I would like to assure them that we will do all we can to shed light on this...we have already begun to analyze the different parameters and the information that we have been able to gather on the two stages."

During the Arianespace television broadcast of Thursday's launch, telemetry from the rocket indicated the vehicle had achieved a maximum velocity of just over 8 km/sec. The speed should have been about 9 km/sec at spacecraft deployment, officials said.

The upper stage, called the Storable Propellant Stage, or EPS, features a single Aestus engine. Aestus is a re-ignitable engine, and produces a thrust of 29 kN over a normal run time of 1,100 seconds.

The two satellite passengers on the Ariane 510 rocket were the European Space Agency's Advanced Data Relay and Technology Mission satellite, or Artemis, and the Japanese Broadcasting Satellite System BSAT-2b direct-to-home TV broadcasting spacecraft.

It initially appeared the launch had gone well with the two cargos released from the rocket's upper stage. Officials cheered when there was confirmation that both satellites were flying free of the launcher.

But the mood changed within minutes when the traditional post-launch speeches by senior officials with Arianespace and the payload customers were delayed. The Arianespace TV commentator then said Luton was reviewing an issue with the separation of one of the satellites.

When Luton did step up to the microphone a short time later he announced that both satellites weren't delivered to their proper orbits.
| | |
| --- | --- |
| | Illustration of Artemis in geostationary orbit. Photo: ESA |
Both satellites were designed to fire their onboard kick motors to achieve circular geostationary orbits 36,000 miles above the equator where they would match the Earth's rotation and appear fixed over a specific point of the globe. Artemis was to be parked at 21.5 degrees East longitude over Central Africa and BSAT-2b at 110 degrees East above the Island of Borneo. But given the significantly low orbit, it is not yet known if the spacecraft have enough fuel to reach their final destinations.

Ironically, Artemis was originally slated for launch atop the first Japanese H-2A rocket but ESA opted to pull the satellite off the unproven booster in favor of flying it on the Ariane 5. At $850 million, Artemis is the most expensive ESA satellite ever built, surpassing the $700 million price tag for the XMM-Newton X-ray telescope.

Manufactured by Alenia Spazio, Artemis was envisioned to demonstrate next-generation telecommunications technologies in satellite navigation, mobile communication services and inter-satellite data relay. The spacecraft is designed for voice and data communications between mobile terminals mounted to cars, trucks and trains of boats, broadcasting accurate navigation information for Europe's EGNOS global positioning system and sending high-speed data communications directly between orbiting satellites.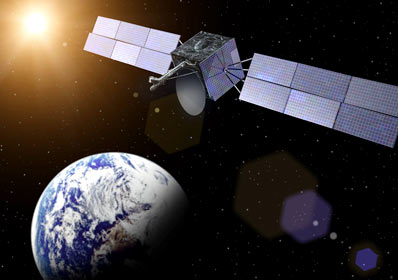 An artist's concept of BSAT-2a. Photo: Orbital



BSAT-2b was supposed to serve as an orbiting backup for its Orbital Sciences-built BSAT-2a twin launched on the last Ariane 5 flight. The satellites are designed to relay digital TV programming across Japan at higher resolution and in a wider-screen format than traditional analog systems.

Thursday's flight marked the 10th launch of the Ariane 5 rocket, which is set to replace the workhorse Ariane 4 booster after 2003.

The first Ariane 5 met a disastrous end about 40 seconds after blastoff in June 1996 when a guidance system error caused the massive booster to go out of control and explode. The Ariane 502 rocket did achieve orbit in October 1997, but was also lower than planned due to a premature shutdown of the first stage main engine.

After a final test flight that was completely successful in October 1998, Ariane 5 was declared ready for operational service. It flew six commercial flights successfully from December 1999 through this past March.

The less powerful Ariane 4 rocket, meanwhile, is riding a string of 62 consecutive successful launches dating back to March 1995.

For Arianespace this was the fifth launch of 2001. The company, which has dominated the commercial satellite launch market, had forecast three more Ariane 5 and three Ariane 4 flights by year's end. How those plans will change in the wake of Thursday's event is not yet known.

The next Ariane 5 was slated for liftoff in mid-September with Eutelsat's Atlantic Bird 2 and the Indian Insat 3C spacecraft.