Ariane 5 rocket hoists cargos for Europe, U.S. and Japan
BY JUSTIN RAY
SPACEFLIGHT NOW
Posted: December 19, 2000


Arianespace punctuated its 2000 launch season Tuesday with the successful flight of the eighth Ariane 5 rocket, lofting a pair of communications spacecraft to serve the United Kingdom and North America and testing an experimental Japanese antenna design.

With a sudden flash of light and crackling roar, the nighttime peace in the South American jungle was shattered as the Ariane 508 booster blasted off from the Guiana Space Center precisely on schedule at 0026 GMT (7:26 p.m. EST).

With 35 minutes, the two primary satellite cargos -- Societe Europeenne des Satellites' Astra 2D and GE Americom's GE-8 -- were delivered into the desired geosynchronous transfer orbit looping from 200 to 35,883 km. The Ariane 5's upper stage then acted as a platform for the deployment demonstration of the Japanese Space Agency's Large-Scale Deployable Reflector Experiment (LDREX).

"I am glad to complete this year, 2000, by such a beautiful success for everyone," Arianespace chairman Jean Marie Luton said after launch.

It was the 12th and final Ariane launch of 2000, a productive year with 8 flights of the venerable Ariane 4 and four missions by the next-generation Ariane 5. All were successful.
| | |
| --- | --- |
| | Astra 2D is prepared for shipment to launch site from factory. Photo: Boeing |
Cast free from the launcher first Tuesday evening was Astra 2D, a Boeing Satellite Systems-built spacecraft. Based upon the well-known 376-model satellite, the barrel-shaped Astra 2D features 16 Ku-band transponders that will beam direct-to-home digital television programming to Great Britain and Ireland.

It is the 11th satellite to enter SES' orbiting satellite fleet and will become the Luxembourg-based operator's third craft in the 28.2-degree East slot above the equator.

Once the Ariane 5's dual payload attachment structure was jettisoned, the GE-8 telecommunications satellite was cleared to be released into space.

Built by Lockheed Martin, GE-8 will be operated by GE Americom of Princeton, New Jersey, to provide the range of telecommunications services across the entire United States and Caribbean with a focus on relaying radio programming.
| | |
| --- | --- |
| | The GE-8 satellite undergoes final pre-launch testing. Photo: Lockheed Martin |
It carries 24 C-band transponders and will be located in geostationary orbit at 139 degrees West, becoming GE Americom's 14th craft serving the Americas.

In addition, GE-8 has a special role to provide television, radio and telephone services to Alaska through AT&T Alascom. The craft, which is also known as Aurora 3, will provide emergency communications for 250 remote cities across Alaska, too.

Once operational, GE-8 will replace the aging GE Satcom C-5 satellite, allowing that craft become an in-orbit spare for GE Americom.

The secondary payload of Arianespace Flight 138 was LDREX, a six-meter Toshiba-built antenna reflector that was unfurled in a demonstration experiment of the structure's deployment mechanism.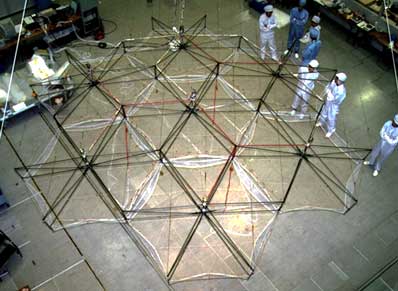 The half-scale antenna deployed in ground test. Photo: NASDA



An onboard camera system was designed to document the 20-minute deployment so Japanese engineers can validate the reflector before use aboard an upcoming satellite mission. Officials say data from the deployment will be obtained in about five days for analysis.

The Japanese Space Agency's Engineering Test Satellite-8 (ETS-8) will use two of the antenna reflectors twice the size of the one tested on Tuesday night. ETS-8 is under development to test futuristic communications satellite technologies in space. Its launch aboard an H-2A rocket is targeted for 2003.

Arianespace's next launch is scheduled for the first half of January when an Ariane 4 will carry the delayed Eurasiasat 1 communications satellite into orbit. That launch had been scheduled for earlier this month but was stalled due to technical concerns with the satellite.

Plans call for five Ariane 4s and five-to-six Ariane 5s to fly in 2001.

Arianespace has a backlog of 38 satellites to be launched and nine flights of ATV resupply ships for the international space station.