BY SPACEFLIGHT NOW WRITERS


November 15, 2000 -- Follow the preparations and launch of the PAS-1R communications satellite and three smaller payloads aboard the Arianespace Ariane 507 rocket. Reload this page for the very latest on the mission.





Snapshot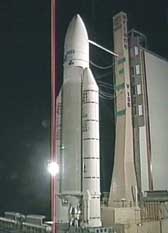 The Ariane 5 rocket on the launch pad tonight as seen from Arianespace TV.



Flight data file
Vehicle: Ariane 507
Payload: PAS-1R
Launch date: Nov. 15, 2000
Launch window: 8:07-9:03 p.m. EST (0107-0203 GMT on 16th)
Launch site: ELA-3, Kourou, French Guiana