Rumble from the jungle: Ariane 4 rocket blasts off
BY JUSTIN RAY
SPACEFLIGHT NOW
Posted: September 7, 2000

| | |
| --- | --- |
| | The Ariane 4 rocket's first stage engines ignite. Photo: Arianespace |
Continuing its dramatic surge in launches through the end of 2000, Arianespace successfully lofted a European communications satellite Wednesday in what is planned to be the first of three Ariane rocket flights over the next 20 days.

The Ariane 4 rocket, fitted with four strap-on solid rocket boosters, blasted from its launch pad in the South American jungle right on time at 2233 GMT (6:33 p.m. EDT).

Twenty minutes later, off the west coast of Africa, the rocket's third stage deployed the European Telecommunications Satellite Organization's W1 spacecraft into a geosynchronous transfer orbit around the Earth.

The orbit achieved was highly accurate, looping from 299.8 km at the low point, up to 35,942 km at apogee, with an inclination of 7 degrees to the equator. The target orbit was 300 by 35,941 km.

"The launch of W1 was totally successful," Arianespace's chairman and CEO, Jean-Marie Luton told invited guests gathered to witness the 131st flight of an Ariane over the past 20 years.

The smooth launch marked the 56th straight success for Arianespace's workhorse Ariane 4 booster dating back five years.

"We could follow (the launch) and could see everything was perfectly nominal without any moment of suspense," Eutelsat Director General Guiliano Berretta said.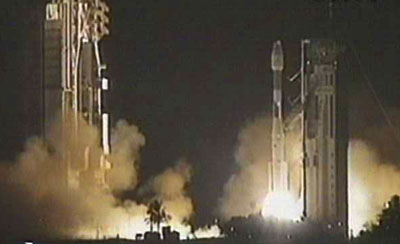 A tracking camera shows the Ariane 4 rocket lifting off from the ELA-2 launch pad in Kourou, French Guiana. Photo: Arianespace



Eutelsat reported the satellite had established contact with ground controllers within four minutes of release from the rocket, verifying its good health. In the coming two weeks, spacecraft manufacturer Astrium will position the W1 satellite into its final geostationary orbit 22,300 miles above the equator, parking it at 10 degrees East longitude over Gabon.

It was the third new satellite Eutelsat has launched this year with six more under construction for deployment over the next two years, Berretta said. Eutelsat's orbiting fleet now includes 18 craft, making it the third largest commercial satellite operator in the world.

Built by Astrium, the W1 will replace the aging Eutelsat 2-F4 satellite when it enters service next month, giving the international consortium a boost to its telecommunications relay business by offering more capacity, higher power and a wider coverage swath from the 10 degrees East orbital slot.

Of W1's 28 Ku-band transponders, 20 will be dedicated to providing television distribution for clients such as EBU and Turkish broadcasters, business and corporate communications, data transfer and Internet connectivity stretching from the Atlantic islands, across Eruope, North Africa, the Middle East and into Central Asia.
| | |
| --- | --- |
| | The rocket sheds the four spent solid-fueled strap-on motor casings to fall into the Atlantic Ocean as the first stage engines create a streaking white comet in the night sky. Photo: Arianespace |
In addition, the satellite has a steerable spot beam to cover southern Africa, utilizing W1's remaining eight transponders to beam digital TV, multimedia programming and provide Internet connection. W1 will become Eutelsat's third craft to serve the southern hemisphere, opening new business opportunities between Europe and southern areas of the African continent.

Arianespace's current backlog stands at 37 satellites to be launched. However, that number is expected today to grow by two when Eutelsat orders another pair of launches.

"We are going to be signing very soon a contract for two additional launches," Berretta said. "I have been very pleased with Arianespace and the treatment they have given us."

There is no time to rest for Arianespace with another launch just a week away. A powerful Ariane 5 rocket is due for liftoff next Thursday at 2254 GMT (6:54 p.m. EDT) carrying the Astra 2B direct-to-home TV broadcasting spacecraft for the Societe Europeenne des Satellites (SES) and GE Americom's GE-7 telecommunications satellite.

The month should be rounded out by the flight of an Ariane 44LP rocket with the Europe*Star FM1 communications satellite on the evening of September 26.

Between October and year's end, Arianespace hopes to conduct three additional Ariane 4 launches and two Ariane 5 flights under its policy of "first in/first out", meaning satellites will be launched in the order in which they are prepared in Kourou.