NASA juggles manifest for future Ares test flights
BY STEPHEN CLARK
SPACEFLIGHT NOW
Posted: November 4, 2009


One week after the first major flight test of the agency's new Ares 1 rocket, NASA is closer to cancelling a demonstration launch called Ares 1-Y, potentially replacing it with a new, still undefined test flight in 2012 or 2013.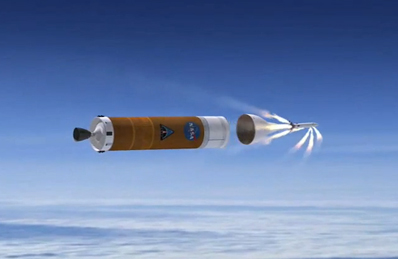 Animation of the high-altitude abort in the Ares 1-Y test flight. Credit: NASA



During a meeting last week, managers agreed to re-evaluate the proposed suborbital Ares 1-Y flight most recently scheduled for March 2014, according to a posting on a NASA Web site.

NASA spokesman Grey Hautaluoma confirmed the report, saying Ares 1-Y had slipped too late in the development of the Ares 1 rocket to be valuable to engineers.

"Ares 1-Y just didn't have enough fidelity to give them much useful data that late in the test program," Hautaluoma said.

Originally planned for 2012, the Ares 1-Y launch date had slipped until 2014, just one year before NASA says it will fly the first crewed Orion capsule on top of an Ares 1.

"It simply does not fit where we are headed," said Jeff Hanley, Constellation program manager. "The test vehicle was intended to meet evolving needs but the current configuration is too different from what the program requires to certify the Ares/Orion vehicle systems."

NASA is also studying a new flight, tentatively called Ares 1-X Prime, that would fly in 2012 or 2013 with new objectives to better support development of the Ares 1.

Managers are hopeful the Ares 1's five-segment first stage solid rocket motor could be ready for a test launch by that time. The five-segment booster was fired in a ground test for the first time in September, and another developmental motor will be ignited next summer.

Other details of the proposed Ares 1-X Prime mission are still on the drawing board, Hautaluoma said.

Hanley addressed future Ares 1 test flights during press conferences surrounding last week's Ares 1-X launch.

"Our flight test program is something we constantly have under review with respect to schedule, budget and content," Hanley said.

Funding will be the driver for adding another test flight to the manifest, according to NASA.

"We will be looking at our opportunities to perhaps do more flight testing, but that will also be predicated on the budget," Hanley said.

Ares 1-Y was to include a five-segment first stage, a flight production second stage and a functioning command module and abort system. The Orion service module and upper stage J-2X engine would be simulated on the flight.

Officials were studying adding a J-2X engine to Ares 1-Y if a flight unit was ready in 2014.


| | |
| --- | --- |
| | Artist's concept of an Ares 1 rocket launch. Credit: NASA |
"We are continually looking at our flight test program," Hanley said last week. "We will actually take another look at our flight test program after this flight is done. What did we learn? Is there anything we want to change with respect to our approach to flight testing in the future? All of that will be under review after we get the results of this mission behind us and do the lessons learned on it."

The J-2X burns liquid hydrogen and liquid oxygen and is based on the J-2 engine flown on the second stage of the Saturn 5 moon rocket. J-2X engines should begin hotfire testing in Mississippi by early 2011, according to NASA officials.

Program managers will take their Ares 1-Y recommendation to senior agency officials at NASA Headquarters for a final decision.

"Now, with the Constellation program nearing its preliminary design review and with maturing vehicles and systems, managers agree the 1-Y test objectives can be achieved through other tests already in the manifest," the NASA blog posting said.

Ares 1-Y's objectives included a high-altitude abort using small rockets designed to lift the Orion spacecraft to safety from a failing booster. That goal can be incorporated into abort tests at White Sands Missile Range in 2012 and 2013, and also on the first unpiloted Orion flight in 2014.

The first test flight of the launch abort system next spring will simulate an abort from the launch pad.

"Removing the Ares 1-Y flight test eliminates a unique vehicle configuration that must be designed and managed separately from the objective designs of Ares and Orion," the NASA statement said. "It allows the team to focus on achieving a first launch of a thoroughly verified system and represents a tightening of the program as a function of its maturation that will ultimately save money needed for other tests."

Cancellation of Ares 1-Y would also free up funding that could be routed to the mainline development of Ares 1 and Orion.


Additional coverage for subscribers:


VIDEO: SPECTACULAR AERIAL FOOTAGE OF ARES 1-X LAUNCH PLAY


VIDEO: FRIDAY'S UPDATE WITH ARES 1-X MISSION MANAGER PLAY


VIDEO: THE FIRST STAGE ROCKET IS TOWED INTO PORT PLAY | HI-DEF



VIDEO: ARES 1-X LAUNCHES ON FLIGHT TEST PLAY | HI-DEF


VIDEO: ONBOARD VIDEO CAMERA 1 PLAY


VIDEO: ONBOARD VIDEO CAMERA 2 PLAY


VIDEO: NARRATED OVERVIEW OF ARES 1-X FLIGHT PLAY | HI-DEF


VIDEO: INSIGHTS INTO THE PARACHUTE SYSTEM PLAY | HI-DEF



VIDEO: LAUNCH REPLAYS: PAD PERIMETER PLAY | HI-DEF


VIDEO: LAUNCH REPLAYS: BEACH TRACKER PLAY | HI-DEF


VIDEO: LAUNCH REPLAYS: PRESS SITE CAMERA 1 PLAY | HI-DEF


VIDEO: LAUNCH REPLAYS: PRESS SITE CAMERA 2 PLAY | HI-DEF


VIDEO: LAUNCH REPLAYS: PATRICK AIR FORCE BASE PLAY | HI-DEF


VIDEO: LAUNCH REPLAYS: POWERFUL UCS-23 TRACKER PLAY | HI-DEF


VIDEO: LAUNCH REPLAYS: FROM ATLAS 5'S COMPLEX 41 PLAY | HI-DEF


VIDEO: LAUNCH REPLAYS: CAMERA IN FRONT OF PAD 39B PLAY | HI-DEF


VIDEO: LAUNCH REPLAYS: FROM PAD 39A WITH ATLANTIS PLAY | HI-DEF


VIDEO: LAUNCH REPLAYS: VEHICLE ASSEMBLY BUILDING PLAY | HI-DEF


VIDEO: LAUNCH REPLAYS: VIP SITE AT BANANA CREEK PLAY | HI-DEF



VIDEO: NARRATED REVIEW OF LAUNCH CAMPAIGN PLAY | HI-DEF


VIDEO: BEHIND-THE-SCENES OF THE FIRST COUNT PLAY | HI-DEF


VIDEO: WORKERS STRUGGLE TO REMOVE PROBE COVER PLAY | HI-DEF


VIDEO: INTERVIEW WITH ATK BOSS PLAY | HI-DEF



VIDEO: MONDAY'S PRE-LAUNCH NEWS CONFERENCE PLAY


VIDEO: SUNDAY'S COUNTDOWN STATUS AND WEATHER BRIEFING PLAY


VIDEO: NASA LEADERS CLEAR ARES 1-X FOR FLIGHT PLAY


VIDEO: ANIMATION OF THE ARES 1-X TEST FLIGHT PLAY | HI-DEF



VIDEO: DAZZLING AERIAL VIEWS OF ARES 1-X PLAY | HI-DEF


VIDEO: ARES 1-X BATHED IN LIGHT AT NIGHT PLAY | HI-DEF


VIDEO: SUNSET AT PAD 39B LAST THURSDAY PLAY | HI-DEF


VIDEO: ROTATING SERVICE STRUCTURE MOVED PLAY | HI-DEF


VIDEO: TIME-LAPSE OF GANTRY MOVING AWAY FOR TEST PLAY



VIDEO: ROLLOUT IN FAST-FORWARD PLAY | HI-DEF


VIDEO: TIME-LAPSE OF PAD ARRIVAL PLAY | HI-DEF


VIDEO: PAD'S STABILIZATION ARMS GRAB THE ROCKET PLAY | HI-DEF


VIDEO: ARES 1-X ARRIVES AT LAUNCH PAD 39B PLAY | HI-DEF


VIDEO: ROLLOUT FROM ASSEMBLY BUILDING PLAY | HI-DEF



VIDEO: WHAT DOES IT LOOK LIKE INSIDE ARES 1-X? PLAY | HI-DEF


VIDEO: A LITTLE PUSHING AND SHOVING IN THE VAB PLAY | HI-DEF


VIDEO: ARES 1-X ROCKET ASSEMBLY IN FAST-FORWARD PLAY | HI-DEF


VIDEO: FULLY ASSEMBLED ARES 1-X POWERED UP PLAY | HI-DEF


VIDEO: TOPPING ARES 1-X WITH MOCK ORION CAPSULE PLAY | HI-DEF


VIDEO: ADDING SUPER STACK TO THE ARES 1-X ROCKET PLAY | HI-DEF


VIDEO: ASSEMBLING THE UPPER STAGE SIMULATOR PLAY | HI-DEF


VIDEO: FORWARD SOLID ROCKET BOOSTER SEGMENT PLAY | HI-DEF


VIDEO: WORKERS ADD NEXT SECTION OF THE ROCKET PLAY | HI-DEF


VIDEO: FIRST SEGMENT PLACED ON MOBILE LAUNCHER PLAY | HI-DEF


VIDEO: PREPS FOR STACKING THE ARES 1-X ROCKET PLAY | HI-DEF



VIDEO: TWO LAUNCH CONTROL CENTERS WILL BE USED PLAY | HI-DEF


VIDEO: FAMED CONTROL ROOM HANDED TO ARES ROCKETS PLAY


VIDEO: VEHICLE STABILIZATION ARMS INSTALLED PLAY | HI-DEF


VIDEO: ASTRONAUT WALKWAY REMOVED FROM PAD 39B PLAY | HI-DEF


VIDEO: BEANIE CAP REMOVED FROM LAUNCH PAD 39B PLAY | HI-DEF


VIDEO: PAD 39B'S OLD LIGHTNING MAST REMOVED PLAY | HI-DEF


VIDEO: PAD 39B'S NEW LIGHTNING TOWERS COMPLETED PLAY | HI-DEF


MORE: ARES 1-X VIDEO COVERAGE


HDTV: HIGH DEFINITION VIDEO COVERAGE


SUBSCRIBE NOW