Ares 1-X rocket launches on one-of-a-kind test flight
BY STEPHEN CLARK
SPACEFLIGHT NOW
Posted: October 28, 2009


Amid mounting questions and debate about the future of U.S. human spaceflight, the world's tallest rocket was successfully launched Wednesday on a $445 million test flight for NASA's moon program.
The 327-foot-tall Ares 1-X rocket blasted off at 11:30 a.m. EDT (1530 GMT) Wednesday, clearing the tower at launch pad 39B in six seconds and steering east from the Kennedy Space Center. The solid-fueled rocket darted through low-level cumulus clouds a few moments later, flying into the upper atmosphere before running out of fuel at 130,000 feet two minutes after liftoff.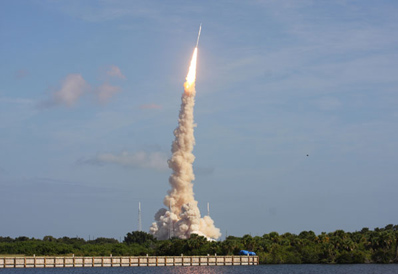 Ares 1-X launches from launch pad 39B. Credit: Justin Ray/Spaceflight Now



"The vehicle flew even better than we expected," said Bob Ess, Ares 1-X mission manager. "We completely met our success criteria, and we actually blew them away."

Explosives then fired to sever a dummy upper stage and crew module, and the cartwheeling first stage fell to a parachuted splashdown in the Atlantic Ocean less than 150 miles east of Cape Canaveral.

"Because we have a booster in the water, it must have worked pretty well," Ess said.

Ares 1-X was conceived nearly four years ago as an early demonstration the Constellation moon program. The exploration program includes the Ares 1 rocket to carry crews into Earth orbit and the larger Ares 5 booster to launch cargo.

The heavily-instrumented rocket was built to give engineers high-fidelity data on how the Ares 1 rocket will fly in the first couple of minutes of launch.

Wednesday's launch occurred as the Ares 1 rocket's future is in doubt after the Obama administration ordered an independent review of the Constellation program in May. The committee's inquisition came after mounting schedule slips and technical issues received much scrutiny.

Chaired by Norman Augustine, a former Lockheed Martin executive, the panel released its final report last week. In its findings, the board said the Constellation program was on an "unsustainable trajectory" with insufficient funding and unrealistic schedules that threaten to make its lofty goals unattainable.

Most of the Augustine board's options do not include the Ares 1 as an astronaut-carrying launch vehicle, but instead would rely on commercial crew transport services to Earth orbit as NASA focuses on developing a heavy-lifting rocket for deep space exploration.

Jeff Hanley, Constellation program manager, was asked if he felt vindicated after such a smooth test flight.

"Vindication really does not describe it well," Hanley said. "It's a sense of validation that the course that we had laid out is executable. An early demonstration like this puts aside any doubts in our minds, if we had them, about the flyability of this design."

The timing of the launch caused swirling questions about the value of the test flight, but NASA officials were quick to underscore the importance of the mission.

"This test will be of value regardless of any decisions in the future," said Doug Cooke, associate administrator of NASA's exploration systems mission directorate. "We are learning about validating our math models for aero-acoustics and loads."

More than 700 sensors on the launcher were programmed to collect information on pressures, vibrations, temperatures and aerodynamic loads. That data will be fed into powerful computer models to give Ares 1 designers a better idea of how the rocket actually performs.

NASA managers have contended the Ares 1-X data will help anchor design models in real flight data, making the computer aids more robust for any rocket system.

It will be months before engineers complete the analysis, and even longer before the ramifications for Ares 1 are understood.

Engineers were most interested in the vibrations and acoustic loads Ares 1-X experienced at liftoff and during the phase of flight known as maximum aerodynamic pressure, or Max Q. The rocket's susceptibility to roll torque was also put under the microscope.

The rocket moved its nozzle moments after ignition, dramatically tilting the slender rocket away from the launch pad in the first seconds of flight. Ess said that maneuver occurred as planned.


| | |
| --- | --- |
| | Credit: Ben Cooper/Spaceflight Now |
An amplified ring of condensation poured over the top half of the rocket about a minute into the launch, forming a halo-like cloud of white.

Stage separation and booster recovery were also primary objectives during Wednesday's test flight.

"The separation seemd a little different than we predicted as far as the dynamics go," Ess said.

Twelve small rocket motors on the first stage fired as designed to pull the booster away from the dummy upper stage and put it in a spin.

Officials expected the rocket's upper stage simulator to continue flying relatively straight ahead after first stage separation. The forward part of the vehicle instead immediately veered into a tumbling motion as it flew to a high-speed impact in the Atlantic Ocean.

The booster continued to a maximum altitude of more than 150,000 feet before deploying parachutes and splashing down into the sea nearly 150 miles due east of the launch pad.

Freedom Star, a NASA recovery ship, was stationed near the landing site and will retrieve the rocket. The vessel will tow the empty booster back to Cape Canaveral on Friday.

The flight was over in barely six minutes, but the launch was one of the most anticipated missions from the Space Coast in recent memory.

"This developmental flight test stuff is a lot of fun," said Ed Mango, Ares 1-X launch director.

It was the first time a new rocket lifted off from KSC's main launch pads since 1981, when the space shuttle made its maiden flight.


| | |
| --- | --- |
| | Credit: Manny Deleon/ATK |
The launch was delayed from Tuesday morning because of a rarely-used weather rule called triboelectrification. Officials were worried friction between the fast-moving rocket and precipitation particles in high clouds would create a field of static electricity, which could disrupt communications with the vehicle.

"How cool is this Ares 1-X flight test? I guess you could say it is triboelectrifying," Cooke said.

The countdown Wednesday was also held up by lightning near the pad overnight. Launch controllers spent extra time evaluating the rocket to ensure it was not damaged by the strikes.

"We were ready when Mother Nature was ready," Hanley said. "We took our opportunity and what a great outcome. It flew straight as an arrow."

"It looked much more spectacular in person than it did in planning," Ess said.


Additional coverage for subscribers:


VIDEO: ARES 1-X LAUNCHES ON FLIGHT TEST PLAY | HI-DEF


VIDEO: ONBOARD VIDEO CAMERA 1 PLAY


VIDEO: ONBOARD VIDEO CAMERA 2 PLAY



VIDEO: LAUNCH REPLAYS: PAD PERIMETER PLAY | HI-DEF


VIDEO: LAUNCH REPLAYS: BEACH TRACKER PLAY | HI-DEF


VIDEO: LAUNCH REPLAYS: PRESS SITE CAMERA 1 PLAY | HI-DEF


VIDEO: LAUNCH REPLAYS: PRESS SITE CAMERA 2 PLAY | HI-DEF


VIDEO: LAUNCH REPLAYS: PATRICK AIR FORCE BASE PLAY | HI-DEF


VIDEO: LAUNCH REPLAYS: POWERFUL UCS-23 TRACKER PLAY | HI-DEF


VIDEO: LAUNCH REPLAYS: FROM ATLAS 5'S COMPLEX 41 PLAY | HI-DEF


VIDEO: LAUNCH REPLAYS: CAMERA IN FRONT OF PAD 39B PLAY | HI-DEF


VIDEO: LAUNCH REPLAYS: FROM PAD 39A WITH ATLANTIS PLAY | HI-DEF


VIDEO: LAUNCH REPLAYS: VEHICLE ASSEMBLY BUILDING PLAY | HI-DEF


VIDEO: LAUNCH REPLAYS: VIP SITE AT BANANA CREEK PLAY | HI-DEF



VIDEO: MONDAY'S PRE-LAUNCH NEWS CONFERENCE PLAY


VIDEO: SUNDAY'S COUNTDOWN STATUS AND WEATHER BRIEFING PLAY


VIDEO: NASA LEADERS CLEAR ARES 1-X FOR FLIGHT PLAY


VIDEO: ANIMATION OF THE ARES 1-X TEST FLIGHT PLAY | HI-DEF



VIDEO: DAZZLING AERIAL VIEWS OF ARES 1-X PLAY | HI-DEF


VIDEO: ARES 1-X BATHED IN LIGHT AT NIGHT PLAY | HI-DEF


VIDEO: SUNSET AT PAD 39B LAST THURSDAY PLAY | HI-DEF


VIDEO: ROTATING SERVICE STRUCTURE MOVED PLAY | HI-DEF


VIDEO: TIME-LAPSE OF GANTRY MOVING AWAY FOR TEST PLAY



VIDEO: ROLLOUT IN FAST-FORWARD PLAY | HI-DEF


VIDEO: TIME-LAPSE OF PAD ARRIVAL PLAY | HI-DEF


VIDEO: PAD'S STABILIZATION ARMS GRAB THE ROCKET PLAY | HI-DEF


VIDEO: ARES 1-X ARRIVES AT LAUNCH PAD 39B PLAY | HI-DEF


VIDEO: ROLLOUT FROM ASSEMBLY BUILDING PLAY | HI-DEF



VIDEO: WHAT DOES IT LOOK LIKE INSIDE ARES 1-X? PLAY | HI-DEF


VIDEO: A LITTLE PUSHING AND SHOVING IN THE VAB PLAY | HI-DEF


VIDEO: ARES 1-X ROCKET ASSEMBLY IN FAST-FORWARD PLAY | HI-DEF


VIDEO: FULLY ASSEMBLED ARES 1-X POWERED UP PLAY | HI-DEF


VIDEO: TOPPING ARES 1-X WITH MOCK ORION CAPSULE PLAY | HI-DEF


VIDEO: ADDING SUPER STACK TO THE ARES 1-X ROCKET PLAY | HI-DEF


VIDEO: ASSEMBLING THE UPPER STAGE SIMULATOR PLAY | HI-DEF


VIDEO: FORWARD SOLID ROCKET BOOSTER SEGMENT PLAY | HI-DEF


VIDEO: WORKERS ADD NEXT SECTION OF THE ROCKET PLAY | HI-DEF


VIDEO: FIRST SEGMENT PLACED ON MOBILE LAUNCHER PLAY | HI-DEF


VIDEO: PREPS FOR STACKING THE ARES 1-X ROCKET PLAY | HI-DEF



VIDEO: TWO LAUNCH CONTROL CENTERS WILL BE USED PLAY | HI-DEF


VIDEO: FAMED CONTROL ROOM HANDED TO ARES ROCKETS PLAY


VIDEO: VEHICLE STABILIZATION ARMS INSTALLED PLAY | HI-DEF


VIDEO: ASTRONAUT WALKWAY REMOVED FROM PAD 39B PLAY | HI-DEF


VIDEO: BEANIE CAP REMOVED FROM LAUNCH PAD 39B PLAY | HI-DEF


VIDEO: PAD 39B'S OLD LIGHTNING MAST REMOVED PLAY | HI-DEF


VIDEO: PAD 39B'S NEW LIGHTNING TOWERS COMPLETED PLAY | HI-DEF


MORE: ARES 1-X VIDEO COVERAGE


HDTV: HIGH DEFINITION VIDEO COVERAGE


SUBSCRIBE NOW