Ares rocket test to occur under cloud of uncertainty
BY STEPHEN CLARK
SPACEFLIGHT NOW
Posted: October 26, 2009


Tuesday's test flight of the Ares 1 rocket will come days after an independent review board called NASA's moon program "unsustainable" because of budget and schedule woes, but NASA officials say the $445 million mission has robust engineering value applicable to a wide range of potential launch systems.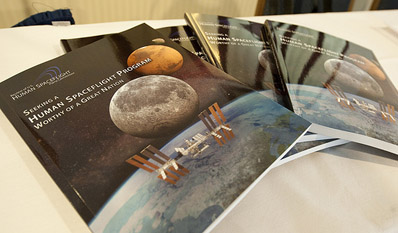 The Augustine report was released last Thursday. Credit: NASA



Engineers planned the Ares 1-X launch to give designers of the Ares 1 an early look at how the tall, slender booster will react during the dynamic first two minutes of flight.

But the U.S. Human Spaceflight Plans Committee, chaired by former Lockheed Martin executive Norman Augustine, was chartered by the Obama administration in May to give policymakers a fresh look at the solvency of NASA's Constellation program. The panel was also charged with evaluating other options for the space program's future.

In its final report released Thursday, the board found the moon program was on an "unsustainable trajectory" due to mounting funding shortfalls and delays that could conspire to keep the program on the ground.

"We say that because of a mismatch between the scope of the program and the funds to support the program," Augustine said. "That's of great concern to us because human spaceflight, where safety accounts for everything, is a very unforgiving sort of pursuit."

The Augustine commission came out in favor of utilizing the expected availability of commercial space transport systems to put future astronauts in Earth orbit. NASA should focus on exploring deep space, according to panel members.

But decisions on the future of the space program are not expected soon. Administration officials have not set a timetable for any announcement on a change in policy.

NASA is developing the Ares 1 to carry future astronauts to orbit and the larger Ares 5 rocket to deliver massive loads of cargo to deep space. Also being designed is the Orion crew module to be launched atop the Ares 1.

The $445 million Ares 1-X test flight was conceived in 2006, when the Constellation program was on more solid ground. The Obama White House directed NASA to continue the development of the moon program in parallel with the Augustine review.

Collage of the Ares 1 and Ares 5 rockets. Credit: NASA



Officials contend data from Tuesday's launch has far-reaching applications for whatever rocket agency uses in the future, not just the Ares 1.

"It's great experience and it's great data for large-scale launch vehicle development in general," said Jeff Hanley, Constellation program manager.

"What are the uncertainties that engineers face in designing a launch vehicle? It's understanding the environments and the loads that any rocket will see. So being able to pin those down more precisely and model them more prescisely is of huge value, no matter what path we take. It will be valuable to Ares 1, it will be valuable to Ares 5, it will be valuable to any rocket system," Hanley said.

The timing of the Ares 1-X launch has caused many to question the merits of the flight.

"The timing is what it is, but the test is significant and it's one that we fully back," said Doug Cooke, associate administrator of the exploration systems mission directorate at NASA Headquarters.

Because the launch is occurring over mounting questions about what NASA should do next, officials say Ares 1-X will have a higher visibility than normal, justified or not.

Bob Ess, Ares 1-X mission manager, said it would be "foolish" for anyone to jump to conclusions after the results of Tuesday's launch are known.

"It would be unfair and foolish for someone to take this one flight, which is made to be developmental, to cast any opinions as to the viability of Constellation or Ares based on how this flight is going to work," Ess said.

But that may be a tall order with such high uncertainty about the space program's future.

"We realize that it's an Ares 1-looking rocket, and people are going to look at it that way and that's kind of part of the game," Ess said. "This is built to look like an Ares 1, but the data we get will really be germane to a whole class of launch vehicles."

Part of Ares 1-X's objectives include gaining hands-on experience with a new rocket system after workers have only dealt with the space shuttles for more than 30 years.

"By getting to this point, this team has taught itself as a pathfinder for what we do in human spaceflight in developing the next vehicles," Cooke said. "We haven't done this with a launch vehicle since the space shuttle, which was developed in the early '70s."

In today's world, computer models take a leading role in designing new rocket and aerospace systems. Those models have to be verified using real flight data, according to Hanley.

"When you design a rocket, it's really all about the loads and environments getting through that first 100 to 200 seconds of flight, through the atmosphere," Hanley said. "So that kind of learning would be applicable to any large-scale launch system that you might create."

Engineers must know the fidelity of their models because rockets operate with razor-thin margins.

"We don't hold the three and four times margin that bridge-builders are able to hold," Hanley said. "We hold much thinner margins in aerospace in general, and particularly in spaceflight. Those computer models are very important to us, and the degree or margin or conservatism is very important. We put a lot emphasis on that, and Ares 1-X informs that in a very important way."

Teams working on Ares 1-X are focused on making this test flight succeed, regardless of the future course chosen by decisionmakers.

"We've got to get this one to go work and if it does help them, fine. If it doesn't, that's their decision," said Jon Cowart, Ares 1-X deputy mission manager. "We've poured our lives and our hearts into this one rocket, so we're going to go do it."

Hanley agrees.

"We leave that really to the policy circles and the job of my team is to implement," Hanley said. "We're implementing the plan that the agency and national leadership have initiated. If they wish to change that plan, we'll change and we'll adapt."


Additional coverage for subscribers:


VIDEO: MONDAY'S PRE-LAUNCH NEWS CONFERENCE PLAY


VIDEO: SUNDAY'S COUNTDOWN STATUS AND WEATHER BRIEFING PLAY


VIDEO: NASA LEADERS CLEAR ARES 1-X FOR FLIGHT PLAY


VIDEO: ANIMATION OF THE ARES 1-X TEST FLIGHT PLAY | HI-DEF



VIDEO: DAZZLING AERIAL VIEWS OF ARES 1-X PLAY | HI-DEF


VIDEO: ARES 1-X BATHED IN LIGHT AT NIGHT PLAY | HI-DEF


VIDEO: SUNSET AT PAD 39B LAST THURSDAY PLAY | HI-DEF


VIDEO: ROTATING SERVICE STRUCTURE MOVED PLAY | HI-DEF


VIDEO: TIME-LAPSE OF GANTRY MOVING AWAY FOR TEST PLAY



VIDEO: ROLLOUT IN FAST-FORWARD PLAY | HI-DEF


VIDEO: TIME-LAPSE OF PAD ARRIVAL PLAY | HI-DEF


VIDEO: PAD'S STABILIZATION ARMS GRAB THE ROCKET PLAY | HI-DEF


VIDEO: ARES 1-X ARRIVES AT LAUNCH PAD 39B PLAY | HI-DEF


VIDEO: ROLLOUT FROM ASSEMBLY BUILDING PLAY | HI-DEF



VIDEO: WHAT DOES IT LOOK LIKE INSIDE ARES 1-X? PLAY | HI-DEF


VIDEO: A LITTLE PUSHING AND SHOVING IN THE VAB PLAY | HI-DEF


VIDEO: ARES 1-X ROCKET ASSEMBLY IN FAST-FORWARD PLAY | HI-DEF


VIDEO: FULLY ASSEMBLED ARES 1-X POWERED UP PLAY | HI-DEF


VIDEO: TOPPING ARES 1-X WITH MOCK ORION CAPSULE PLAY | HI-DEF


VIDEO: ADDING SUPER STACK TO THE ARES 1-X ROCKET PLAY | HI-DEF


VIDEO: ASSEMBLING THE UPPER STAGE SIMULATOR PLAY | HI-DEF


VIDEO: FORWARD SOLID ROCKET BOOSTER SEGMENT PLAY | HI-DEF


VIDEO: WORKERS ADD NEXT SECTION OF THE ROCKET PLAY | HI-DEF


VIDEO: FIRST SEGMENT PLACED ON MOBILE LAUNCHER PLAY | HI-DEF


VIDEO: PREPS FOR STACKING THE ARES 1-X ROCKET PLAY | HI-DEF



VIDEO: TWO LAUNCH CONTROL CENTERS WILL BE USED PLAY | HI-DEF


VIDEO: FAMED CONTROL ROOM HANDED TO ARES ROCKETS PLAY


VIDEO: VEHICLE STABILIZATION ARMS INSTALLED PLAY | HI-DEF


VIDEO: ASTRONAUT WALKWAY REMOVED FROM PAD 39B PLAY | HI-DEF


VIDEO: BEANIE CAP REMOVED FROM LAUNCH PAD 39B PLAY | HI-DEF


VIDEO: PAD 39B'S OLD LIGHTNING MAST REMOVED PLAY | HI-DEF


VIDEO: PAD 39B'S NEW LIGHTNING TOWERS COMPLETED PLAY | HI-DEF


MORE: ARES 1-X VIDEO COVERAGE


HDTV: HIGH DEFINITION VIDEO COVERAGE


SUBSCRIBE NOW