Risk and ingenuity cross paths on Ares 1-X test flight
BY STEPHEN CLARK
SPACEFLIGHT NOW
Posted: October 25, 2009


NASA is two days away from launching a one-of-a-kind suborbital test flight to validate the aerodynamic design of the agency's embattled Ares 1 rocket, a crew-carrying booster under development to replace the space shuttle.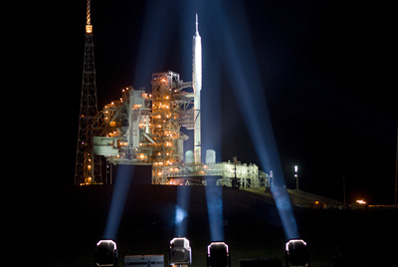 Ares 1-X is bathed in xenon spotlights on launch pad 39B. Credit: NASA-KSC



The $445 million test flight will last six minutes from liftoff to splashdown, reaching a maximum altitude of 153,000 feet and a top velocity more than 4.7 times the speed of sound.

The experimental mission is reminiscent of the early days of the space program, and officials say it is risky by definition.

"Are we confident? Sure," said Bob Ess, Ares 1-X mission manager. "Would I bet my house? No."

Senior agency officials agree.

"We realize that it's a riskier flight. You can have failures on tests, but that's why you go test. It's a new vehicle concept, so we want to learn about it," said Doug Cooke, associate administrator for NASA's exploration systems mission directorate.

The Air Force, which is responsible for public safety during rocket launches, will be standing by to destroy the rocket if serious problems develop. Military officials fill the same role during all launches from the Space Coast.

A linear-shaped explosive charge would be detonated along the length of the first stage, relieving the high pressure inside the motor casing and eliminating any thrust from the booster.

The odds of such an accident at liftoff are low, and the chances of damage beyond pad 39B are negligible, according to NASA. But officials did not provide a specific overall probability of a loss of vehicle during the Ares 1-X launch.

There is about a 1-in-10,000 chance debris from an early mishap could impact near pad 39A, where the shuttle Atlantis is being prepared for a mission next month.

"It's really the first six seconds when we the clear the tower, and a few seconds after that, that's the most sensitive area. If we really started to come off the wrong way right away, it would put pad A at risk," Ess said.

NASA set a requirement for 1-in-1,000 odds of damage to pad 39A before approving the launch. The chances of such an occurrence were low enough that NASA did not have to issue a formal waiver to clear Ares 1-X to proceed.

More than three years in the making, the launch will provide reams of data for engineers to analyze as they finalize designs for the Ares 1.

"We've learned through this development, through wind tunnel tests and computer programs, that the loads induced by some of these environments are very significant. So we'll learn from the data that we get back to validate the models," Cooke said.

Made of a mix of new parts, surplus space shuttle hardware and avionics from the expendable Atlas rocket program, the slender Ares 1-X test vehicle is a full-scale aerodynamic model of the Ares 1 launcher.

"The vehicle is basically the world's biggest wind tunnel model," said Jeff Hanley, manager of NASA's Constellation moon program. "We're going to take a vehicle the scale and shape of a real Ares 1 and fly it through it through the real environments that the Ares 1 will see."

A space shuttle solid rocket booster, packed with propellant eight years ago, will power the 1.8-million pound rocket off launch pad 39B during a four-hour launch window that opens at 8 a.m. EDT (1200 GMT) Tuesday.

Weather is currently the primary concern among mission officials. Forecasters are predicting a 60 percent chance that rain showers, high winds and potential static electricity could quash a launch attempt Tuesday.

Back-up launch opportunities are available Wednesday and possibly Thursday. Beyond that, NASA may have to wait well into November after a series of launch activities on the Space Coast.

When the massive rocket does take off, it will be the first time a new vehicle has launched from one of the Kennedy Space Center's two main launch pads since 1981.

At a height of 327 feet, Ares 1-X is the tallest rocket in the world today.

One objective of the mission is to give ground teams experience in handling, assembling and testing a rocket with a radically different design than the space shuttle.

"We're transitioning from the way we think about processing the shuttle to thinking about processing a new, different vehicle," said Jon Cowart, deputy mission manager. "You're taking people who have done one way of business since 1981 and you're trying to get them to change the way they do it, and that is monumentally tough."

Ares 1-X "takes us through the whole life cycle from concept definition all the rocket sitting on the pad ready to fly, to figuring out what happened after you fly," Hanley said.

Stacked on top of the 12-foot-wide four-segment solid-fueled first stage are an inert fifth segment, a dummy upper stage and a mock-up of the Orion crew capsule and a pointy launch abort system.

The first stage was built by ATK Space Systems, a division of Alliant Techsystems based in Brigham City, Utah.

Joe Oliva, ATK's project manager for Ares 1-X, said the stage was cast with solid propellant eight years ago and its shuttle-ready lifetime of five years has expired.

Solid-fueled motors on nuclear missiles are designed to stay ready for launch for decades, but NASA's requirement for shuttle flights dictates boosters must be used within five years after propellant is loaded.

When it became apparent this booster could not fly on a shuttle mission, the program handed control of the reusable motor to the Constellation program for the Ares 1-X flight.

"One became available at that time, and all we were going to do was actually take it back and wash out the propellant," Oliva said.

NASA's Glenn Research Center and Langley Research Center built the upper stage and crew module simulators.

The 18-foot-diameter upper stage simulator is loaded with 150,000 pounds of steel plates to mimic the weight of full fuel tanks on the Ares 1. A two-part roll control system from the Peacekeeper missile program is bolted to the side of the forward assembly of Ares 1-X.

"The top part of our vehicle really is just for volume and for mass," Ess said. "This is a first stage test. The first two minutes is the hard part."

The unfueled fifth segment of the first stage houses a suite of avionics that serve as the "brains" of the skyscraping rocket.

The avionics package, provided by United Launch Alliance, is nearly identical to the system that controls Atlas 5 rockets. The avionics see a higher workload during Atlas launches than during Ares 1-X, according to engineers.

"This rocket is a mixture of what we had available today and what we wanted to stretch out for the next flight," Ess said. "We did that purposefully because we wanted to do a flight sooner and so getting data is good, getting early data is even better."

"It's quite a hybrid," Ess said.

More than 700 sensors are scattered throughout the launch vehicle to collect data on pressures, temperatures, accelerations, acoustics and vibrations Ares 1-X experiences during the flight.

"700 sensors and they're all sampled many times a second," Ess said. "It's just reams and reams of data that will take, at best, months to go through and understand really if the vehicle behaved the way that we thought it would."

Data will be gathered at a rate of about 12 megabytes per second during the flight, according to engineers.

"It's unprecedented to get that much information from one flight," Ess said. "Inside, we have sensors as well to measure strains, basically how the vehicle's structure bends and twists during flight. All of this is tied to different math models and computer models we have for designing rockets such as Ares 1."


Additional coverage for subscribers:


VIDEO: MONDAY'S PRE-LAUNCH NEWS CONFERENCE PLAY


VIDEO: SUNDAY'S COUNTDOWN STATUS AND WEATHER BRIEFING PLAY


VIDEO: NASA LEADERS CLEAR ARES 1-X FOR FLIGHT PLAY


VIDEO: ANIMATION OF THE ARES 1-X TEST FLIGHT PLAY | HI-DEF



VIDEO: DAZZLING AERIAL VIEWS OF ARES 1-X PLAY | HI-DEF


VIDEO: ARES 1-X BATHED IN LIGHT AT NIGHT PLAY | HI-DEF


VIDEO: SUNSET AT PAD 39B LAST THURSDAY PLAY | HI-DEF


VIDEO: ROTATING SERVICE STRUCTURE MOVED PLAY | HI-DEF


VIDEO: TIME-LAPSE OF GANTRY MOVING AWAY FOR TEST PLAY



VIDEO: ROLLOUT IN FAST-FORWARD PLAY | HI-DEF


VIDEO: TIME-LAPSE OF PAD ARRIVAL PLAY | HI-DEF


VIDEO: PAD'S STABILIZATION ARMS GRAB THE ROCKET PLAY | HI-DEF


VIDEO: ARES 1-X ARRIVES AT LAUNCH PAD 39B PLAY | HI-DEF


VIDEO: ROLLOUT FROM ASSEMBLY BUILDING PLAY | HI-DEF



VIDEO: WHAT DOES IT LOOK LIKE INSIDE ARES 1-X? PLAY | HI-DEF


VIDEO: A LITTLE PUSHING AND SHOVING IN THE VAB PLAY | HI-DEF


VIDEO: ARES 1-X ROCKET ASSEMBLY IN FAST-FORWARD PLAY | HI-DEF


VIDEO: FULLY ASSEMBLED ARES 1-X POWERED UP PLAY | HI-DEF


VIDEO: TOPPING ARES 1-X WITH MOCK ORION CAPSULE PLAY | HI-DEF


VIDEO: ADDING SUPER STACK TO THE ARES 1-X ROCKET PLAY | HI-DEF


VIDEO: ASSEMBLING THE UPPER STAGE SIMULATOR PLAY | HI-DEF


VIDEO: FORWARD SOLID ROCKET BOOSTER SEGMENT PLAY | HI-DEF


VIDEO: WORKERS ADD NEXT SECTION OF THE ROCKET PLAY | HI-DEF


VIDEO: FIRST SEGMENT PLACED ON MOBILE LAUNCHER PLAY | HI-DEF


VIDEO: PREPS FOR STACKING THE ARES 1-X ROCKET PLAY | HI-DEF



VIDEO: TWO LAUNCH CONTROL CENTERS WILL BE USED PLAY | HI-DEF


VIDEO: FAMED CONTROL ROOM HANDED TO ARES ROCKETS PLAY


VIDEO: VEHICLE STABILIZATION ARMS INSTALLED PLAY | HI-DEF


VIDEO: ASTRONAUT WALKWAY REMOVED FROM PAD 39B PLAY | HI-DEF


VIDEO: BEANIE CAP REMOVED FROM LAUNCH PAD 39B PLAY | HI-DEF


VIDEO: PAD 39B'S OLD LIGHTNING MAST REMOVED PLAY | HI-DEF


VIDEO: PAD 39B'S NEW LIGHTNING TOWERS COMPLETED PLAY | HI-DEF


MORE: ARES 1-X VIDEO COVERAGE


HDTV: HIGH DEFINITION VIDEO COVERAGE


SUBSCRIBE NOW