Ares 1-X test flight cleared for launch Tuesday morning
BY STEPHEN CLARK
SPACEFLIGHT NOW
Posted: October 23, 2009


Senior NASA officials convened at the Kennedy Space Center on Friday and formally approved plans to launch a $445 million test flight of the next-generation Ares 1 rocket next week.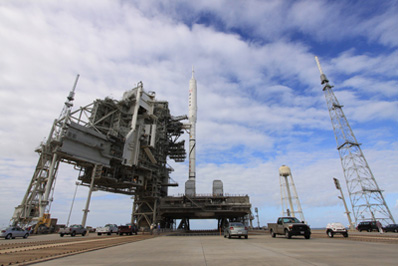 Ares 1-X is poised on the launch pad. Credit: NASA-KSC



"This team has done a tremendous job getting to this point in the flow," said Doug Cooke, associate administrator for NASA's exploration systems mission directorate.

The Ares 1-X rocket is set for liftoff during a four-hour window opening at 8 a.m. EDT Tuesday. During the six-minute, 144-mile flight, instruments will collect data on the vibrations, flexing, pressures, temperatures and acoustics the booster experiences.

"They've got to a point where there are really no technical issues, they've closed out their paperwork to this point. All they've got is the forward work to get to a Tuesday launch," Cooke said.

The information collected during the flight will be fed into computer models helping engineers design the real Ares 1 rocket, which is expected to debut some time between 2015 and 2017.

Friday's meeting, called a Flight Test Readiness Review, included input from a range of engineers and was overseen by top NASA managers. The review board unanimously cleared Ares 1-X for launch, Cooke said.

Also on Friday, teams were wrapping up the ground systems portion of an integrated test of all flight and ground equipment that will be used during Tuesday's countdown and launch.

The conclusion of the test came on the heels of a successful hotfire of the Ares 1-X first stage's auxiliary power unit Thursday night. The device drives the rocket's nozzle gimbal system that steers the vehicle during flight.

The launch team will conduct a countdown simulation all day Saturday. Workers at the pad will close out the rocket and connect pyrotechnic ordnance Sunday.

Monday will mostly be an off day for teams, and the countdown will commence at 1 a.m. EDT Tuesday.

Early weather forecasts look iffy for launch attempts next week. There is a 60 percent chance of violating weather rules Tuesday because of rain showers, ground winds and electrical charges in the atmosphere. There is a 40 percent chance of bad weather prohibiting launch Wednesday and Thursday.

"Weather is always a challenge, and next week will be no different," said Ed Mango, Ares 1-X launch director. "We have weather constraints for Ares 1-X that are different than you've seen on other vehicles around here because it's a 300-foot-tall rocket."

Ares 1-X is booked on the Air Force's Eastern Range for Tuesday and Wednesday. Thursday may not be available on the Range, but NASA would request a third launch opportunity if necessary.

"We are working to see if we can't get other opportunities on the Range, and we'll see how that goes in the next few days," Mango said.

If the flight slips beyond next week due to weather or technical issues, the Ares 1-X team may have to stand down for several weeks because of a busy launch schedule at neighboring pads at Cape Canaveral.

The Air Force-run network of communications and tracking sites supports all launches from the Space Coast on a first-come, first-served basis.

The Range is unavailable due to an unspecified activity beginning late next week. An Atlas 5 rocket is scheduled for a commercial satellite launch Nov. 14, followed by the launch of shuttle Atlantis around Nov. 16 and a Delta 4 booster a few days later.

"The month of November is very difficult on the Range in terms of trying to get space, but we want to be ready as soon as an opportunity opens up to jump on the Range at that time and try to go fly," Mango said.

If the upcoming launches stay on schedule, Ares 1-X may not have another chance to launch until the middle of November.

Officials would like to keep the rocket on the pad as long as possible to be ready to take advantage of any openings on the Range.

"After this particular window, we'll be working with (the vehicle team) to figure out how we can leave the vehicle at the pad, if at all possible, which is what we'd like to go do," Mango said.