Ares 1-X rocket breezes through key readiness test
BY STEPHEN CLARK
SPACEFLIGHT NOW
Posted: October 7, 2009


The rocket NASA plans to launch later this month on a first-of-a-kind test flight has passed its final exam before trekking to the pad in less than two weeks.


| | |
| --- | --- |
| | The Ares 1-X rocket stands inside the Vehicle Assembly Building. Credit: NASA-KSC |
The 327-foot-tall Ares 1-X rocket, a skyscraping booster made of real and dummy parts, underwent a Launch Vehicle Readiness Test on Tuesday.

The nine-hour test exercised the rocket's power system, instrumentation and avionics package to verify they are all functioning properly inside the Vehicle Assembly Building's High Bay 3.

A NASA spokesperson said only minor issues were noticed during the test, including glitches with a part in the flight termination system and a balky sensor. None should affect upcoming milestones.

On Thursday, engineers will conduct a thermal test to check temperatures inside the rocket when it is powered on. This check will measure the thermal environment inside the rocket when it is powered up, according to NASA.

Managers are planning a Flight Readiness Review on Friday to go over nearly two month's of testing and discuss any problems that could prohibit rolling out to the pad and launching.

Rollout is now slated for Oct. 19 and launch is scheduled for 8 a.m. EDT on Oct. 27.

"If everything keeps tracking the way it is, we expect to roll out on the 19th or maybe a day later," a NASA spokesperson said Tuesday.

After these final tests, technicians will finish closeout work to prepare the rocket for the 4.2-mile trip to pad 39B.

The seaside launch complex, built for the Apollo progam and modified for the space shuttle, underwent another facelift for the Ares 1-X mission. NASA added three huge lightning towers, stripped away some shuttle-era hardware, and bolted new access platforms and a vehicle stabilizer to the pad.

NASA declared the pad was ready to receive the Ares 1-X rocket during a meeting last week.

Inside the VAB, upper stage closeouts are already underway and workers will install the flight battery next Tuesday.

Rollout is currently scheduled to begin just after midnight on the morning of Oct. 19.

Officials are also selecting members of the launch control team and plan one or two more countdown simulations.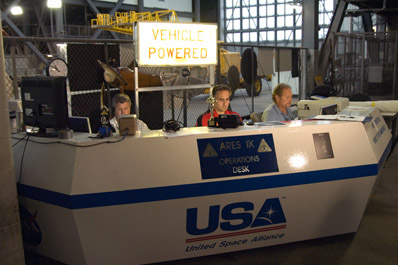 Engineers conduct powered testing on Ares 1-X last month. Credit: NASA-KSC



Another wildcard in the Ares 1-X schedule is the processing of shuttle Atlantis for its November mission to the International Space Station.

Atlantis was transferred from its hangar to the VAB on Tuesday for attachment to its bullet-shaped external fuel tank and set of solid rocket boosters.

Plans call for Atlantis to roll out to neighboring launch pad 39A next Tuesday to begin final preps for its Nov. 12 launch.

Pad crews responsible for the Ares 1-X launch are also needed by Atlantis, so officials doubled Ares' scheduled pad stay to eight days.

NASA officials say there continues to be some uncertainty in the manpower available to support Ares 1-X at the launch pad, but they remain confident in reaching launch opportunities on Oct. 27 and 28.

Ares 1-X may have just those two days to launch, or else wait for up to several weeks because of unspecified activity on the Air Force's Eastern Range at the end of October and a logjam of launches in November.