Next month's Ares 1 test flight moved up four days
BY STEPHEN CLARK
SPACEFLIGHT NOW
Posted: September 22, 2009


NASA has decided to move up the first test launch of its new Ares 1 rocket by four days to Oct. 27, the agency announced Tuesday.
Previously scheduled for Oct. 31, the $350 million flight will give rocket designers an early look at the aerodynamic, control and acoustic characteristics of the new crew-carrying booster.
Managers met Monday and approved the date change because preparations for the Ares 1-X test flight are ahead of schedule at the Kennedy Space Center.
"We can make that date and we got on the range, so that's what we're working toward," said Amber Philman, a NASA spokesperson.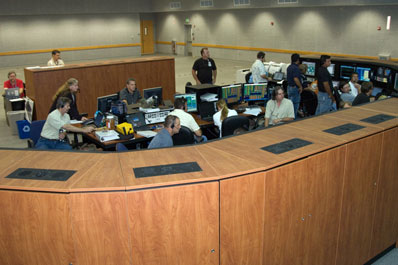 The launch team conducts a countdown simulation earlier this month. Credit: NASA-KSC



Technicians finished stacking the 327-foot-tall rocket last month. Workers have since tested more than 700 data-collecting sensors scattered throughout the rocket, shook the vehicle to gauge its response to vibrations, and powered up the launcher's electronics systems for testing.

After a few more checks and closeouts, the rocket will be rolled from the Vehicle Assembly Building to launch pad 39B on Oct. 19 for eight more days of prep work.

A flight readiness review will be held on Oct. 23, according to NASA.

Meanwhile, launch controllers are polishing their procedures during a series of countdown simulations inside Firing Room 1 of the Launch Control Center.

The team completed a simulation Tuesday that tested their ability to respond to problems in the countdown.

"This launch simulation assembled almost the entire launch team here at Kennedy for the first time," a NASA spokesperson said. "With unexpected problems intentionally introduced into the countdown, it exercised their engineering expertise as well as their judgment to reach the simulated liftoff."

One more dry run is slated for about three weeks before launch.

Although the real Ares 1 won't debut until 2015 or 2016, officials planned the two-minute Ares 1-X test launch to occur before the rocket's critical design review. That will give engineers enough time to incorporate lessons learned from the demonstration flight into the final vehicle.

The rocket includes a stock four-segment solid rocket booster from the shuttle program, a simulated fifth segment of the first stage, a dummy second stage, and a mock Orion capsule, where the crew would be seated for liftoff during a real launch.