Space station-bound supply ship launched from Virginia
BY STEPHEN CLARK
SPACEFLIGHT NOW
Posted: July 13, 2014


A fresh load of supplies and research experiments began a three-day journey to the International Space Station on Sunday after a successful midday launch aboard an Antares rocket from Virginia's Eastern Shore.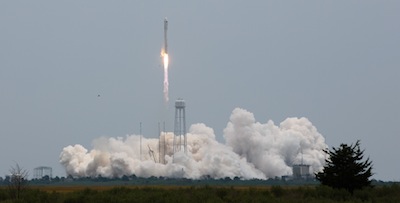 The Antares rocket lifts off from NASA's Wallops Flight Facility. Photo credit: NASA/Joel Kowsky

Loaded with approximately 3,300 pounds of provisions, the commercial Orbital Sciences Corp. Cygnus supply ship will complete the cargo delivery Wednesday with an automated approach to the space station.
The supplies include food for the lab's six-man crew, research experiments to learn how the human body changes in space, gear to maintain systems aboard the massive research complex, and 29 small CubeSats to be ejected from the space station's Japanese science module.
The pursuit began at 12:52 p.m. EDT (1652 GMT) with a thunderous blastoff from the Mid-Atlantic Regional Spaceport at NASA's Wallops Flight Facility. The 13-story Antares booster disappeared into clouds moments later, but telemetry radioed back to the ground from the rocket showed it performed as designed, burning twin kerosene-fueled Aerojet Rocketdyne AJ26 engines for nearly four minutes to rocket into the upper atmosphere.
The Antares rocket jettisoned its aerodynamic fairing before firing a second stage Castor 30B solid-fueled motor built by ATK to accelerate up to orbital velocity.
The rocket deployed the Cygnus spacecraft into orbit about 10 minutes after liftoff as the vehicles raced across the Atlantic Ocean at more than 5 miles per second.
NASA confirmed two Dutch-built solar arrays on the Cygnus spacecraft extended to begin generating electricity for the cargo ship's mission.
Controllers will oversee numerous thruster firings by the Cygnus supply ship over the next three days as the vehicle shapes its orbit to meet the International Space Station on Wednesday.
High-tech GPS and laser navigation systems will guide the Cygnus on its rendezvous, which is scheduled to culminate with capture by the space station's Canadian robotic arm at 1039 GMT (6:39 a.m. EDT).
Space station commander Steve Swanson will be at the controls of the robot arm during the approach, assisted by European Space Agency flight engineer Alexander Gerst.
The mission -- named Orb-2 -- is Orbital's second operational resupply run to the space station. The Dulles, Va.-based aerospace contractor conducted two test flights in 2013 before launching operational cargo service on the Orb-1 mission in January.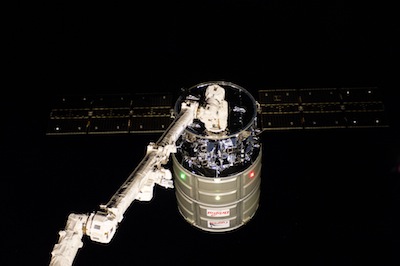 File photo of a Cygnus cargo spacecraft at the International Space Station. Photo credit: NASA

"Every flight is critical," said Frank Culbertson, executive vice president of Orbital's advanced programs group and a former space shuttle and space station commander. "We carry a variety of types of cargo on-board, which includes food and basic supplies for the crew, and also the research."
Sunday's launch was delayed from early May after a bottleneck in the space station's busy manifest of visiting cargo and crew vehicles. Orbital announced further delays as engineers ensured the AJ26 powerplants on the Antares rocket were free of the defect that caused a major engine mishap on a test stand in Mississippi.
Ground crews fell behind in launch preparations last week due to severe weather at the Virginia launch site, forcing another slip.
"It took a lot effort for people to pull this off," Culbertson said.
Orbital has a $1.9 billion contract with NASA to cover eight logistics missions through 2016. NASA has a similar contract with SpaceX, which takes up cargo with its Falcon 9 rocket and Dragon capsule, then returns experiment samples to Earth.
Both companies are contracted to haul 20 metric tons, or about 44,000 pounds, of cargo to the space station.
The U.S.-owned Cygnus and Dragon resupply vehicles, along with Russia's Progress, the European Space Agency's Automated Transfer Vehicle and Japan's H-2 Transfer Vehicle, make up the space station's life line with Earth to get critical hardware, life-support commodities, and food to the complex orbiting more than 250 miles up.
"They really can't afford to get behind on any of that with six people up there, and if we're going to keep six people on the station, we need a routine and regular delivery of cargo, and that's what we're trying to establish with this service," Culbertson said before Sunday's launch.
Supplies packed inside the Cygnus spacecraft's pressurized cargo module, built in Italy by Thales Alenia Space, include more than a half-ton of food, a pump for the Japanese laboratory, and a hardware kit to prepare for future spacewalks to install a new nitrogen and oxygen system outside the space station's airlock.
"You've got to resupply the crew, you've got to keep the research flowing up to them, and you've got to have reliable return of some of the research samples," said Dan Hartman, NASA's deputy space station program manager. "There's a lot of system maturation that we need to do that we're testing on the International Space Station if we're going to go deeper and farther into the solar system."
NASA views the space station as the cornerstone of the agency's long-term space exploration strategy. Officials say physiological research and technology demonstrations aboard the space station are critical to making human missions to an asteroid or Mars feasible.
"The way to succeed and buy down on all that risk is to have all these vehicles -- the Cygnus, the ATV, the HTV, the SpaceX [Dragon] -- and have a consistent resupply of not only the supplies needed for the crew, but also the cutting edge technology demonstrations that we need to fly to test -- and yes, fail at times and retest -- just to have that big learning experience as we go forward."
The Cygnus mission is also carrying 29 CubeSats, including 28 shoe box-sized spacecraft for San Francisco-based Planet Labs Inc., which is in the middle of launching a fleet of 100 small satellites to observe the entire planet every 24 hours.
The satellites are part of the Planet Labs "Dove" constellation designed to collect images of Earth from orbit.
Another CubeSat built at NASA's Ames Research Center in California will test a new de-orbit system to induce drag on small objects in space, potentially leading to technologies that could enable scientists to return samples to Earth.
The Cygnus spacecraft will depart the space station around Aug. 15. Controllers will guide the cargo carrier to a destructive re-entry over the Pacific Ocean a few days later, disposing the space station's trash and other excess hardware.
"Our plan is to keep Cygnus on-board for about a month, stow it with disposable cargo, and then prepare ourselves for the next mission, which will be the ATV in late July," Hartman said.
The European ATV cargo vehicle is set for liftoff from French Guiana on an Ariane 5 rocket July 24, with docking planned Aug. 12.
Follow Stephen Clark on Twitter: @StephenClark1.