Space station cargo delivery delayed after engine failure
BY STEPHEN CLARK
SPACEFLIGHT NOW
Posted: May 28, 2014


Orbital Sciences Corp. has delayed the launch of an Antares rocket on the next commercial resupply mission to the International Space Station by at least one week until June 17, giving engineers more time to investigate a test mishap that damaged a rocket engine last week.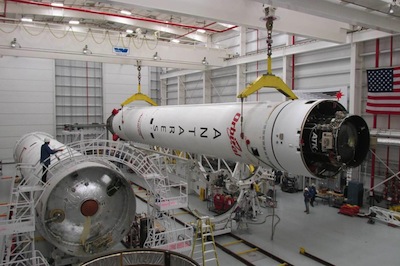 The Antares rocket for the next Orbital Sciences supply mission to the space station is pictured inside the horizontal integration facility at Wallops Flight Facility, Va. Photo credit: Orbital Sciences Corp.

The May 22 test failure caused extensive damage to an AJ26 engine undergoing acceptance testing ahead of a launch planned in early 2015. Two AJ26 engines bolted to the first stage of Orbital's Antares rocket for the upcoming launch, which was set for June 10, already completed ground tests with no problems.
But officials want to ensure whatever caused the May 22 test failure will not pose a risk for the next Antares launch.
"The new launch schedule has been established to allow the engineering teams from the main stage propulsion supplier Aerojet Rocketdyne and Orbital to investigate the causes of an AJ26 engine failure that occurred last week at NASA's Stennis Space Center during customary acceptance testing," according to an update posted on Orbital's website. "That engine was designated for use in a mission slated for 2015 and was undergoing hot fire testing that all Antares AJ26 engines are subject to in order to ensure nominal performance and acceptance for use in Antares missions."
Orbital said June 17 is simply a planning date, and the company will establish a firm target launch date depending on the progress of the investigation team.
Officials said the engine mishap occurred at about 3 p.m. EDT on May 22 approximately 30 seconds into a planned 54-second burn on the E-1 test stand at the Stennis Space Center in southern Mississippi.
The Antares rocket's first stage is powered by two AJ26-62 main engines, which fire for nearly four minutes to boost the launcher into the upper atmosphere. Orbital's supplier for the AJ26 engines is Aerojet Rocketdyne, which purchased stockpiled 1970s-era NK-33 engines from Russia and modified them for use on U.S. rockets.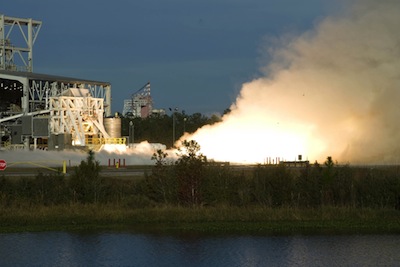 File photo of an AJ26 engine test at the Stennis Space Center in Mississippi. Photo credit: NASA

A team of NASA, Aerojet Rocketdyne, Orbital Sciences and Lockheed Martin engineers put each AJ26 engine through acceptance testing at the Stennis Space Center before shipping the engines to the launch site on Virginia's Eastern Shore.
The AJ26 engines consume liquid oxygen and highly refined rocket-grade kerosene propellants. Each engine generates more than 350,000 pounds of thrust at sea level.
Orbital Sciences has a $1.9 billion contract with NASA for eight logistics deliveries to the space station. The next launch will be Orbital's second operational mission, named Orb-2, under the contract signed in December 2008.
SpaceX holds a similar cargo contract with NASA to transport supplies to and from the space station using the company's Falcon 9 rocket and Dragon capsule.
The Orb-2 mission's Cygnus spacecraft is slated to haul about 3,600 pounds of science experiments, crew provisions, CubeSats and other hardware to the space station, the heaviest load of pressurized cargo ever put on a commercial supply ship.
The launch of Orb-2 was previously pushed back from early May after a SpaceX cargo mission encountered launch delays, triggering a ripple effect on the space station's manifest.
The Antares missions lift off from launch pad 0A at the Mid-Atlantic Regional Spaceport, a facility owned by the state of Virginia located at NASA's Wallops Flight Facility.
Follow Stephen Clark on Twitter: @StephenClark1.