Commercial cargo mission launched from Virginia
BY WILLIAM HARWOOD
STORY WRITTEN FOR CBS NEWS "SPACE PLACE" & USED WITH PERMISSION
Posted: January 9, 2014


Delayed one day by cold weather and another day by concern about space radiation, an Orbital Sciences Corp. Antares rocket carrying a commercially developed cargo ship blasted off Thursday and climbed into orbit, kicking off the company's first operational flight to deliver supplies and equipment to the International Space Station.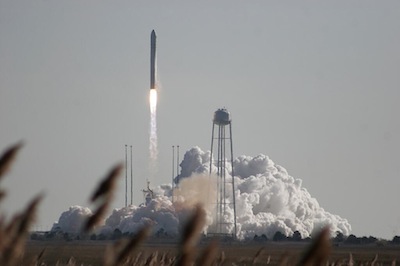 Credit: Stephen Clark/Spaceflight Now



Filling the void left by the space shuttle's retirement in 2011, the flight was the first of seven commercial resupply missions planned for 2014, three by Orbital's Antares/Cygnus vehicle and four by SpaceX Falcon 9 rockets and Dragon cargo craft.

"We're posturing ourselves to hit our stride with all of our new commercial cargo vehicles in the 2014 time period," said Dan Hartman, NASA's deputy space station program manager at the Johnson Space Center in Houston.

"Orb-1 will be the first, we'll get into some SpaceX, and basically kind of alternate back and forth between Orbital and SpaceX throughout the year. So we're really looking to hit our stride in 2014 to meet our (resupply) needs."

The two-stage 130-foot-tall Antares rocket, equipped with modified first-stage engines left over from the Soviet moon program, roared to life at 1:07:05 p.m. EST (GMT-5) and quickly lifted off from the Mid-Atlantic Regional Spaceport, climbing away atop a torrent of fiery exhaust as Earth's rotation carried the pad into the plane of the space station's orbit.

Accelerating smoothly as it consumed its first stage load of liquid oxygen and RP-1 kerosene rocket fuel, the Antares tilted over and streaked away through a clear blue sky above the Atlantic Ocean along a southeasterly trajectory.

Ten minutes later, the Cygnus cargo ship was released from the Antares second stage into an initial orbit with a high point of around 185 miles and a low point of about 130 miles. A few moments after that, the spacecraft's two solar arrays began unfolding as planned.

If all goes well, Cygnus will approach the lab complex from behind and below, pulling up to within about 30 feet early Sunday as the two spacecraft sail 260 miles above southern Saskatchewan. Astronaut Mike Hopkins, operating the station's robot arm, plans to lock onto a grapple fixture around 6:02 a.m. and pull the ship in for berthing at the Earth-facing port of the forward Harmony module.

The solar-powered cargo craft is packed with 3,220 pounds of research equipment, spare parts and crew supplies, including 23 experiments involving more than 8,600 elementary, junior high and high school students in the United States and Canada. The experiments "address life sciences topics ranging from vaccine effectiveness and amoeba reproduction to calcium loss in bones and liquid behavior in space," Orbital said in a news release.

Other experiments include an "ants in space" payload to study behavioral differences between ants in normal gravity and those in the weightless environment of space; an investigation to study how materials burn in space; and a project called "Story Time in Space" that will feature crew members videotaping themselves reading children's books and demonstrating various science and technology concepts.

Also on board: 33 small "cubesat" satellites, fresh food and a few holiday gifts for the station's six-man crew.

Launch originally was planned for mid-December, but NASA ordered a delay when trouble with a coolant pump module aboard the station prompted managers to order a pair of spacewalks to install a spare.

The repair work was successful, and after waiting for the station's orbit to carry the lab back into a period of more moderate solar heating, NASA gave Orbital Sciences permission to proceed with the Orb-1 launch Wednesday.

But concern about space radiation in the wake of a major solar flare earlier this week prompted Orbital managers to order a delay pending additional analysis to make sure high-energy particles blasted away from the sun would not cause problems for the rocket's sensitive avoionics systems.

Late Wednesday, mission managers concluded the rocket could safely fly and engineers prepared the rocket for launch Thursday.

"This will be the first of three contracted cargo delivery missions for us this year," Frank Culbertson, a former space shuttle commander and executive vice president of Orbital Sciences, said earlier this week. "We plan to also launch one in May and another in October if the schedule holds. At the end of the year, we will have delivered approximately 5,500 kilograms (12,125 pounds) of cargo to the space station commercially."

Following the Bush administration's 2004 decision to retire the space shuttle, NASA kicked off a program to develop commercially operated unmanned cargo ships to replace the lost payload capability of the manned orbiter.

Orbital eventually won a $1.9 billion contract to launch at least eight station resupply flights to deliver about 40,000 pounds of cargo and supplies. SpaceX holds a $1.6 billion contract for 12 flights to deliver more than 44,000 pounds of equipment. Two of those missions have been completed and a third is on tap in late February.

Both companies held separate contracts to help pay for initial development and test flights.

Orbital developed the Antares rocket and launched a Cygnus test flight last September. While the first Cygnus completed a successful rendezvous with the space station, it only carried a limited number of low-priority items. This time around, there were no restrictions and the spacecraft was packed to near capacity.

"If there was a critical need, we put it on there," Hartman said.

Orbital's Antares mission follows a successful flight Monday by an upgraded version of SpaceX's Falcon 9 rocket launched from the Cape Canaveral Air Force Station in Florida. It was the California company's second flight in a row using a Falcon 9 variant to launch a commercial communications satellite.

While SpaceX could be viewed as a major competitor, Culbertson offered his congratulations and pointed out that the Falcon 9 rocket launched Monday carried a satellite built by Orbital Sciences.

"All of us at Orbital believe in developing the capability to fly payloads, spacecraft and rockets into space on a commercial basis," Culbertson said. "We support government customers, private customers and now we're supporting the International Space Station and its research. We intend to continue growing that business as do other companies."

A thriving commercial launch industry will support scientific research by making it "more readily accessible to people on Earth because they can participate in what's going on in space," he said.

"It also means the space station will continue to grow in relevance and productivity, which will allow us to have a future for human spaceflight in this country and a future for our children to go into space to explore. If we keep the space station going, we will have that future. So it's important that we do that."

Like SpaceX, Orbital is working on upgrades that will enable the Antares rocket to carry heavier payloads. And like SpaceX, Orbital hopes to sell its booster to a variety of customers.

"By the fourth (station resupply) mission we'll have an upgraded version that will fly more payload," Culbertson said. "We're also looking long range at what the configuration of the Antares will be, both from an engine standpoint and from an upper stage standpoint.

"So we've got plans in work ... and we are negotiating with people for other payloads besides the Cygnus spacecraft and intend to fly more than just cargo out of Wallops here. So we do have big plans."