Excessive high-altitude winds prompt Antares launch scrub
BY STEPHEN CLARK
SPACEFLIGHT NOW
Posted: April 20, 2013


WALLOPS ISLAND, Va. -- Potent winds in the upper atmosphere prevented Orbital Sciences Corp. from launching its first Antares rocket Saturday, forcing a delay of the test flight until Sunday.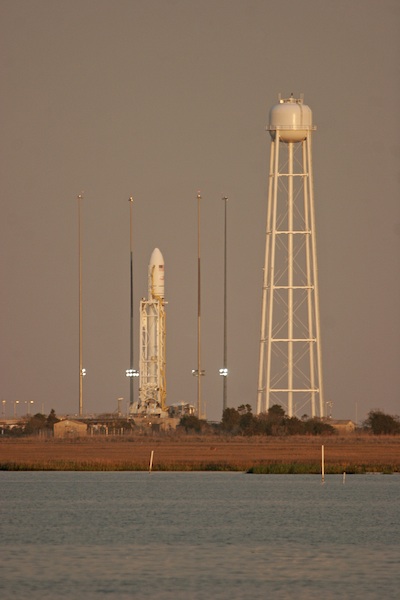 The Antares rocket on the launch pad at Wallops Island, Va. Credit: Stephen Clark/Spaceflight Now



Weather at the launch base was favorable, but conditions high above coastal Virginia were not within preset rules.

Brisk winds of up to 140 mph streamed over the rocket's Virginia launch pad Saturday after the passage of a cold front overnight, raising concerns that debris from the 131-foot-tall rocket could fall on populated areas in the event of an explosion shortly after liftoff.

"We were worried about debris," said Frank Culbertson, Antares mission director and Orbital Sciences executive vice president. "It's a matter of having winds that could potentially blow debris from a destructive event over populated areas. We had the rare case of wind coming from the southwest at high velocity."

Managers initially pushed back the launch more than an hour to allow time for the upper level winds to die down, but that never happened.

Weather balloons showed the upper level winds to be consistent, so launch managers opted to call off the launch before loading liquid propellant into the Antares rocket's first stage.

If Orbital Sciences declared a scrub after the start of fueling, technical constraints may have forced a launch delay until Monday. The launch pad has a limited supply of super-cold liquid oxygen, so officials did not want to use up the propellant with low odds for launching.

"We didn't want to fuel up the rocket and waste a chance to go tomorrow," said Barry Beneski, an Orbital Sciences spokesperson.

Forecasters expect good surface weather conditions Sunday, calling for a 75 percent chance of acceptable weather. The only concern is ground winds.

The high-altitude wind outlook for Sunday, which is not incorporated into the 75 percent number, shows improvement. The wind velocity should be lower and the jet stream should be from a more favorable direction, Culbertson said.

"We're going to target 5 p.m. tomorrow, same time, same place, same team," Culbertson said.

When it takes off, the Antares rocket will fly into orbit on a test mission under the auspices of a public-private partnership with NASA, which is paying Orbital Sciences $288 million to help fund development of a commercial cargo resupply system for the International Space Station.

"We have learned to be very patient and wait until everything is ready. When it's right, we'll know it, and we'll give it a good go," said Alan Lindenmoyer, manager of NASA's Commercial Orbital Transportation Services program, which oversees the agency's agreement with Orbital Sciences.

The first Antares launch attempt Wednesday was cut short 12 minutes before liftoff, when a data connection between the rocket and the launch pad became disconnected early.

The commercial cargo capability replaces some of the capacity lost with the retirement of the space shuttle in 2011.

NASA had a similar agreement with SpaceX, which completed its test program last year and has now accomplished two operational cargo flights to the space station.

After the Antares test launch and a follow-on demonstration this summer of Orbital's Cygnus cargo craft on a voyage to the space station, the Dulles, Va.-based company will start work on a $1.9 billion contract covering eight resupply flights until 2016.

A look at upcoming launch opportunities

The next Antares launch opportunity beyond Sunday is unclear.

According to Culbertson, a former NASA astronaut, engineers may need to conduct testing of the rocket's destruct system if Sunday's launch opportunity ends with a scrub.

Sunday is the last day covered under a certification agreement with the Federal Aviation Administration, which issued a commercial launch license to Orbital for the Antares test flight, Culbertson said.

"We have a flight termination system that has to be certified," Culbertson said. "Both the FAA and the NASA range have to buy off on the fact that it is intact and working before we launch."

Culbertson said Antares program officials would likely open discussions with the FAA on Saturday night to see what needs to be done to satisfy the certification requirement.

"There are several different tests that can and need to be done on it at various levels of fidelity," Culbertson said. "The highest fidelity test can only be done in the horizontal, most likely back in the [Horizontal Integration Facility], and that's about a 10-day to two-week impact. If we can use the data that we get during the countdowns and do the tests at the pad, then we can stay out there and try, but we have to negotiate that."