Antares rocket engines lean on Russian moon legacy
BY STEPHEN CLARK
SPACEFLIGHT NOW
Posted: April 16, 2013


WALLOPS ISLAND, Va. -- More than four decades ago, working under the orders of the Soviet leadership, technicians toiled in anonymity to build dozens of rocket engines to power Russian moon shots off planet Earth, intending to flaunt the supremacy of communism over capitalism.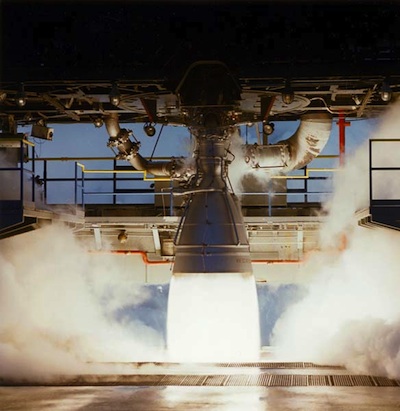 File photo of the NK-33 engine firing on a test stand. Credit: Aerojet



On Wednesday, those same engines - designed and constructed under the umbrella of totalitarianism in the former Soviet Union - will launch a commercial rocket conceived for a money-making mission.

The privately-developed Antares rocket, operated by Orbital Sciences Corp., will take off for the first time Wednesday in a launch window opening at 5 p.m. EDT (2100 GMT). The Antares launch base is at NASA's Wallops Flight Facility on the Virginia coast.

The Antares first stage is powered by two of the Russian-built engines - named the AJ26 engine by Aerojet, the powerplant's main U.S. contractor.

In Russia, the units are called NK-33 engines. The original manufacturer was Kuznetsov, a Russian design bureau which built engines for space launchers and Russia's strategic military bombers.

After the engines were built, Soviet space dreams were adjusted to focus on Earth-orbiting space stations, leaving the engineering marvels in storage without a purpose.

Aerojet imported the engines to the United States in the 1990s in an effort to develop a commercial rocket to launch U.S. military satellites. The California-based propulsion company competed to supply engines for the Atlas 5 rocket, which was then under development by Lockheed Martin Corp.

Lockheed Martin selected another Russian engine to power the Atlas 5's first stage, leaving Aerojet with a stock of three dozen NK-33 engines at the company's headquarters in Sacramento, Calif.

Aerojet modified the NK-33 engines by adding a gimbal mechanism for steering, installing modern instrumentation, and qualifying the engines for U.S. propellants, according to Julie Van Kleeck, vice president of space programs for Aerojet.

Following Lockheed Martin's decision to use another engine, the NK-33 engines appeared to be left in the dust for a second time until Orbital Sciences came along with a proposal for the Antares rocket - then called the Taurus 2 - in 2007.

Once Orbital's Antares rocket was selected by NASA to supply the International Space Station, the company purchased 20 of the engines from Aerojet to power 10 launches - two test flights and eight operational missions, according to Kurt Eberly, deputy Antares project director at Orbital Sciences.

"If you want to get an engine like this, you can't find it in the United States," Eberly said. "I think it speaks to the state of the liquid propulsion industry in the United States."

The engine is noteworthy for its efficiency. It produces more power for its weight than any other liquid-fueled engine ever built.

Officials from Kuznetsov, the original manufacturer of the engines, traveled to Virginia to witness the Antares launch.

"I think they are excited to finally see their engine launch something into orbit," Eberly said.

According to Eberly, purchasing the engines from Russia was the most cost-effective solution for the Antares rocket's first stage. A comparable engine developed from scratch could cost more than $500 million, not including the price per unit, he said.

There are more NK-33 engines stored in Samara, Russia, but there is growing demand for the engines. Russia is working on a light version of the Soyuz rocket which will use one NK-33 engine on the first stage.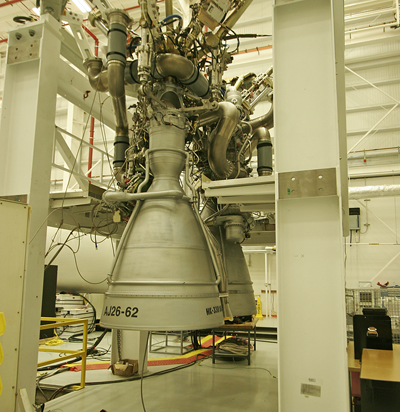 Photo of two AJ26 engines inside the Antares horizontal integration facility at NASA's Wallops Flight Facility. These engines will be used on the second launch of the Antares rocket. Credit: Stephen Clark/Spaceflight Now



The Soyuz 2-1v rocket could launch for the first time later this year, and the new Russian launcher will compete with Orbital Sciences and Aerojet for access to the limited stockpile.

Russia could restart production of the NK-33 engine, but it would take several years to ramp up construction to produce new engines. If Orbital Sciences is successful in finding a secondary market for the Antares rocket, such as launching commercial, military or scientific satellites, the company may need to find an alternate engine in the long run, Eberly said.

Aerojet is working with NASA and the U.S. Air Force to design a kerosene-fueled U.S.-built alternative to the Atlas 5 rocket's RD-180 main engine and to power next-generation boosters for NASA's Space Launch System heavy-lift rocket. Such an engine could be used by Antares in the future, Eberly said.

The NK-33 engine is derived from the NK-15 engine used on the Soviet Union's N1 rocket, a massive launcher designed to hurl manned lunar landers toward the moon. It was Russia's answer to NASA's Saturn 5 moon rocket.

The N1 rocket launched four times on unmanned test flights from 1969 to 1972, but all the missions failed to reach orbit. Investigators found no fault with the engines, instead blaming the mishaps on the complexity of the gargantuan rocket, which used 30 engines on the first stage alone.

"They also have thousands and thousands of seconds of test time behind them in a wide variety of conditions and power levels, so we know the engines are robust," said Frank Culbertson, executive vice president and general manager of the Orbital Sciences advanced programs group. "As we went through testing, we did discover there were some effects of aging since they had been in storage for a while, including some stress corrosion cracking. That's what we're correcting with the weld repairs and other inspections."

Engineers added extra inspections after a crack in a fuel line triggered a fire in 2011 during a burn on a test stand at NASA's Stennis Space Center in Mississippi.

"What they bring is an engine that uses a lot of power, has a great deal of performance, and satisfies our needs for getting payloads to orbit," Culbertson said. "We also have a legacy of proven design we can lean on."