Antares rocket positioned on launch pad for test flight
BY STEPHEN CLARK
SPACEFLIGHT NOW
Posted: April 6, 2013


Rolling out on a crisp morning on Virginia's Eastern Shore, the first Orbital Sciences Antares rocket left its hangar Saturday and was positioned on a seaside launch pad for liftoff on a test flight set for April 17.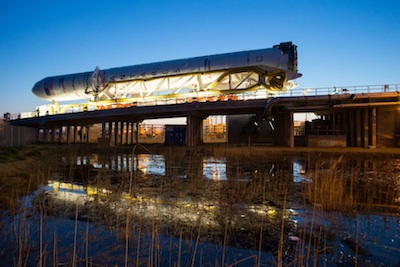 The Antares rocket rolls up the ramp to the launch pad at Wallops Island, Va. Credit: NASA



The white two-stage rocket, emblazoned with an American flag on its nose, left its integration hangar before dawn riding horizontally on a specially-designed transporter. After pausing at the base of the launch pad, a hydraulic erector lifted the 133-foot Antares booster vertical at about 1 p.m. EDT (1700 GMT).

Now positioned on launch pad 0A at the Mid-Atlantic Regional Spaceport, the Antares rocket is set to undergo final testing and countdown exercises ahead of a test launch scheduled for April 17 at 5 p.m. EDT (2100 GMT), the opening of a three-hour window.

"With the completion of the Antares rollout today, we are on a clear path to a launch date of April 17, provided there are no significant weather disruptions or major vehicle check-out delays between now and then," said Michael Pinkston, Orbital's Antares program manager, in a company statement.

The launch pad is owned by the Virginia Commercial Space Flight Authority and lies on the property of NASA's Wallops Flight Facility.

Delayed more than a year by setbacks in the launch pad's propellant handling system, the Antares test launch comes near the end of a five-year public-private partnership to develop Orbital's cargo transport system.

The mission's payload is an instrumented simulator mimicking the mass characteristics of Orbital's Cygnus spacecraft, a commercial vehicle designed to haul supplies and experiments to the International Space Station.

The demonstration launch is the first of two test flights planned under an agreement between Orbital Sciences and NASA. If this month's launch goes well, Orbital hopes to launch another Antares rocket with a functional Cygnus spacecraft this summer on a cargo delivery demo flight to the space station.

The test flights are the culmination of the agreement, in which NASA is paying Orbital up to $288 million to design, build and test the Antares booster and Cygnus freighter. Once NASA is satisfied the vehicles are safe, perhaps as soon as this fall, Orbital will begin a series of eight operational resupply flights under a $1.9 billion contract.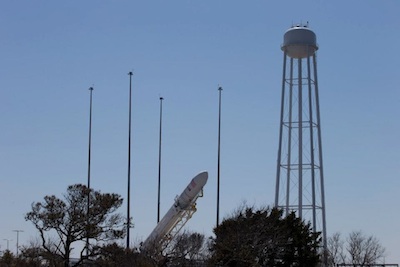 The Antares rocket is lifted vertical atop the launch pad Saturday. Credit: NASA



Orbital's Antares and Cygnus system joins SpaceX's Falcon 9 rocket and Dragon spacecraft providing U.S. resupply services to the space station. NASA turned to the commercial providers to ferry cargo to the outpost after the retirement of the space shuttle.

SpaceX completed its required demo flight to the space station in May 2012, and the California-based company has accomplished the first two of a dozen operational missions since then.

Orbital's schedule is at least a year behind SpaceX, but SpaceX received more government funding and started working with NASA about 18 months earlier.

NASA signed the Commercial Orbital Transportation Services agreement with Orbital Sciences in early 2008. NASA's similar agreement with SpaceX, worth $396 million, was put in place in August 2006.

The space agency is also working with the private sector to develop human-rated spacecraft to take astronauts to and from the space station. NASA is eyeing 2017 as the target date for operational crew transportation services.

Orbital Sciences is not participating in NASA's commercial crew program but hopes to use the Antares rocket to launch scientific and commercial satellites. The company has a proven track record with smaller solid-fueled launchers, such as the air-launched Pegasus and missile-derived Minotaur rocket families, but the Antares program marks the first time Orbital has developed a rocket with liquid-fueled main engines.

Its most advanced version, scheduled to debut in 2014, will have the capacity to inject a six-ton satellite into low Earth orbit.