Antares, Wallops escape major damage from Sandy
BY STEPHEN CLARK
SPACEFLIGHT NOW
Posted: November 1, 2012


An Antares rocket first stage on a launch pad in Virginia weathered Hurricane Sandy with no obvious damage, and officials hope to resume testing of the vehicle soon, officials said Wednesday.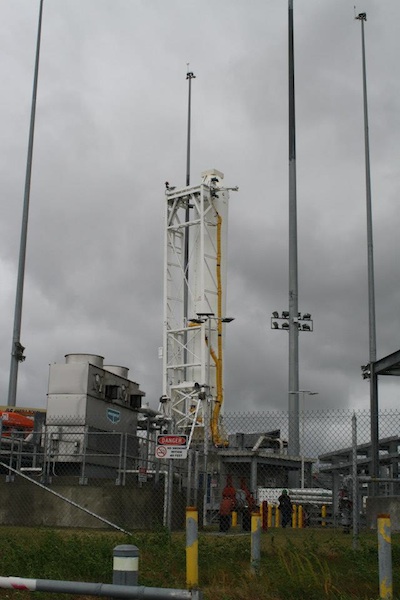 This photo of the Antares rocket's first stage after Hurricane Sandy was posted on an official NASA Facebook page. Credit: NASA

The first stage is on launch pad 0A at the Mid-Atlantic Regional Spaceport, a complex owned by the Commonwealth of Virginia at NASA's Wallops Flight Facility.
"It looks like Antares came through the Sandy storm in good shape, although complete and thorough inspections will take place over the next several days," said Barron Beneski, a spokesperson with Orbital Sciences Corp., the Antares rocket's contractor and operator. "We did not experience any significant damage to either the pad or the horizontal integration facility with the exception of some minor water seepage that was addressed with mops and buckets."
Orbital Sciences moved the Antares first stage to the launch pad in early October for fit checks, fueling tests and a 30-second hotfire of its two AJ26 engines.
Once the testing is complete, Orbital plans to move a full-up two-stage Antares rocket to the launch pad for a test flight before the end of the year.
The Antares is Orbital's launch vehicle for its commercial resupply service to the International Space Station. NASA signed a $1.9 billion contract with Orbital in 2008 for eight cargo deliveries with the Antares launcher and Cygnus spacecraft.
NASA is also providing up to $288 million to Orbital to help fund the project's design, development and test flights.
After the December test launch, Orbital will mount a Cygnus spacecraft on the second Antares flight for a rendezvous and berthing with the space station. The first flight to the station, scheduled for early 2013, is the final test milestone before Orbital begins operational missions to the outpost.
Officials credit a beach reclamation project at Wallops with preventing further damage from storm surge flooding. Workers erected a rock sea wall to ease the impact of battering waves and stem tidal flooding.
"The real success story was the reclaimed beach project and sea wall construction that NASA Wallops recently completed," Beneski said.
An update posted on the Wallops Flight Facility's website said Hurricane Sandy produced wind gusts around 75 mph and sustained winds around 60 mph, downing trees across the base.