Orbital making progress in Antares launch preparations
BY STEPHEN CLARK
SPACEFLIGHT NOW
Posted: October 18, 2012


Orbital Sciences Corp. is in a "final push" to launch its first Antares rocket by the end of this year, assuming a successful completion of a series of fueling and engine tests due to begin next week, the company's chief executive said Thursday.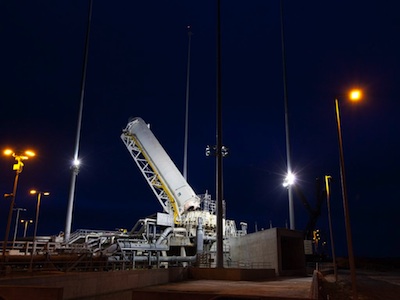 A pathfinder Antares rocket first stage rolled to the launch pad in Virginia on Oct. 1. Credit: NASA



Engineers moved an Antares first stage to the launch pad at Wallops Island, Va., on Oct. 1 to begin several weeks of testing ahead of a 30-second hotfire of the rocket's two AJ26 engines, which is now expected in early November.

"We really are in that final push leading up to the flight test," said David Thompson, Orbital's chairman and CEO, in a conference call with investors Thursday.

Orbital Sciences is developing the Antares rocket and the Cygnus automated cargo freighter to resupply the International Space Station under a $1.9 billion contract with NASA.

NASA and Orbital are partners in funding development of the Antares and Cygnus programs. NASA is providing up to $288 million in government money to support the design and testing of the vehicles.

Several propellant loading, or cold flow, tests are planned before the hotfire to demonstrate the launch pad's fueling systems and rehearse countdown procedures.

The first fueling rehearsal is scheduled for next week, according to Thompson.

Launch pad 0A, a facility owned by the Commonwealth of Virginia, lies on the property of NASA's Wallops Flight Facility on Virginia's Eastern Shore.

The 30-second firing in early November will generate about 680,000 pounds of thrust, checking the integrity of the launch pad and first stage structure, which is designed by Yuzhnoye and built by Yuzhmash in Ukraine.

"Assuming these tests go smoothly we will replace the rocket that is now on the launch pad with the second Antares vehicle and conduct the test flight in December," Thompson said.

The first stage on the launch pad now will be recycled and used on a future flight.

The Antares test launch will orbit an instrumented mass simulator representing a Cygnus spacecraft.

If the demonstration launch is successful, Orbital will fly the first Cygnus spacecraft on the second flight of Antares, which Thompson said would occur near the end of the first quarter or start of the second quarter of 2013, at the earliest.

The schedule also depends on traffic to the International Space Station. The Cygnus test flight must be timed when no other vehicles are coming to the 450-ton complex.

Although NASA and Orbital consider it a test flight, the first Cygnus mission to the space station will deliver about 550 kilograms, or 1,212 pounds, or cargo the outpost.

Orbital expects to begin a series of eight operational commercial cargo deliveries later in 2013.