Orbital Sciences aims for August test launch of Antares
BY STEPHEN CLARK
SPACEFLIGHT NOW
Posted: April 20, 2012


WASHINGTON -- Construction of the Antares rocket's launch pad in Virginia is substantially complete after months of delays stemming from difficulties with the facility's fueling and pressurization systems, according to the chief executive of Orbital Sciences Corp., the rocket's commercial operator.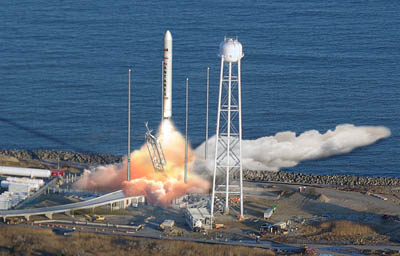 Artist's concept of the Antares rocket lifting off from Wallops Island, Va. Credit: Orbital Sciences

The first flight of the Antares rocket, which is designed to launch cargo to the International Space Station, is now targeted for August. The second mission of the expendable booster could occur in October or November with Orbital's Cygnus resupply freighter on a demonstration flight to berth with the space station.
"I'm happy to report that construction was substantially completed in March on the launch pad at Wallops Island, Va., with a few punch-list items being wrapped up there earlier this month," said David Thompson, chairman and CEO of Orbital Sciences. "Safety and functional testing of the propellant handling and storage systems is now underway and is expected to be completed over the next five or six weeks."
Located on Virginia's Eastern Shore, the launch pad is the first liquid-fueled rocket complex at Wallops Island and one of only a handful of all-new liquid-fueled launch pads built in the United States since the 1960s.
Officials ran into trouble with the pad's liquid propellant and pressurization equipment, forcing engineers to do additional welding work and cleaning of propellant and pressurant tanks.
The launch pad includes systems for rocket-grade kerosene, liquid oxygen, liquid nitrogen, gaseous nitrogen and gaseous helium.
The facility is owned by the Virginia Commercial Space Flight Authority, a state agency created in 1995. The launch pad lies on NASA property.
Virginia and Maryland state governments later partnered to form the Mid-Atlantic Regional Spaceport to lure launch business to Wallops Island.
The Antares rocket's first stage completed several days of fit checks and mechanical and electrical testing on the launch pad this week.
Spaceflight Now visited the launch facility while the first stage was erected on the pad, collecting these photos of the launch complex and the Antares integration hangar.
"All of these events went very smoothly," Thompson said Friday in a quarterly conference call with investors.
"Yesterday, the first Antares rocket's stage one airframe and engines wrapped up about 10 days of transportation runs to and from the launch complex itself," Thompson said. "This included testing of the mechanical and electrical interfaces between the launch vehicle and the launch pad, as well as exercise of the hydraulic systems that rotate the vehicle from horizontal to vertical position on the launch pad."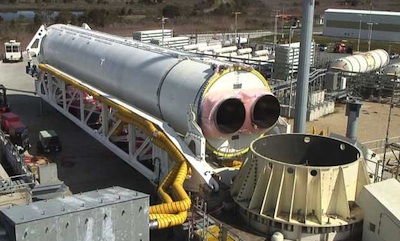 The Antares first stage rolled to the launch pad for the first time earlier this month. Credit: NASA/Orbital Sciences

Thompson outlined four major milestones left to accomplish before the launch complex, named pad 0A, is ready to support an Antares engine hotfire and a test launch.
According to Thompson, construction documentation reviews led by NASA and Orbital should be completed in the next two weeks, then liquid nitrogen cryogenic pumping and fueling operations will begin in early May.
Liquid oxygen pumping and fueling operations should be complete by late May. Liquid oxygen and kerosene propellant performance testing and final system certification should be finished in the first half of June, Thompson said.
"Adding in two additional weeks of contingency time for any unexpected problems that could crop up, we expect final pad turnover to occur around the middle of June," Thompson said. "As soon as that happens, the first Antares rocket that was on the pad earlier this week will go back to the launch pad for cold flow fueling exercises and the important hot fire stage one test, which is planned for early July."
The Antares rocket's first stage, built in Ukraine and powered by two Russian-made engines modified by Aerojet, burns liquid oxygen and rocket-grade kerosene propellants. The Antares second stage is solid-fueled.
Officials say the hotfire test in July will occur with only the Antares first stage on the pad. The rocket's two AJ26 engines will ignite for nearly 30 seconds to check out the functionality of rocket and ground systems.
A second Antares first stage is already being processed inside Orbital's horizontal integration facility about a mile north of the launch pad. It is destined for the rocket's first test launch.
The main stage that just completed pad testing will be prepared for the demo flight to the space station late this year.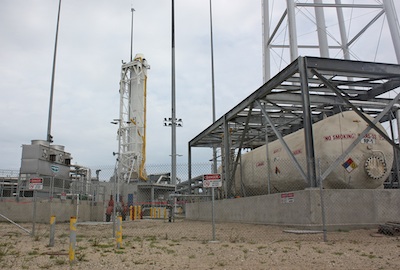 The Antares first stage went through electrical testing and fit checks at the launch pad this month. Credit: Stephen Clark/Spaceflight Now

"Orbital now has four Antares vehicle airframes and four flight-ready main engines at Wallops Island, with additional engines due to complete acceptance testing in May and June," Thompson said.
The first two service modules for the Cygnus cargo spacecraft have completed most of their environmental testing in Dulles, Va. Three more Cygnus service modules are in manufacturing and final assembly, according to Orbital Sciences.
"It looks like all of the launch vehicle and spacecraft hardware will be ready [and] on schedule for major events this year, as well as additional launches well into 2013," Thompson said.
NASA has signed up for at least 10 launches of the Antares rocket through 2016.
Orbital Sciences is one of two companies with NASA Commercial Resupply Services contracts. Orbital's $1.9 billion deal is for eight operational resupply missions to the space station.
SpaceX signed a similar agreement for 12 flights worth $1.6 billion.
Orbital is conducting the Antares test launch and a Cygnus demonstration flight to the space station under NASA's Commercial Orbital Transportation Services, or COTS, program.
The COTS program is a public-private partnership to jointly fund development of the rocket and spacecraft with private capital and government money.
NASA pays Orbital upon completion of preset milestones. Orbital Sciences has completed 24 of 29 COTS milestones so far, collecting payments totaling $266.5 million out of $288 million specified in the agreement.