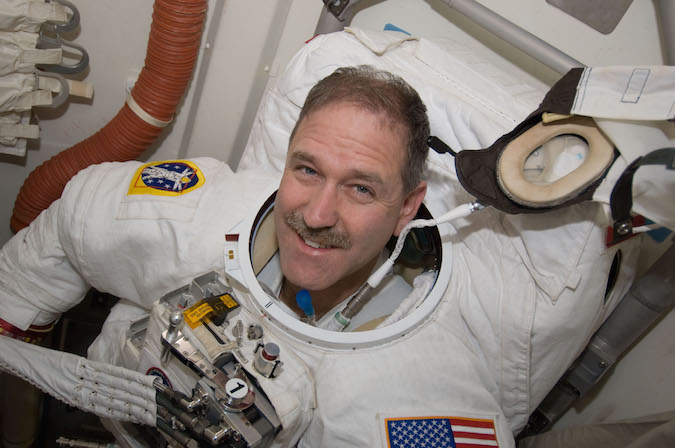 Veteran astronaut John Grunsfeld, who flew five space shuttle missions before becoming the head of NASA's science mission directorate in 2012, announced Tuesday he will leave the space agency April 30.
Grunsfeld's retirement wraps up a 24-year career at NASA since his selection as a member of the agency's 1992 astronaut class. The Chicago native flew on five space shuttle missions, including three flights to repair and upgrade the Hubble Space Telescope.
A self-described "Hubble Hugger," Grunsfeld was an astronomer and physicist before joining the NASA astronaut corps.
"John leaves an extraordinary legacy of success that will forever remain a part of our nation's historic science and exploration achievements," said NASA Administrator Charlie Bolden. "Widely known as the 'Hubble Repairman,' it was an honor to serve with him in the astronaut corps and watch him lead NASA's science portfolio during a time of remarkable discovery. These are discoveries that have rewritten science textbooks and inspired the next generation of space explorers."
Grunsfeld is the only astronaut to visit Hubble in orbit three times, helping him earn the Hubble Hugger monicker. On his first visit to the telescope aboard the shuttle Discovery over the Christmas holiday in 1999, two teams of spacewalkers returned the observatory to service after four of its pointing mechanisms failed.
"We felt that was an incredible gift to everybody on planet Earth, to be able to deploy Hubble for Christmas as a working telescope, because it hadn't been working before," Grunsfeld told Spaceflight Now in an interview last year.
But he took a moment to soak in the experience.
"It just seemed so fantastic that, for a moment, I felt like I had to pinch myself to make sure it was true, but I couldn't," Grunsfeld said. "I just reached out with my arm and my index finger and touched the Hubble, kind of symbolically doing a, 'This is too good to be true' moment."
After his last expedition to the orbiting observatory in 2009, Grunsfeld retired from NASA to become deputy director of the Space Telescope Science Institute in Baltimore, which is in charge of Hubble's science operations.
He returned to NASA in 2012 to take the helm of the agency's science mission directorate with an annual budget of more than $5 billion.
During Grunsfeld's tenure as science chief, NASA's Curiosity rover landed on Mars and the New Horizons probe explored Pluto, and the space agency launched a series of Earth observation satellites such as the Orbiting Carbon Observatory-2, the Global Precipitation Measurement spacecraft, and the Deep Space Climate Observatory.
Geoff Yoder, the deputy head of the science mission directorate, will take Grunsfeld's position until a successor is named, NASA said.
"After exploring strange new worlds and seeking out new life in the universe, I can now boldly go where I've rarely gone before – home," Grunsfeld said in a statement Tuesday. "I'm grateful to have had this extraordinary opportunity to lead NASA science, and know that the agency is well-positioned to make the next giant leaps in exploration and discovery."
Email the author.
Follow Stephen Clark on Twitter: @StephenClark1.