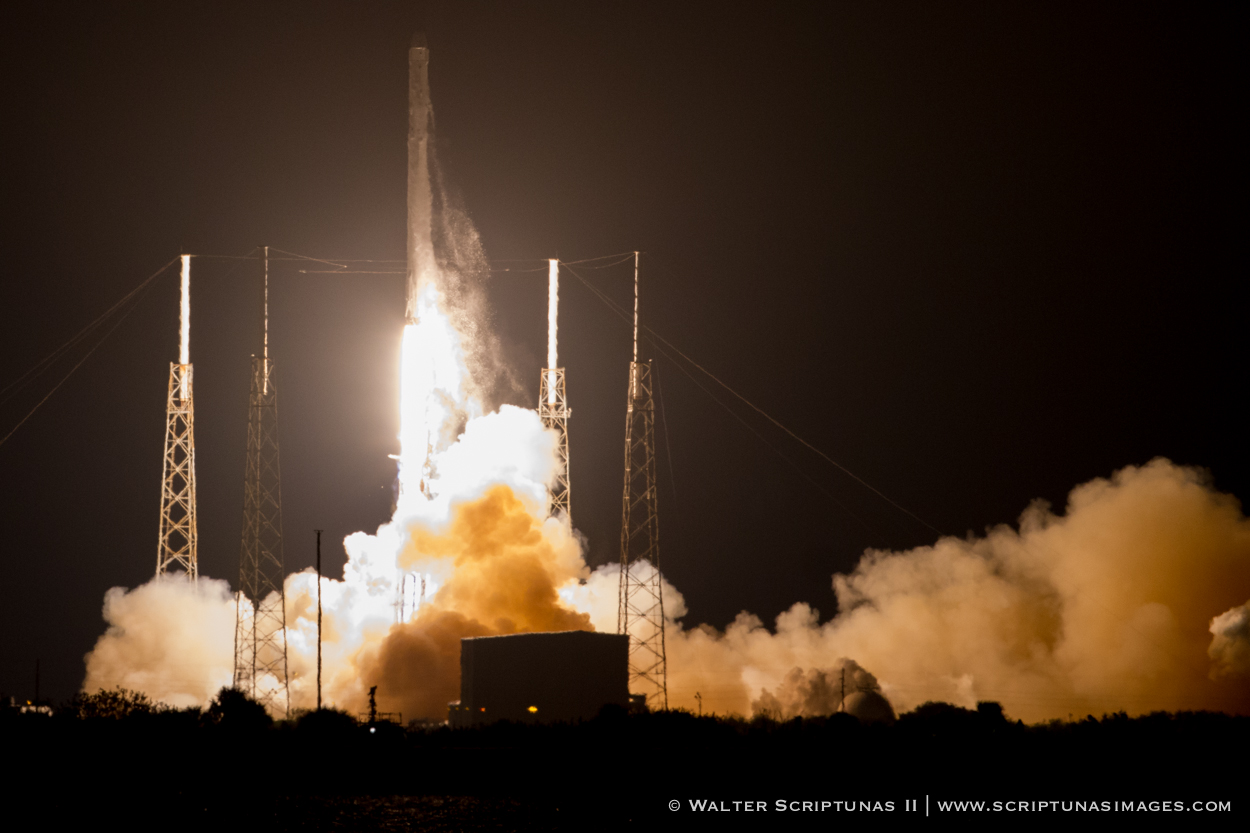 A commercial Dragon spaceship soared into orbit from Cape Canaveral on Saturday in pursuit of the International Space Station, but the automated craft's Falcon 9 booster crash landed after flying back to Earth in a daring test of future reusable rocket technologies.
SpaceX founder Elon Musk tweeted updates on the daring flyback maneuver, saying the 15-story booster made a hard landing on a vessel positioned 200 miles northeast of Cape Canaveral. Details on what happened during the rocket's landing were not immediately known.
Rocket made it to drone spaceport ship, but landed hard. Close, but no cigar this time. Bodes well for the future tho.

— Elon Musk (@elonmusk) January 10, 2015
The rocket-powered descent was an unprecedented demonstration of a futuristic technique Musk says will eventually allow the Falcon 9 rocket to be flown over and over again, an achievement rocket-builder SpaceX says would revolutionize the launch industry.
The 208-foot-tall Falcon 9 launcher fired its nine Merlin 1D main engines and throttled up to full power — 1.3 million pounds of thrust — before climbing into the sky at 4:47:10 a.m. EST (0947:10 GMT).
Spitting a long trail of flaming exhaust, the slender, pencil-shaped rocket rose vertically, then turned northeast from its Cape Canaveral launch pad to align with the orbit of the International Space Station.
The kerosene-fueled rocket sent a shuddering shockwave of sound across the Central Florida launch base as it streaked into a clear predawn sky. SpaceX engineers on a live broadcast of the flight called out that all was normal on-board as the thundering launcher raced away from Cape Canaveral
The nine-engine first stage shut down at about T+plus 2 minutes, 40 seconds, and pneumatic pushers engaged to nudge the booster away from the Falcon 9's second stage, which ignited its single vacuum-rated Merlin 1D engine for a nearly seven-minute burn as the rocket tracked northeast parallel to the U.S. East Coast.
As live video provided by NASA and SpaceX followed the progress of the Falcon 9 upper stage propelling the Dragon cargo craft into orbit — the primary purpose of Saturday's launch — the first stage booster was programmed to turn around and guide itself back to Earth.
SpaceX has tested the flyback maneuver into the Atlantic Ocean on previous launches, but Saturday's flight was the first time engineers attempted to complete the booster's descent with a controlled soft landing on a vessel specially outfitted to receive the rocket.
The Falcon 9's first stage was supposed to re-light a subset of its nine Merlin engines three times to fly back toward the landing vessel, dubbed the autonomous spaceport drone ship by SpaceX. Some of the maneuvers were visible to observers at Cape Canaveral, as the booster appeared as a flickering bright orange star low on the northeast horizon.
Four grid fins were added to the booster for aerodynamic stability, and the rocket stage was supposed to extend four carbon fiber-aluminum honeycomb legs that were folded against the cylindrical booster during liftoff.
Emblazoned with the SpaceX logo and a bullseye, the autonomous spaceport drone ship's deck extends 300 feet long and features deployable wings for a maximum width of 170 feet.
The booster's final landing burn — with a single Merlin engine — was supposed to slow the rocket's fall for a soft landing on the drone ship.
Musk said on Twitter that the ship survived the impact, but some support equipment will need to be replaced. According to regulatory filings with the Federal Communications Commission, SpaceX planned to try another flyback maneuver on the next Falcon 9 launch scheduled for liftoff no earlier than Jan. 29.
A SpaceX spokesperson would not confirm when the company would try again, but SpaceX officials said they were determined to conduct more recovery experiments on future missions.
"Unfortunately we weren't able to get good landing video because of the dark and fog, but we are in the process of evaluating invaluable telemetry data which will inform future attempts," SpaceX said in a statement on its website.
Didn't get good landing/impact video. Pitch dark and foggy. Will piece it together from telemetry and … actual pieces.

— Elon Musk (@elonmusk) January 10, 2015
The Dragon spacecraft is packed with more than 2.5 tons of scientific experiments, provisions and maintenance items.
Among the supplies packed inside are spacewalk tools and equipment to help prepare the space station to receive commercial crew vehicles, an IMAX camera for filming during four space station increments, and science payloads that will enable model organism research using fruit flies and will study flatworms to better understand wound healing in space.
The Dragon's total internal payload includes 1,272 pounds of science and research gear, 1,080 pounds of crew provisions, 1,495 pounds of vehicle hardware, 35 pounds of computer tools, 51 pounds of spacesuit equipment, and 86 pounds of Russian hardware.
NASA's Cloud-Aerosol Transport System is bolted inside Dragon's unpressurized trunk. The space station's robotics system will unpack the CATS instrument and mount it outside the station to monitor cloud and aerosol coverage, which directly impacts global climate.
Saturday's launch marked SpaceX's fifth operational resupply run to the space station under a 12-mission, $1.6 billion contract with NASA covering cargo services through 2016. It is a critical delivery for the space station, which last received supplies in October and is without one of the program's two U.S. commercial cargo carriers after an Orbital Sciences Corp. Antares supply rocket exploded at liftoff in October.
With the Orbital Sciences cargo service grounded until at least late 2015, SpaceX is the only provider dedicated to sending up U.S. experiments and supplies to the space station.
The Dragon cargo craft is scheduled to rendezvous with the space station Monday. Astronaut Butch Wilmore will grapple the free-flying spacecraft with the outpost's 58-foot-long robotic arm for attachment to the station's Harmony module.
The space station astronauts will unpack materials stowed inside the capsule's pressurized module, while robotics systems will place the CATS Earth science instrument package on the Japanese lab module.
The unpiloted spaceship is due to depart the space station and return to Earth on Feb. 10 with research specimens and other gear. The capsule will parachute to a splashdown in the Pacific Ocean, where SpaceX teams will pull the craft from the sea and return it to port.
Follow Stephen Clark on Twitter: @StephenClark1.