Cape's next-to-last Titan 4 rocket moved to launch pad
BY JUSTIN RAY
SPACEFLIGHT NOW
Posted: October 6, 2003

| | |
| --- | --- |
| | The next-to-last Titan 4 rocket scheduled to launch from Cape Canaveral was rolled to the pad Monday. Photo: LFCB/Blue Sawtooth Studio |
With a pair of Air Force locomotives pushing the way, Cape Canaveral's penultimate Titan 4 rocket was rolled from its assembly building to the launch pad Monday where it will undergo four months of work before hauling a missile-warning satellite into space.

Standing about 120 feet tall on its mobile launching platform, the "headless" rocket was backed out of the Solid Motor Assembly and Readiness Facility, or SMARF, for the one-mile trek to the Complex 40 pad.

The move represented a key milestone in preparing the Lockheed Martin-built rocket for its U.S. national security mission. But with just two Titan 4 launches remaining at the Florida spaceport, the moment reminded everyone that the heavy-lifting rocket's era is nearing an end.

"This is a very cool day and ever more significant because it is going to be one of the last times...that we move one out," said Col. Jimmy Comfort, commander of the 3rd Space Launch Squadron at Cape Canaveral.
| | |
| --- | --- |
| | Air Force officials and the news media watch Monday's Titan 4 move to the launch pad. Photo: Justin Ray/Spaceflight Now |
The Air Force invited news organizations to watch the rollout, giving reporters and photographers an up-close look at the towering rocket comprised of a two-stage central core vehicle sandwiched between two solid-fueled boosters.

After arriving at the Cape in May 2002, the core stages were erected on the launch platform in the Vertical Integration Building. The locomotives, which stay in synch with each other thanks to a 15-foot interconnecting control boom, moved the platform to the SMARF where the solid boosters were added.

In the coming months at the pad, a Boeing-made Inertial Upper Stage -- the last one slated to fly -- and the Defense Support Program-22 spacecraft cargo will be mounted atop the Titan 4 rocket.

"It may look mostly complete now, but there is still a lot of build up that we do on the pad," said Col. Comfort.

The IUS upper stage motor, which propels the satellite from the low-Earth orbit achieved by the Titan 4's core stages to geostationary orbit, will go to the pad in November. DSP-22 will be fueled and then transported to the pad in mid-December to be attached with the launcher.

The 56-foot long nose cone is then installed to encapsulate the $250 million satellite for ascent.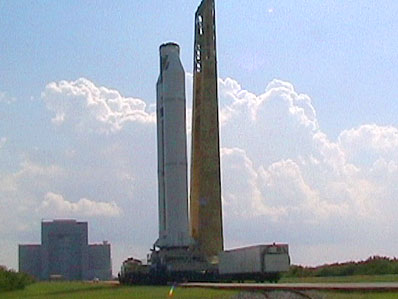 The Titan 4 rocket rides to the launch pad. The processing facility currently housing the Inertial Upper Stage and DSP spacecraft is seen in the background. Photo: Justin Ray/Spaceflight Now



Officials are targeting February 14 for the launch, which will mark the next-to-last Titan 4 rocket to fly from Florida's East Coast.

"Things are going very well. We are right on schedule," Col. Comfort said.

Built by Northrop Grumman, formerly TRW, the DSP-22 is destined to orbit 22,300 miles above the equator to detect enemy missile launches and nuclear detonations on Earth. The spacecraft features a sophisticated infrared telescope that sees the heat from missile and booster exhaust plumes against the Earth's background.

The satellite arrived at the Cape in mid-August to begin its pre-launch campaign inside a building neighboring the SMARF. The craft and its sensors are currently being checked out by Northrop Grumman and Aerojet technicians.

"So far, so good," said Maj. Joe Coniglio, chief of launch operations for DSP.

"We've got two separate crews responsible for each of their piece of the pie, both working together in integrated system testing to check out all systems."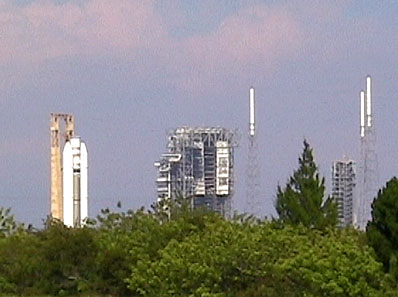 The Titan 4 rocket heads for its launch pad at Complex 40. Photo: Justin Ray/Spaceflight Now



Twenty-five Titan 4 rockets have flown from the Cape since June 1989. The era draws to a close next October when the Titan 4 B-30 mission -- with no upper stage -- lifts off carrying a National Reconnaissance Office cargo. That rocket just arrived at the launch site aboard a C-5 aircraft, Col. Comfort said.

The final Titan 4 mission is scheduled for February 2005 from Vandenberg Air Force Base in California, also loaded with a classified NRO spacecraft. It will mark the 12th Titan 4 launched from the West Coast.


Video coverage for subscribers only:


VIDEO: TITAN 4 ROCKET BACKS OUT OF SMARF BUILDING QT


VIDEO: THE ROCKET MAKES ITS WAY TO LAUNCH PAD QT


SUBSCRIBE NOW






Flight data file
Vehicle: Titan 4B (B-39)
Upper stage: IUS-10
Payload: DSP-22
Launch date: Feb. 14, 2004
Launch window: 1:21 to 5:21 p.m. EST (1821-2221 GMT)
Launch site: Complex 40, Cape Canaveral, Florida
Satellite broadcast: Telstar 6, Transponder 15, C-band



Pre-launch briefing
Launch timeline - Chart with times and descriptions of events to occur during the launch.



Weather forecast - The latest forecast for launch day conditions.



Launch hazard area - A map of the restricted area during liftoff.



DSP satellite - An overview of the Defense Support Program spacecraft being launched.



Titan 4B - Description of rocket being used in this launch.



Titan 4 history - Chart with listing of previous Titan 4 flights.



Titan 4 directory - See our coverage of previous Titan 4 rocket flights.


Stargazing DVD
Bring the beauty and majesty of the universe to your home, direct from the Hubble Space Telescope, with this DVD.


U.S. STORE

U.K. & WORLDWIDE STORE

Apollo 17 DVD now shipping
Relive the last manned mission to the moon with this six-disc DVD featuring more than 25 hours of footage. Now shipping from the Astronomy Now Store.


U.S. STORE

U.K. & WORLDWIDE STORE

Columbia Report
A reproduction of the official accident investigation report into the loss of the space shuttle Columbia and its crew of seven.


Choose your store:
U.S. - U.K. - E.U. - Worldwide

Mars Panorama

DISCOUNTED! This 360 degree image was taken by the Mars Pathfinder, which landed on the Red Planet in July 1997. The Sojourner Rover is visible in the image.


Choose your store:
U.S.

Apollo 11 Mission Report
Apollo 11 - The NASA Mission Reports Vol. 3 is the first comprehensive study of man's first mission to another world is revealed in all of its startling complexity. Includes DVD!


Choose your store:
U.S. - U.K. - E.U. - Worldwide

Rocket DVD

If you've ever watched a launch from Kennedy Space Center, Cape Canaveral, Vandenberg Air Force Base or even Kodiak Island Alaska, there's no better way to describe what you witnessed than with this DVD.


Choose your store:
U.S. - U.K. - E.U. - Worldwide

Earth from space DVD
80 minutes of spectacular digital video of planet Earth beamed down from the shuttle accompanied by instrumental music, plus a 4-minute shuttle liftoff guaranteed to rock your living room.


U.S. STORE

U.K. & WORLDWIDE STORE


Get e-mail updates
Sign up for our NewsAlert service and have the latest news in astronomy and space e-mailed direct to your desktop (privacy note: your e-mail address will not be used for any other purpose).




Columbia Report
The official accident investigation report into the loss of the space shuttle Columbia and its crew of seven. Includes CD-ROM.


Choose your store:
U.S.

Apollo 12 tribute DVD set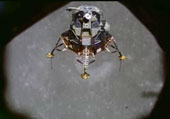 New! Featuring the jovial crew of Pete Conrad, Dick Gordon and Alan Bean, the Apollo 12 mission was struck by lightning shortly after liftoff but proceeded on the second successful exploration voyage to the lunar surface. This three-disc DVD brings the mission to life with extraordinary detail.


Choose your store:
U.S. - U.K. - E.U. - Worldwide

Fallen Heroes special patch

This special 12-inch embroidered patch commemorates the U.S. astronauts who made the ultimate sacrifice, honoring the crews of Apollo 1, Challenger and Columbia.


Choose your store:
U.S. - U.K. - E.U. - Worldwide

Women in Space
Women of Space: Cool Careers on the Final Frontier is for girls, young women, and anyone else interested in learning about exciting careers in space exploration. Includes CD-ROM.


Choose your store:
U.S. - U.K. - E.U. - Worldwide

Mars rover poster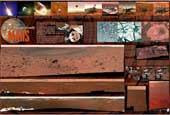 This new poster features some of the best pictures from NASA's amazing Mars Exploration Rovers Spirit and Opportunity.


Choose your store:
U.S.